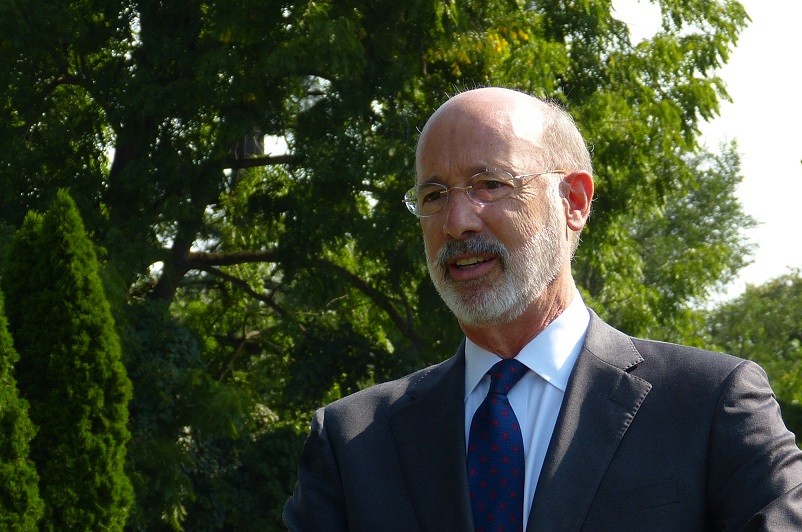 Gov. Tom Wolf announced additional restrictions in Pennsylvania on Monday as the state sought to keep the coronavirus pandemic from spiraling out of control.
Related: Lancaster County exceeds 300 Covid-19 cases per 100K
The announcement updates existing orders targeting schools and business operations and setting limits on gathering sizes.
It also bans bars, restaurants and caterers from serving alcohol after 5 p.m. on Thanksgiving Eve, normally one of the biggest nights out of the year.
Pennsylvania is averaging more than 6,000 new Covid-19 cases per day, a number that continues to climb, while the death rate has doubled since the end of October. Projections show the state could run out of ICU beds in December, and case counts could exceed 20,000 a day.
"We need to redouble our efforts to keep people safe. ... If we run out of hospital beds, or if hospital staff are over-worked to the breaking point, care will suffer for every patient ," Wolf said in a statement.
Among the new measures:
Public schools in counties with substantial community transmission for at least two weeks must either shift to fully remote learning, or comply with updated, more stringent Covid-19 protocols;
For businesses, telework is "mandatory unless impossible";
Maximum occupancy for events is further curtailed, with limits as follows:

Indoor: 10% of max. for 0-2,000 people; 5% of max. for 2,001-10,000 people; no indoor events over 500 people allowed;
Outdoor: 15% of max. for 0-2,000 people; 10% of max. for 2,001-10,000 people; 5% of max. thereafter, up to 2,500 people.
The state's announcement of the orders says they "have the force and effect of law" and will be enforced accordingly, with violators liable to incur citations and fines.
The statement called on county and municipal officials to do their part.
"Local leaders at all levels of government should exercise their authority and influence to support public health efforts that will protect residents and local economies," it read. "When local leaders engage, their constituents understand that they are supported in adopting and sustaining preventive behaviors."