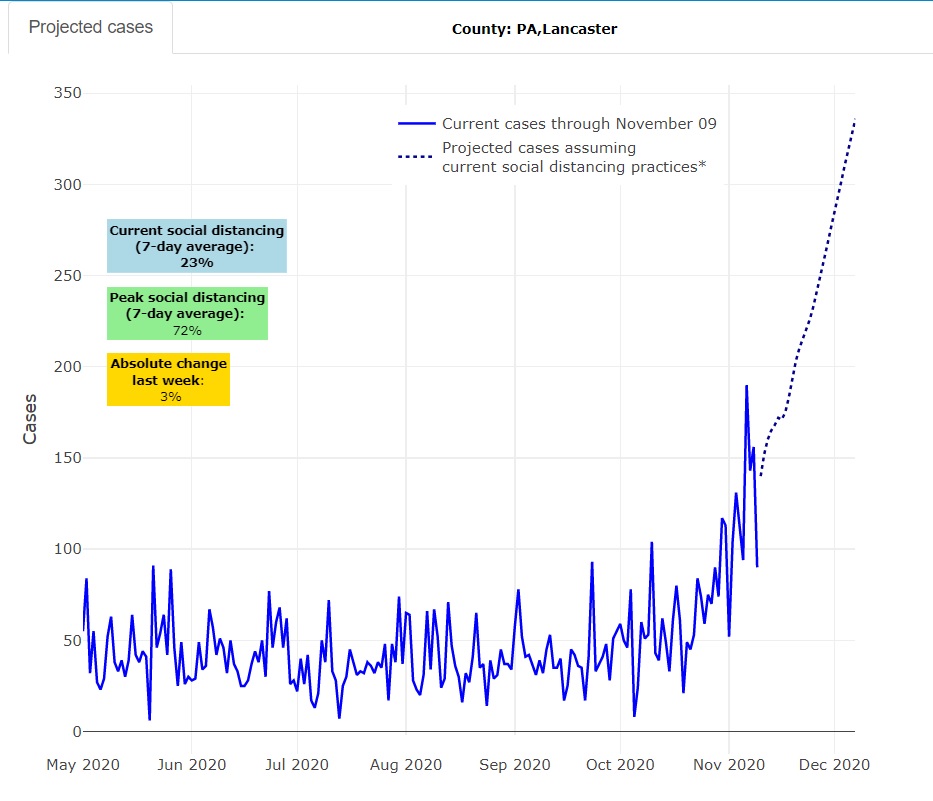 Lancaster County is recording record numbers of Covid-19 cases and hospitalizations this week — but so far, there has been no major surge in deaths.
The state Department of Health reported 247 new Covid-19 cases for the county on Friday, a new one-day record.
They come on the heels of 194 new cases on Thursday and 202 cases on Wednesday. Wednesday's and Friday's cases are the county's only 200+ days since the pandemic began back in March.
Meanwhile, there are at least 77 Covid-19 inpatients in the county: 66 at Lancaster General Hospital and 11 at WellSpan Ephrata Hospital.
Deaths remain well below the levels seen in the spring. There were four Covid-19 deaths this week, according to county coroner data.
County and hospital officials said they keeping a close eye on the situation and are prepared to handle it.
The county's major health system, Penn Medicine Lancaster General Health, is convening Covid-19 briefings on a daily basis, spokeswoman Mary Ann Eckard said in a statement.
The health system is in "a state of readiness, she said, and "we have the ability to adjust facility and staffing needs if cases continue an upward trend."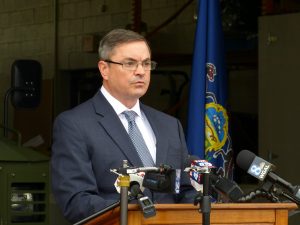 Edwin Hurston, Lancaster County's Covid-19 emergency consultant, said he recently completed a need-based plan to distribute $3.1 million to nursing homes to boost their ongoing mitigation measures and offset past Covid-19 expenses. The commissioners are expected to consider it next week.
Meanwhile, he said, the county and its partners are developing a new "multi-disciplinary, focused and unified" public awareness campaign to help slow the spread of Covid-19.
It will build on the efforts officials have been making throughout the pandemic to encourage appropriate public health practices: Wearing masks, washing hands and maintaining social distance.
Pennsylvania, like Lancaster County, reported a record number of new cases Friday: 5,531. That's much higher than the previous peak in the spring, where the state was averaging about 1,600 new cases a day during the worst stretch.
The U.S. as a whole reported more than 160,000 Covid-19 cases on Thursday — the first day to exceed 150,000. There were 67,096 inpatient admissions for the disease, also a record. The country is averaging 1,000 Covid-19 deaths a day.
In the Midwest, Covid-19 patients are occupying more than a quarter of all ICU beds, reports PolicyLab, a health research organization at the Children's Hospital of Philadelphia.
PolicyLab forecasts "substantial growth" in case loads in the Northeast and Mid-Atlantic over the next month, characterizing it as an "extremely high-risk period."
It is urging stronger public health measures, including an immediate shift to remote schooling.