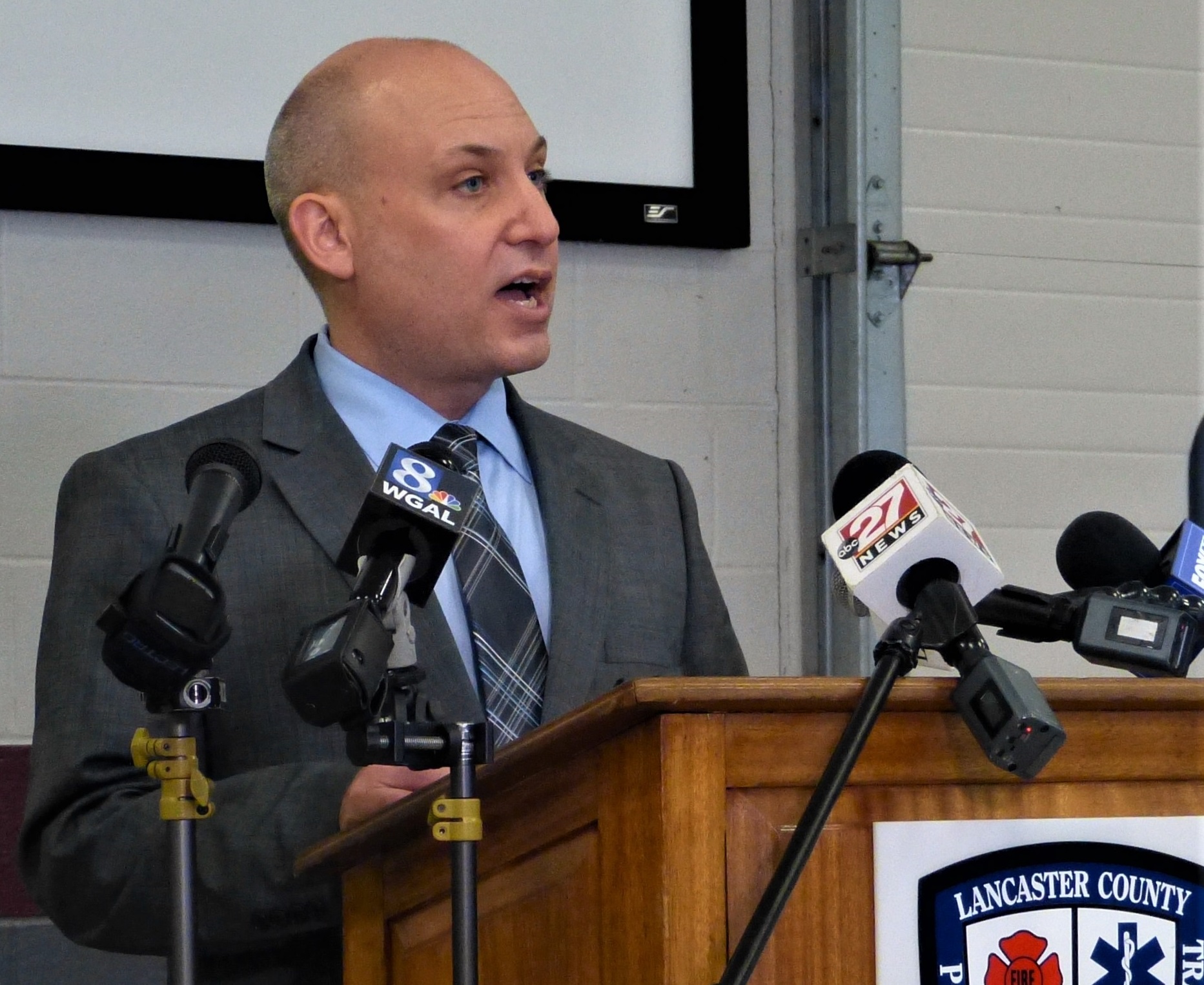 Health systems and patients are frustrated by the slow pace of coronavirus vaccine distribution in Pennsylvania, and health systems weren't prepared for the state's dramatic expansion of eligibility, the chief clinical officer of Penn Medicine Lancaster General Health told state lawmakers Thursday.
"We all are eager and prepared to provide vaccinations to as many people as possible," Dr. Michael Ripchinski said in testimony to a state Senate committee hearing on the vaccine rollout.
"Unfortunately, our efforts are complicated by uncertainty surrounding the amount and timing of future doses coming to our community," Ripchinski said.
The Pennsylvania Senate's Health & Human Services and Aging & Youth committees hosted the hearing. LG Health provided One United Lancaster a copy of Ripchinski's testimony as prepared for his portion of the session.
Ripchincki's criticism echoes those of other health providers and experts statewide. Hospitals and doctors say they were besieged by callers seeking vaccination appointments after the state, following U.S. Centers for Disease Control & Prevention guidance, expanded "Phase 1A" vaccine eligibility to include individuals over 65 and those with serious health conditions.
Health systems and vaccine providers were not prepared for the "abrupt change," and it confused much of the public, who thought it meant they could get the vaccine faster, Ripchinski said.
By the numbers: Covid-19 vaccination in Pennsylvania
Doses distributed: 2,143,150 (16,741 per 100,000 pop.)
Doses administered: 1,158,091 (9,046 per 100,000 pop.)
Source: CDC. Data as of Feb. 3
Some observers have called on Pennsylvania to set up a centralized registration and appointment system. That wouldn't help, acting Health Secretary Alisoin Beam told a state house Health Committee hearing Wednesday.
"There is not enough vaccine, with or without a registration system, and a registration system won't fix that limiting factor," Beam said, according to the Associated Press.
To date, Pennsylvania's vaccination efforts have been lackluster, a poor performer even by comparison with a national rollout that has been mediocre overall. The state ranks 35th in number of doses administered per capita, according to the CDC.
Ripchinski said LG Health has deliberately made the decision to limit its scheduling of vaccine appointments to high-risk patients, saying it would be "misleading and confusing" to do otherwise, given the lack of supply and the concomitant uncertainty.
In his testimony, the doctor pointed to county-by-county discrepancies in Pennsylvania's distribution numbers. Among the state's 10 largest counties — excluding Philadelphia County, which has its own, separate distribution arrangement — vaccine deliveries range from 7,151 per 100,000 people in Westmoreland County to 22,335 per 100,000 in neighboring Allegheny County, home to Pittsburgh and the UPMC health system.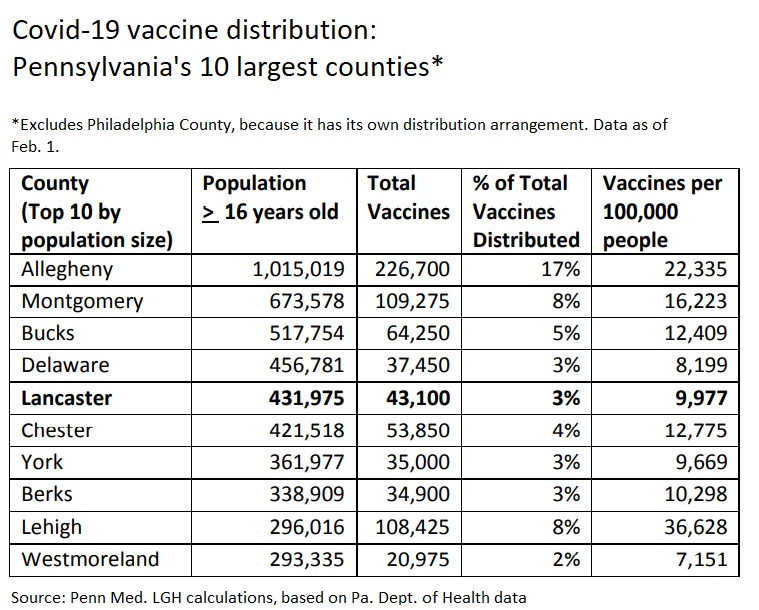 Ripchinski highlighted Lancaster County's plan to set up a mass vaccination center once it can be assured of sufficient vaccine supplies, saying it would be an "effective tool" to end the pandemic.
LG Health will be the "managing health care partner," he said. Also part of the effort are county government, the county Emergency Management Agency, the WellSpan, UPMC Lititz and Penn State health systems, and the Rock Lititz group of companies.