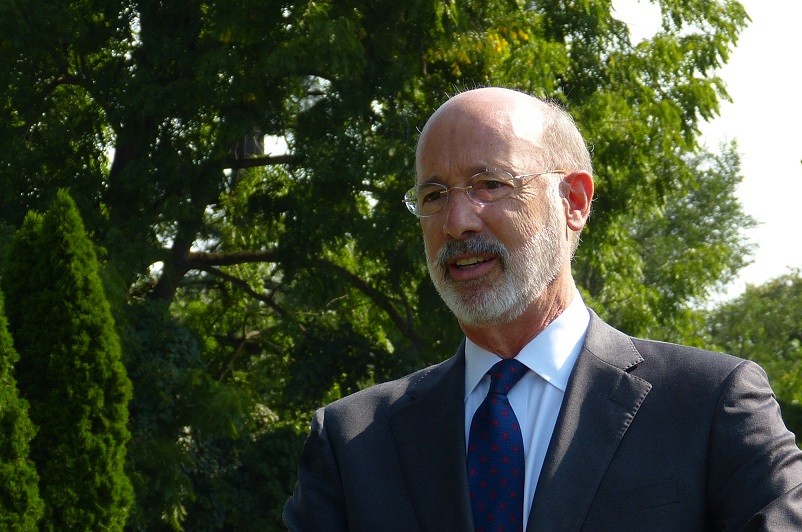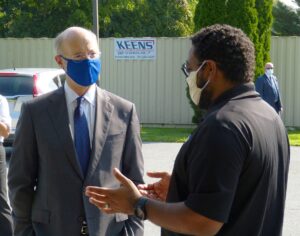 Making a stop in Lancaster County on Tuesday morning, Gov. Tom Wolf called on Pennsylvania's legislature to take fresh steps to help renters and homeowners at risk due to the economic fallout from the coronavirus pandemic.
Citing U.S. Census data, Wolf said about 400,000 Pennsylvanian renters, about 17% of the total, were unable to pay their rent in July and are at risk of eviction.
While a national eviction moratorium was announced last week, the governor said it doesn't protect all renters, doesn't address foreclosures and doesn't help tenants pay what they owe.
For those reasons, it remains incumbent on lawmakers to act, not only to protect vulnerable households, but to help Pennsylvania's economy, Wolf said.
"Everybody should want people to be able to stay in their homes," he said.
He called on the legislature to reform the state's rental relief program, which has been criticized for its cumbersome application process and its cap of $750 on monthly assistance, which is well below market rents in much of Pennsylvania.
Wolf proposed the following changes:
Raise the maximum monthly assistance to 130% of a county's fair market rent as determined by the U.S. Department of Housing and Urban Development. In Lancaster County, that would allow assistance of up to about $1,300 for a two-bedroom apartment;
Eliminate the requirement that rent be at least 30 days past due;
Allow tenants to set up a payment plan to repay any remaining balance over one year.
Similar changes are proposed for the state's mortgage assistance program, including raising the maximum assistance from $500 to $1,000, said Bryce Maretzki, director of policy and planning for the Pennsylvania Housing Finance Agency, which oversees the rental and mortgage aid.
Wolf called for an additional $100 million in funding for the programs; the current funding is $150 million for rental relief and $25 million for mortgage relief. Separately, he is calling for $100 million in CARES Act funding for to help low-income Pennsylvanians with heat and utility payments.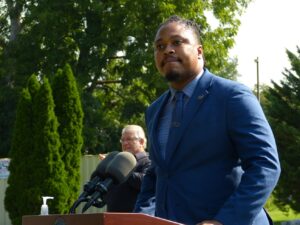 Wolf was hosted by the United Way of Lancaster County on the grounds of the future Lancaster County Meals on Wheels property on Columbia Avenue.
Republicans have been dismissive of Wolf's proposals, accusing him of "ruling by executive order" and failing to engage with them. On Tuesday, Wolf said that's just not the case.
"I'm not sure where that comes from," he said. "We're talking all the time."
Joining Wolf were state Sen. Tim Kearney and state Rep. Malcolm Kenyatta. Kenyatta said for him, the eviction issue is personal.
"I know what it means for my mom to sit us all down and say we're not going to be able to stay where we are any more," he said.
VIDEO: Highlights of Gov. Wolf's Sept. 8 news conference
(Video: Kyle Gamble)