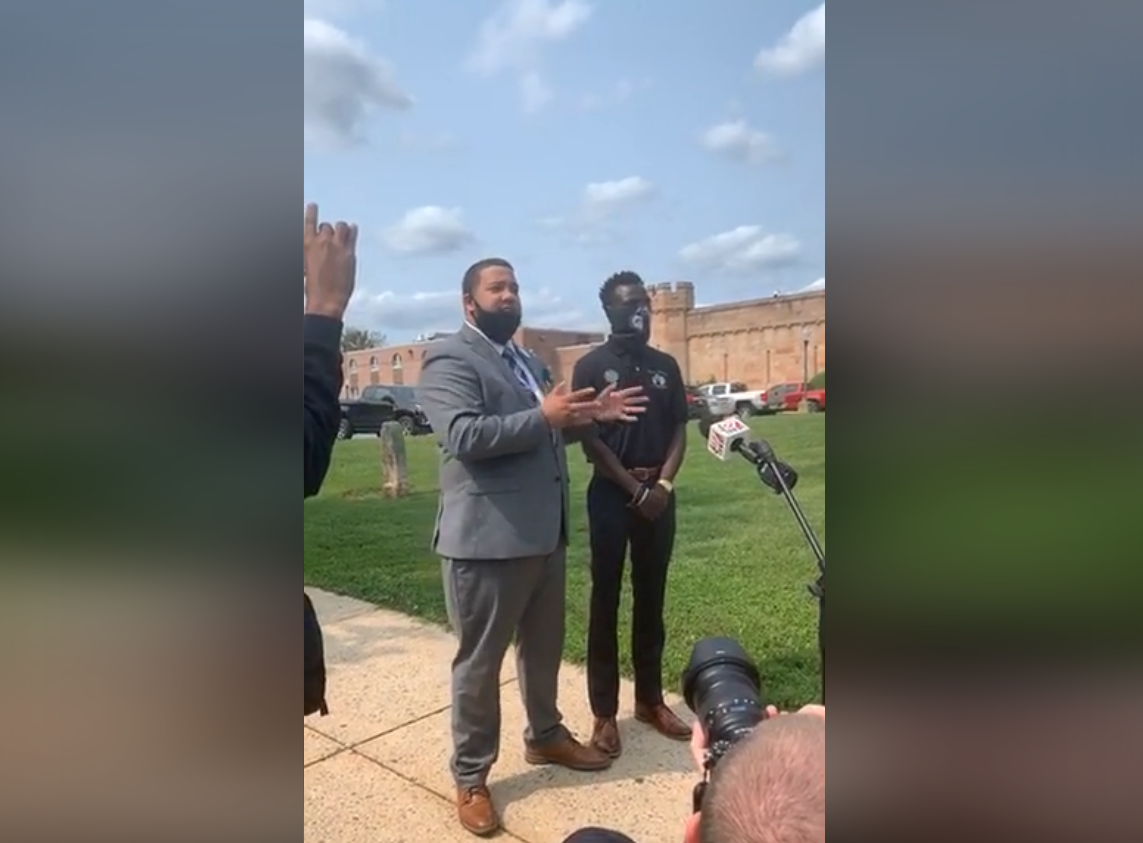 The criminal charges filed against two members of the local activist group Green Dreamz are unjust, as is the bail amount, $1 million each, a leader of the group said Wednesday.
Kathryn "Kat" Patterson and Taylor Enterline were arrested early Monday morning outside the Lancaster City Police Station. They and other protesters had gathered there after an officer shot and killed 27-year-old Ricardo Munoz Sunday afternoon. Police, citing instances of violence and vandalism, dispersed the crowd using chemical agents, rubber bullets and an armored vehicle.
The charges filed against Patterson and Enterline include riot, arson and vandalism, all felonies.
"They do not deserve these charges," Green Dreamz Vice President Carlos Jimenez said at a news conference outside Lancaster County Prison.
He said the same of three other arrested protesters, Dylan Davis, T-Jay Fry and Jessica Lopez, whom he characterized as "friends" of Green Dreamz. They, too, face riot, arson and vandalism charges.
Fundraising campaigns have been set up to assist the protesters. Garcia thanked the Lancaster NAACP, SafeHouse and Lancaster Stands Up for their efforts, and said the money raised for Patterson and Enterline would go "directly" to them to help with legal costs. He said a little over $8,500 had been raised as of this morning.
Both women "have only helped uplift this community," he said.
Munoz' family says he suffered from paranoid schizophrenia and was off his medication. Body camera footage shows him charging the police officer waving a knife; city police Chief Jarrad Berkihiser said in his opinion, the officer's use of force was justified. An investigation by the district attorney is in progress.
Police arrested eight individuals early Monday and subsequently arrested another five. Four of the initial eight individuals arrested are from outside Lancaster County. Police said two were carrying handguns — one legally, one not.
The list of those arrested is as follows, according to a city police statement. Unless otherwise noted, the charges include arson, vandalism, riot, failure to disperse, obstructing the roadway, disorderly conduct, defiant trespass and conspiracy:
Dylan Davis, 28, of Ephrata: Bail: Pending.
Taylor Enterline, 20, of Manheim: Bail: $1 million.
T-Jay Fry, 28, of Lancaster: Bail: $1 million.
Frank Gaston, 43, of Ephrata (homeless): Gaston was on parole, so a detainer is being lodged against him.
Talia Gessner, 18, of York: Bail: $1 million.
Barry Jones: 30, of York: Bail: $1 million.
Jessica Lopez, 32, of Lancaster: Bail: Pending
Yoshua Dwayne Montague, 23, of York: Montague was also charged with illegal possession of a firearm. Bail: $1 million.
Matthew Modderman, 31, of Lancaster: Bail: $1 million.
Jamal Shariff Newman, 24, of Lancaster (homeless): Newman was charge with loitering and prowling rather than defiant trespass. Bail: $1 million.
Kathryn Patterson, 20, of Mercersburg: Bail: $1 million.
Lee Alexander Wise, 29, of Camp Hill: Bail: $100,000
An unnamed juvenile, 16: Charges filed are riot, vandalism, disorderly conduct, possession of instruments of crime, possession of marijuana and propulsion of missiles onto a roadway.
Separately, city police arrested a homeless individual, Pedro Velasquez, 26, on Tuesday evening, saying he had been shining a high-intensity green laser into the windows of the police station. He was charged with aggravated assault, obstructing justice, possession of an instrument of crime, resisting arrest and providing false identification. His bail was set at $25,000.