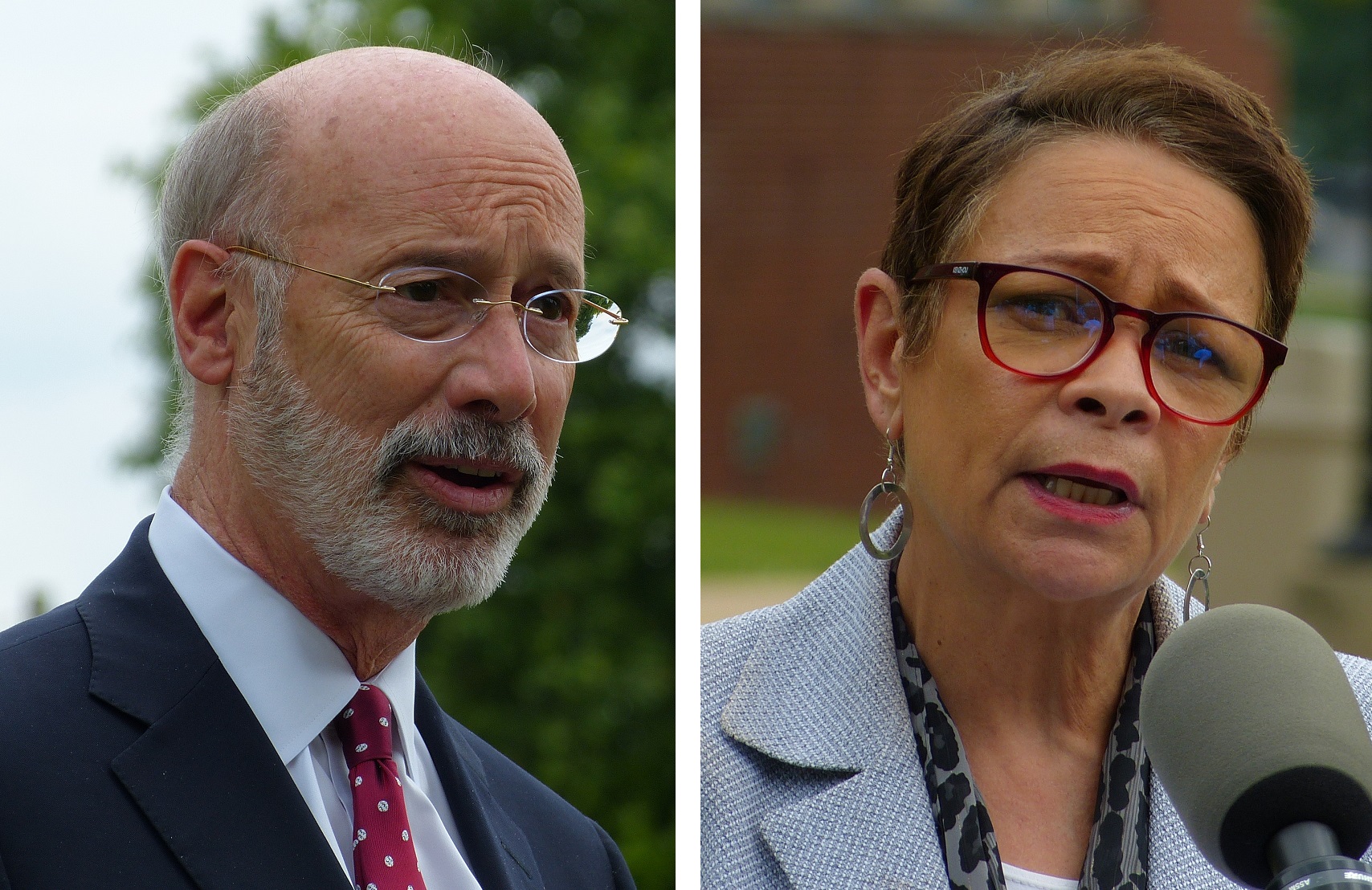 Gov. Tom Wolf joined local school superintendents outside J.P. McCaskey High School on Tuesday to make the case for reforming Pennsylvania's charter school law.
"I am a fan of school choice," Wolf said. But, he went on, Pennsylvania's 1997 charter school law is "about the worst in the nation," allowing charter schools to cut corners, overcharge school districts and avoid oversight.
The state's 14 independent cyber charter schools in particular cost taxpayers far too much money, Wolf said. They are among the state's lowest-performing schools, most ranking in the state's bottom 5%.
Unless the law is changed, however, "we don't have any way to hold them accountable," he said.
Tuesday's visit to Lancaster was Wolf's second in less than a week. On May 26, he visited Two Dudes Painting Co. to call for raising the state's minimum wage.
Pennsylvania has 14 independent cyber charter schools. Due to the pandemic, their enrollment jumped nearly 60%, from 38,000 students in fall 2019 to more than 60,000 in fall 2020, according to state data.
School districts pay charter schools, including cyber charters, based on the districts' own per-pupil cost. The spike in cyber charter attendance cost them an additional $350 million, the Pittsburgh Post-Gazette reported, citing research by the Pennsylvania Association of School Business Officials.
Critics say about 20 cents of every $1 in property taxes is going toward charter schools.
Wolf is proposing a package of reforms with bipartisan support that supporters say could save an estimated $395 million a year.
That includes $185 million from providing charter schools' special-education funding the same way as for other public schools; and $210 million by establishing a uniform statewide cyber charter tuition rate.
In Lancaster County, school districts could see savings ranging from a little over $100,000 to about $600,000 in the case of Hempfield.
In all, the county's 16 school districts would realize $4.6 million in annual savings, Wolf said, without compromising choice and while potentially improving educational outcomes.
The plan has the backing of more than 80% of school districts statewide, as well as associations representing Pennsylvania school administrators and school boards.
The Pennsylvania Coalition of Public Charter Schools, conversely, says Wolf's proposed reforms constitute "unfair attacks" on charter schools and the families that choose them.
Key elements of Gov. Wolf's charter school law reform
Establish educational performance standards for charter schools.
Impose a moratorium on new cyber charter schools.
Cap student enrollment in low performing cyber charter schools until they improve.
Bring special education funding at charter schools in line with its public school counterpart.
Establish a uniform cyber charter tuition rate.
Require charter management companies be subject to the Right to Know Act, State Ethics Act, and to post salaries publicly on the state Dept. of Education website, in line with requirements already in place for public school districts.
Source: Pa. Dept. of Education
SDL charter costs rise 80%
Damaris Rau, superintendent of the School District of Lancaster, said the district's outlays to cyber charter schools are up 80% over the past six years and are projected to rise 12% to nearly $9 million in 2021-22, equal to more than half the district's $16 million deficit.
SDL and Solanco both offer their own cyber schools, a service they provide at much lower cost than the amounts they are obliged to pay private operators. Solanco Superintendent Brian Bliss said it costs his district $1.4 million to fund the 92 children in cyber charter schools; just shifting them to Solanco's cyber school would save nearly $650,000, he said.
Wolf and state Rep. Mike Sturla both said legislation reflecting Wolf's proposals has enough rank-and-file support to pass the legislature. Sturla said the problem is "certain leaders" in the House and Senate who don't want that vote to occur. Call your legislator, Sturla advised, and urge him or her to put pressure on caucus leadership.
A spokesman for Senate President Pro Tempore Jake Corman's office, Jason Thompson, disputed Sturla's statement. Both chambers "have been working hard" and in good faith on charter reform, he said.
"It is far more important for these changes to be done right than to be done quickly," Thompson said.
The Wolf administration has said it plans to pursue some of its charter school reforms through administrative regulation. Republicans have cried foul, saying that would undercut legislators' work.
Photo gallery