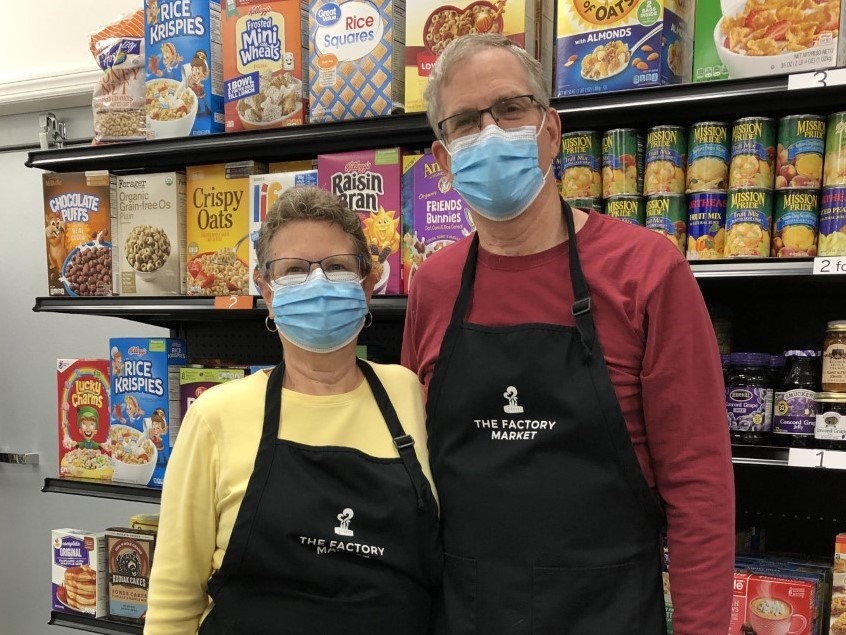 (Editor's Note: This article is part of One United Lancaster's series in honor of National Volunteer Month 2021.)  
Mike and Deb Sensenig have been volunteering with Factory Ministries since 2019.  Both retired after careers at Kitchen Kettle Village.
They help out with the Factory Market and Fresh Express, two Factory initiatives focused on feeding the community. During the first nine months of the Covid-19 pandemic, they volunteered with drive-through food distribution. 
The following interview has been edited for length and clarity. 
One United Lancaster: What led both of you to volunteering with Factory Ministries? 
Mike: "Deb and I both retired on the last day of 2018. With retirement, we were starting to look for something to do, volunteer-wise. We were certainly aware of some of the things that were happening at Factory Ministries. … We started out by volunteering at a couple of events that they had, and shortly became a little more involved with the pantry itself." 
Deb: "I have always been in favor of helping out the community … and it seemed like the perfect fit for us to be over at Factory." 
One United Lancaster: Could you tell me about the different aspects of Factory Ministries you participate in? 
Mike: "We volunteer at pantry weekly, and then also monthly with Fresh Express, which is in cooperation with the Central Pennsylvania Food Bank. It needs a good bit of volunteer support, with preparing a lot of produce and things like that. …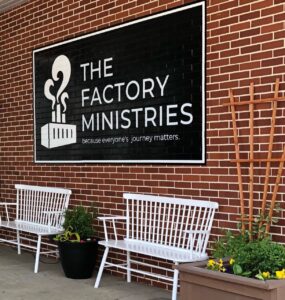 "We started [at Factory Ministries] in 2019, and we became a little more involved, especially in 2020, we had Covid, things really changed for us. We did a food giveaway, because people couldn't go inside the pantry, so we prepared bags for people outside. There was a group of us, about seven or eight people. We really got very close working together on a regular basis. We were able to provide a really great program. Everyone was able to just drive through and gets bags of food while keeping everything very safe. ... 
"Giving shoppers dignity is really important. We want to establish a relationship; we want you to enjoy being there." 
Deb: "We like to say it's a 'hand-up,' not a 'hand-out.'" 
One United Lancaster: What does it mean to you to be a volunteer? 
Mike: "Well, certainly for me, it's about community. I've lived in community all my life and have been sort of involved in things since I was really young. So, just looking and watching some of the people in the who volunteered throughout their lives, and it just seemed to make sense to me.  
"Everybody, certainly, has an obligation, to give in any way. Some people, it is financial support, but other people it's just time. Some of the past organizations I've been involved in, a lot of times our need was more for volunteers' support and help, as opposed to money. Everybody certainly needs the money, wants the money, and wants the financial support, but there's also a need for people. So that's sort of where it came from with me."
Deb: "[When I was working,] I had all these connections with people that became my friends. Of course, with retirement, that all ended, so for me, finding a new place where I could make some friends and make some personal connections.  
"Some of the clients that we have, you can almost tell that they're there more for a friendly word or a smile. You can't hug right now, but I'm a hugger! So, I'm ready for the day we can do that again. I think it's the personal connections. It's a cliché, but it's always better to give than receive." 
One United Lancaster: What do you both think is special about volunteering with Factory Ministries? 
Mike: "One thing that was happening was [Factory Ministries] being a part of the Together Initiative [a network of nonprofits in eastern Lancaster County], and what I saw was a complete lack of egos. There was no competition, and most of the time, even in nonprofit organizations, there's competitiveness. That's not what I saw here at all. My experience in life, I always try to be a team player." 
Deb: "I love that it runs the whole gamut between pre-K and adults. There's a little something for any age group, and somehow they seem to find a way to reach and give help." 
One United Lancaster: Do you have a message for people considering volunteer work? 
Deb: "You don't have to have any special abilities other than a kind heart and a positive attitude. That goes a long way." 
Mike: "Yeah, it's that ability to connect with people. The hardest part is starting out. Like for us, we weren't sure where we were going to go or what we were doing. You just have to allow it to fall into place. … Also, it's fun! It's never work, or anything like that." 
Deb: "And all ages help out. Teenagers and working people and old, retired people like me." 
One United Lancaster: Is there anything else you'd like to add, about volunteering, Factory Ministries, or yourselves? 
Mike: "We are thankful for the community here. … When we were in the business community, when [Deb] was at the fudge shop [at Kitchen Kettle Village], if she made good fudge and made good service, she made good sales, and that means she was successful. When you're in a nonprofit, a volunteer, there's a completely different agenda … the major focus is on community." 
Deb: "I think it's really heartwarming to discover that through these tough times, we have not heard the word 'no,' not at all, from the people that we do ask for help from. It's a very giving community that we are blessed to be a part of."