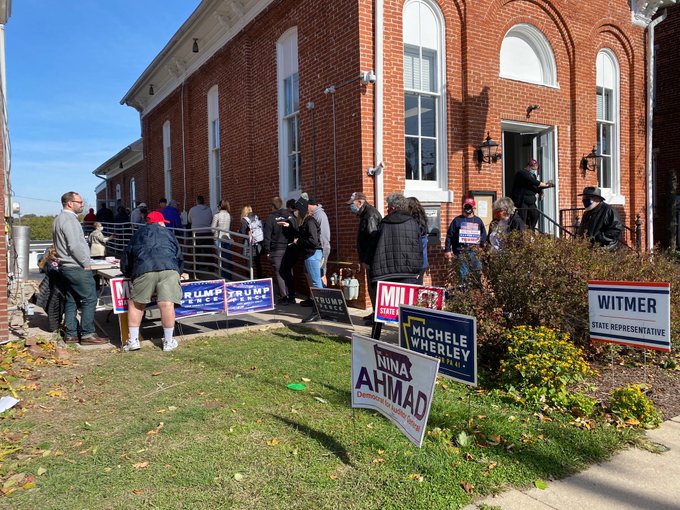 Lancaster County voters headed to the polls in large numbers Tuesday morning, prompting forecasts of a record turnout.
Related: Info & tips for Election Day
Long lines were reported countywide as polling locations opened at 7 a.m. By mid-morning, the initial rush had cleared and wait times at most sites were generally short. But there were exceptions: Around 3 p.m. t Mill Creek Bible Church in West Lampeter Township, the line stretched the length of the sidewalk and wait times for many voters were around an hour.
Polling places have been reconfigured for safety during the coronavirus pandemic. Plexiglas partitions separated masked officials from voters, and lines taped on the floor showed voters where to stand to maintain six feet of separation.
In the evening, as people voted after work, lines swelled anew. Election officials at multiple sites said they were seeing record numbers.
The presidential election is widely expected to hinge on Pennsylvania, and campaigning here has been intense. In 2016, President Donald Trump won the state by about 44,000 votes. Polls show Democratic candidate Joe Biden in the lead in the Keystone State, but the gap has narrowed.
Local voters said they wanted to make their voices heard, on issues including the economy, the coronavirus pandemic and the direction of the country.
Watch: Lancaster County residents on 'Why I Vote'
At Lancaster County Convention Center, volunteers pored over roughly 80,000 mail-in ballots, opening envelopes and sorting ballots for scanning. County commissioners said they hoped to have the count done by 8 p.m., which is when polls are due to close and the tabulation of in-person votes will begin.
Pennsylvania liberalized its law on mail-in voting last year. That, coupled with safety concerns due to Covid-19, has fueled a massive shift to voting by mail.
With that has come questions over the U.S. Postal Service's handling of ballots. On Tuesday, a federal judge ordered the postal service to conduct an immediate sweep of processing facilities in multiple states to ensure no ballots have been missed. The order includes sites in central Pennsylvania and Philadelphia.
Pennsylvania Secretary of State Kathy Boockvar issued a pointed reminder Tuesday that counting votes may take days.
"Vote counting is never finished on Election Day," she said, "and if we stop counting ballots on Election Day, we will be disenfranchising all the men and women who serve our country, all the military and civilian overseas voters whose ballots by law must be accepted up to seven days after the election."
The Pennsylvania Supreme Court has ruled that ballots mailed by Election Day can be counted as long as they arrive within three days of Election Day. The U.S. Supreme Court, however, has indicated it may review the issue.
In light of that possibility, Lancaster County is segregating late-arriving ballots from the rest. Commissioner Craig Lehman, a Democrat, criticized the decision online, saying: "These ballots should be canvassed like all other legally cast ballots."
You can follow One United Lancaster's ongoing Election Day coverage directly on Twitter or in the thread below: