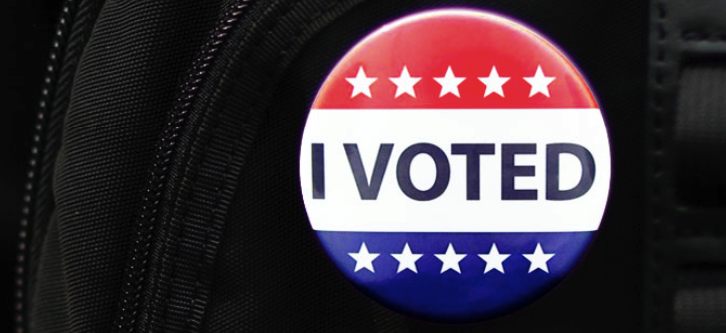 On Tuesday, Nov. 3, voters across the country will choose between incumbent Republican President Donald Trump and his challenger, Democrat Joe Biden.
In Lancaster County, voters will choose whether to return U.S. Rep Lloyd Smucker (R) to Congress for a third term, or give the nod to his opponent, Sarah Hammond (D).
Other county races include:
State Sen. Scott Martin (R) versus Janet Diaz (D) in the 13th Pa. Senate District;
State Rep. Brett Miller (R) versus Michelle Wherely (D) in the 41st Pa. House District;
State Rep. Steve Mentzer (R) versus Dana Hamp Gulick (D) in the 97th Pa. House District.
Counting mail-in ballots will take time
The polls are open Tuesday from 7 a.m. to 8 p.m. At polling places, precautions will be in place to minimize Covid-19 health risks.
This year, Pennsylvania experienced a historic shift to mail-in voting, spurred both by a change in election law and by the coronavirus pandemic. More than 2.4 million of Pennsylvania's roughly 9 million voters have filled out and returned mail-in ballots.
Because of the volume of mail-in ballots, it is expected to take several days to count all of them statewide and determine the election's outcome.
Lancaster County's Board of Elections will begin tabulating mail-in ballots at 7 a.m. Tuesday at the Lancaster County Convention Center.
If you're a Lancaster County voter, here is some guidance to help ensure your voice is heard:
General tips:
Be a prepared voter: Read these tips prepared by the county Board of Elections.
Familiarize yourself with the ballot: You can see a sample ballot for your location here. On your paper ballot, be sure to check both sides for races.
If you are voting in person:
Know your polling place: You can find it with this tool at VotesPA.com; the Lancaster County Board of Elections has a full list of polling places and a list of location changes for Tuesday's election.
Know your rights: You have the right to vote free of intimidation, harassment or discrimination. Read this Pa. State Department statement to learn more about your voting rights and how to report a complaint.
Wear a mask and social-distance: Masks are not mandatory but are strongly encouraged.
Bring your own pen: It's one less thing other people will be touching. Blue or black only.
Dress for the weather: Depending on turnout, you may have to wait in line for a while. Tuesday's weather report is breezy in the morning, partly sunny for most of the day, with a high in the low 50s.
Consider having your ID ready to show: You are only required to present identification if you're a first-time voter or voting in a new precinct for the first time, but it can help poll workers find you in their rolls.
If you voted by mail:
If you haven't mailed in your ballot, deliver it by hand instead. The dropbox at the Lancaster County Government Center, 150 N. Queen St., is open until 8 p.m. Monday and from 7 a.m. to 8 p.m. on Election Day. Voters may only drop off their own ballots; there are some exceptions for voters with disabilities.
Make sure you put your ballot in its "secrecy" envelope, then put that in the outer envelope.
If you applied for a mail-in ballot but haven't received it, you should vote in person. For additional information, see this statement from the Pa. Department of State.