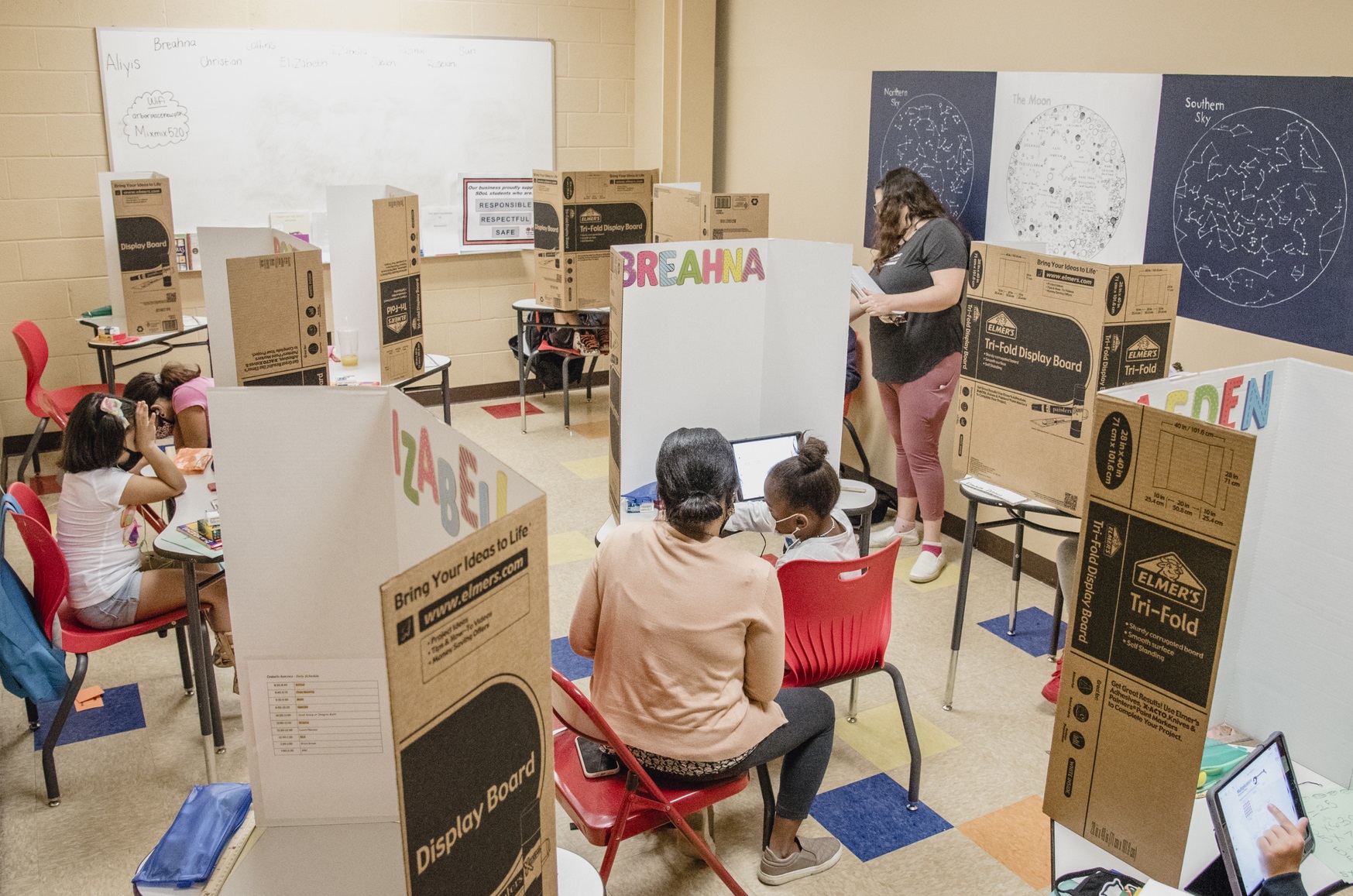 As school districts prepared for classes to resume last fall, educators, parents and students faced unprecedented uncertainty.
Would a fresh surge in coronavirus cases force a shift to remote education? If so, how difficult would that be for parents already juggling on-site or remote work during the pandemic?
To help, the United Way of Lancaster County launched Community Classrooms. The program is a turnkey solution providing small, safe, dispersed venues at churches and nonprofits where students can engage in online education with supervision from adult volunteers.
Piloted locally at the School District of Lancaster, Community Classrooms had around 700 students actively participating districtwide at its peak this fall, said Erin Conahan, SDL's director of school, family & community partnerships.
With SDL scheduled to resume on-site instruction this coming Monday, Jan. 25, Community Classrooms will scale back somewhat, but it will continue through the rest of the school year and can be scaled back up again if there's need.
"We continue to stand ready," said Kevin Ressler, the United Way of Lancaster County's president and CEO.
Partnership Planners
The software that underpins Community Classrooms was developed by the IT social enterprise Partnership Planners. Initially, it was rolled out to the Harrisburg, Steelton-Highspire and Susquehanna Township school districts in Dauphin County.
Essentially, Community Classrooms is a clearing house that connects nonprofit sites, families and schools. The sites are vetted to make sure they follow all federal and state Covid-19 health and hygiene guidance, and that staff who interact with children have the proper clearances. Parents use an online portal to find an appropriate site and sign up their children. The software helps school districts and nonprofits with staffing, taking attendance and other administrative tasks.
Partnership Planners had been helping the United Way upgrade its 211 mapping system. Chad Frey, its founder and president, told Ressler the same software was supporting Community Classrooms, and asked if the United Way of Lancaster County was interested in participating. Absolutely, Ressler said.
The United Way had compiled a list of county churches that could serve as potential remote learning sites. It became further involved in remote learning over the summer with the launch of the Partnership for Learning Equity. The partnership set up and ran an online summer enrichment program for county schoolchildren, developed by the nonprofit BellXcel, and provided them the Internet connections and hardware needed to participate.
Ressler thought Community Classrooms was a great idea, He pitched it to county school superintendents through Intermediate Unit 13, the education services agency for Lancaster and Lebanon county school districts. He was advised to seek county funding, but county officials declined, saying the districts had already received millions of dollars in CARES Act disbursements from which they could draw, if they chose.
While other county districts demurred, the School District of Lancaster signed on. About a dozen nonprofits partnered with Community Classrooms to provide space for SDL students. Funding was provided through private sources, including a Lancaster Cares grant.
"Organizations rallied and filled a need," SDL's Conahan said. They overcame limited resources and numerous challenges, she said, and "bent over backward" to make the program work for families and children.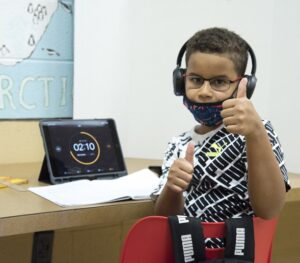 The Mix
The Mix at Arbor Place is a Community Classrooms site. At its peak, the nonprofit's cohort of participants numbered around 70, mostly of elementary school age, said executive director Kyonna Bowman.
The Mix didn't have a budget for the program — it launched a fundraising campaign to help offset the cost — but working families in the community needed it, Bowman said.
Nearly every student has a different class schedule, which adds complexity, she said. Students occupy space throughout the building to ensure social distancing; they take "brain" breaks and recess and have lunch provided by the school district.
"At home, my mom has to work a lot," said Celebrity, a fifth grader who normally attends Wharton Elementary School. Remote learning is harder than in-person, she said, but at The Mix, staff help her understand her schoolwork.
Remote learning in Lancaster County
The state Department of Education leaves decisions on remote learning up to individual school districts. Districts are generally conducting in-person education, but may offer remote learning as an option: Contact your district for up-to-date information.
The School District of Lancaster is offering virtual and cyber school options as well as in-person learning as of Jan. 25. SDL families interested in off-site learning locations can visit the Community Classrooms website to find participating providers.
The United Way's Map of Services includes child-care providers that may offer remote learning independently of Community Classrooms.
A school district must join Community Classrooms before remote-learning sites for its students can be listed. School districts and providers interested in exploring their options may contact Audrey Lilley at lilley@uwlanc.org.
When SDL resumes in-person education next week, all but one of the families The Mix serves plan to send their children back to the classroom. So, after this Friday, the Mix will shift away from Community Classrooms and offer its normal after-school program beginning Feb. 1, Bowman said.
At other venues, such as the North Museum and Chesterbrook Academy Preschool, Community Classrooms will continue. SDL will continue to give students the option to take classes online, and other districts are doing so, too, so the need isn't going away, said Andrew Garner of the North Museum.
Meanwhile, the Partnership for Learning Equity is continuing its efforts. This week, it launched its online after-school program, with local teachers following a curriculum from the nationally recognized education nonprofit BellXcel.
The United Way is focused on problem-solving, Ressler said. He's excited about the potential of Partnership Planners' mapping software, which is flexible and can be readily adapted to future initiatives that, like Community Classrooms, involve coordinating multiple organizations.
"This is an example of what United Way is capable of doing when we can partner together," he said.