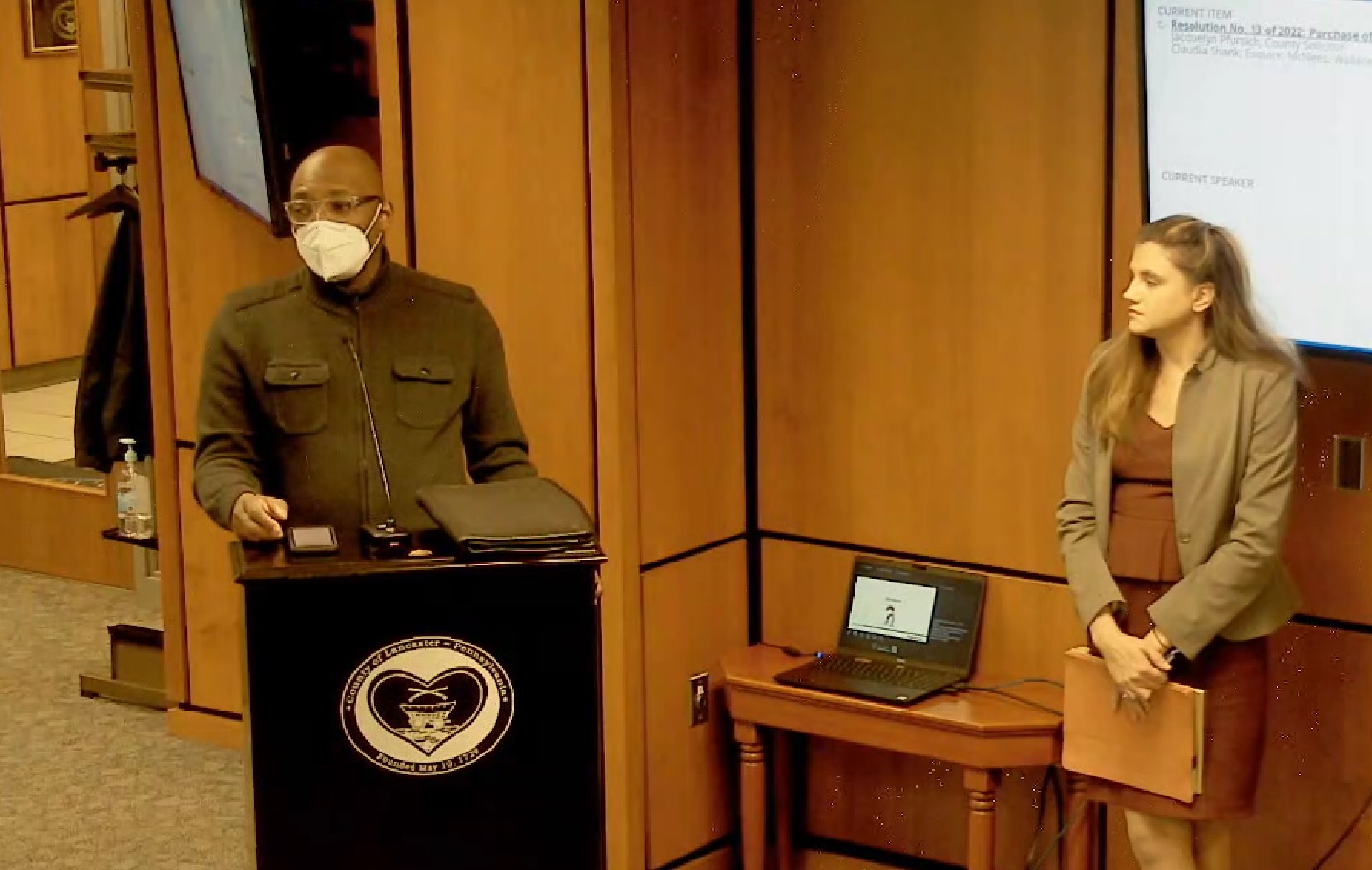 The Lancaster County commissioners took a final vote Wednesday morning to complete the purchase of 78 acres just south of Lancaster city for a new county prison.
The vote authorizes the two-member board's chairman, Ray D'Agostino, to sign the settlement documents completing the transaction with current owners Clyde and Shirley Kreider.
Plans include temporarily leasing the property back to the Kreiders so they can continue farming it until construction work begins, which will not be for some time. That side agreement should be completed by the Feb. 11 settlement date, D'Agostino said.
Will ARPA be tapped?
In an interchange before the vote, NAACP Lancaster President Blanding Watson asked the commissioners if they planned to use American Rescue Plan Act funds to build the prison.
The county received more than $100 million in ARPA funding, passed by Congress and signed by President Biden last spring to promote recovery from the coronavirus pandemic. To date, only a small portion has been allocated.
Under current guidance, prison construction would be an ineligible use, Commissioner Josh Parsons acknowledged.
However, he said, it's possible Congress may amend the law to allow at least some ARPA funds to go toward capital construction projects, though that hasn't happened yet.
A few aspects of the overall project might be eligible under current guidance, he and D'Agostino said, such as water infrastructure or environmental restoration around the property.
Earlier, Parsons said he expects the county will have to use at least some bond funds for the project. The bottom line, he said, is all decisions about paying for the project remain pending: "We haven't had any discussions about what funds we're going to use."
Watson followed up by asking if the new prison would incorporate initiatives to reduce incarceration, which disproportionately affects communities of color.
That will be an important topic during the planning process, Parsons said, with abundant opportunity for community input. He noted the prison population today is around 45% lower than it was a decade ago, in part due to reforms that sped up court processes to reduce pre-trial confinements.
D'Agostino said the prison project will offer opportunities for programming to reduce recidivism and incarceration that simply aren't feasible now due to the existing prison's limitations.
Earlier in the meeting, Watson spoke in connection with the commissioners' proclamation of Black History Month. He called for economic and political change to promote equity and social justice.
"Black history is American history," he said.