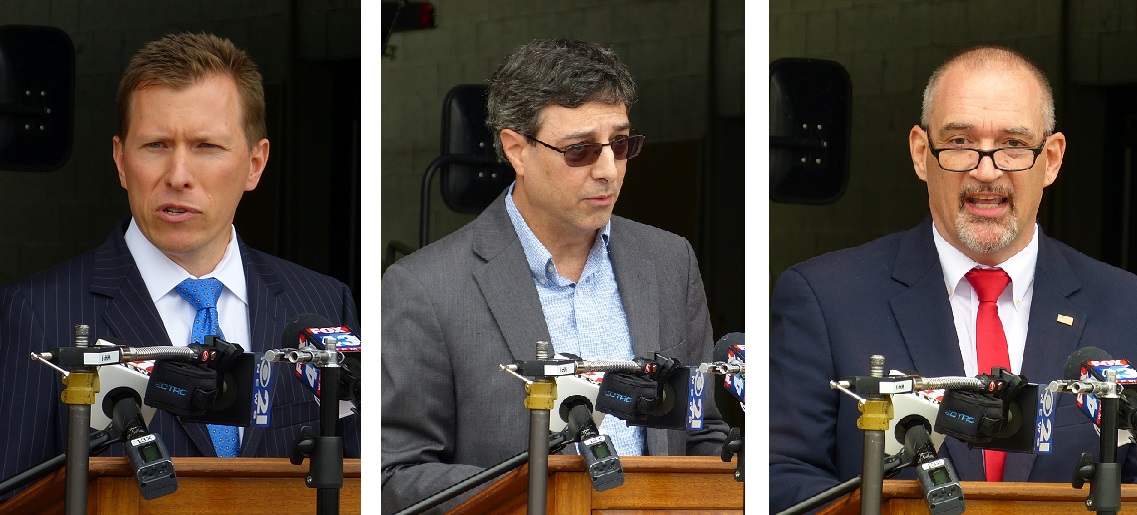 At a news conference Thursday, Lancaster County commissioners Josh Parsons and Ray D'Agostino stood by their opinion that Lancaster County is ready to begin easing its Covid-19 lockdown Friday and businesses are free to defy Gov. Tom Wolf's order and reopen if they so choose.
The two Republicans' Democratic colleague, Commissioner Craig Lehman, said the county absolutely is not ready to reopen. Angrily, he accused the county's Republican leaders of "trying to play politics with public health."
That divide, evident for weeks, hardened this weekend when Parsons and D'Agostino joined 11 other county Republicans in signing a letter to the governor, a Democrat, saying he had forfeited public trust and the county would move to the state's "yellow" phase Friday with or without his blessing.
Parsons and D'Agostino stressed that the decision to reopen is up to businesses themselves, and that those that open must follow Centers for Disease Control guidelines.
Joining them in pushing for a reopening he says is overdue, U.S. Rep. Lloyd Smucker said Lancaster County was "more than successful," in limiting the initial surge of Covid-19 cases, showing a timeline of cases to prove his point.
But Lancaster County's economy is tottering and unemployment has skyrocketed, he said. Those jobs are mostly working class — three-quarters of them pay less than $40,000 a year, according to a McKinsey study that Smucker cited — and the Congressman contended they may never come back "if we don't safely reopen this economy."
"This will have a drastic impact if we don't stop it now. ... Families in our communities are struggling," he said.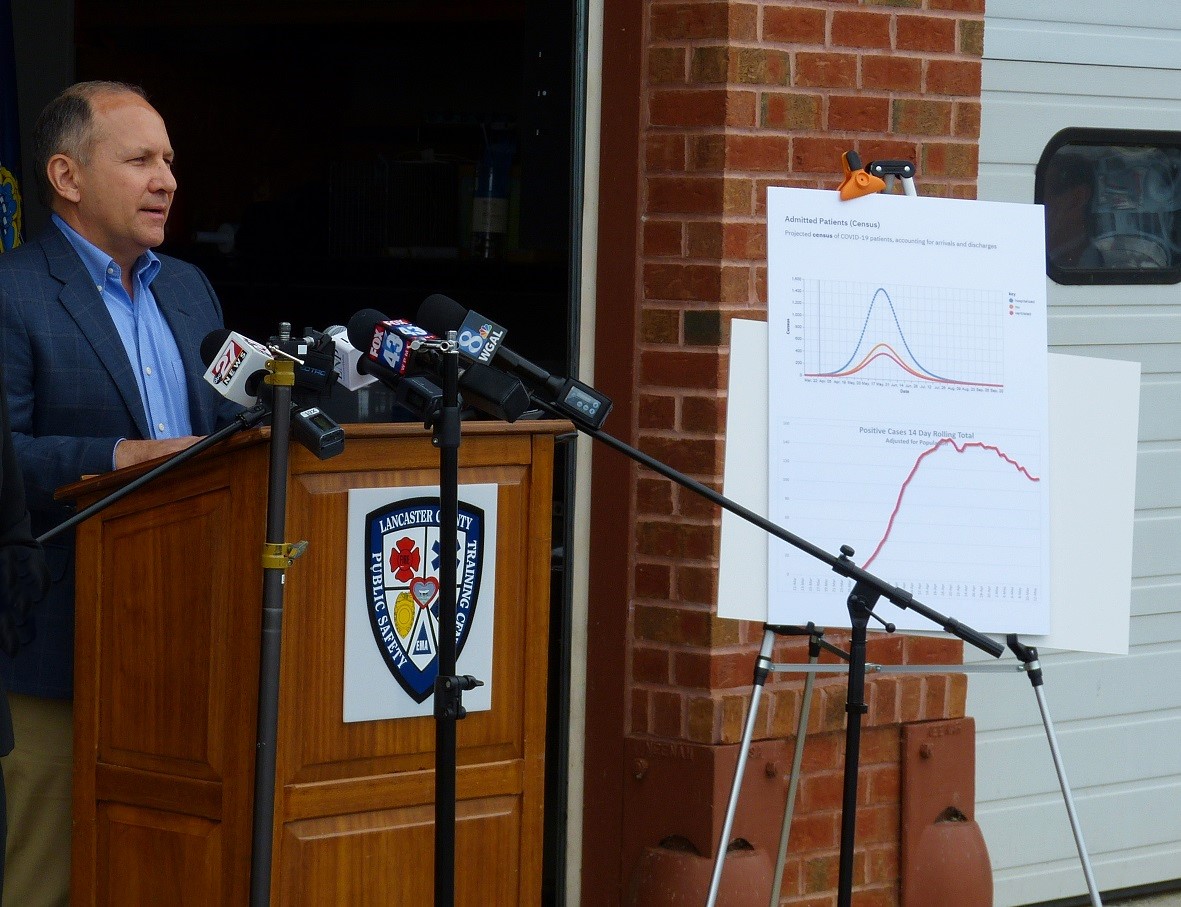 Lehman disputed Smucker's account. Federal aid is supposed to be mitigating Covid-19's economic fallout, he said; if it isn't, "our federal officials have failed us."
He conceded that hospitals haven't been overrun. But the county is still seeing close to 50 new cases a day and needs to wait until full testing and contact tracing in place, he said.
The testing issue should be remedied soon, thanks to an agreement for comprehensive testing and contact tracing the commissioners approved Wednesday with Penn Medicine Lancaster General Health.
Once that's up and running — May 22 at the earliest — Lehman said he'd be willing to push for changing Lancaster County's status to yellow.
"I'd be tempted to take up that deal," Smucker said. But Parsons said he doubted Wolf would allow Lancaster County to change its status before it reaches the governor's new-case target of 50 per 100,000 over two weeks.
Lancaster is one of three counties statewide whose leaders are encouraging early reopening. Lebanon County plans to vote Friday on a resolution, and Beaver County commissioners have said they support reopening.
Other counties considered defying Wolf, but backed down after Wolf threatened to cut off CARES Act funding and revoke business licenses.
While District Attorney Heather Adams has said she will not prosecute violations of Wolf's order, Lancaster County is making no official declaration or other formal action.
Indeed, the county has no legal authority to override Wolf, Lehman said. Moreover, he said, if it were to pass a resolution to reopen, it would be committing a Sunshine Law violation, in light of Parsons and D'Agostino having jointly signed the letter.
Parsons denied that the letter was a political ploy or that he and D'Agostino were pushed into it by the county's Republican state legislators. It was a collaborative effort, he said, motivated by weeks of broad-based constituent frustration with Wolf's policy.
He said he's aware of businesses evaluating their options to reopen, but declined to name any, or any he thought might go ahead and do so.