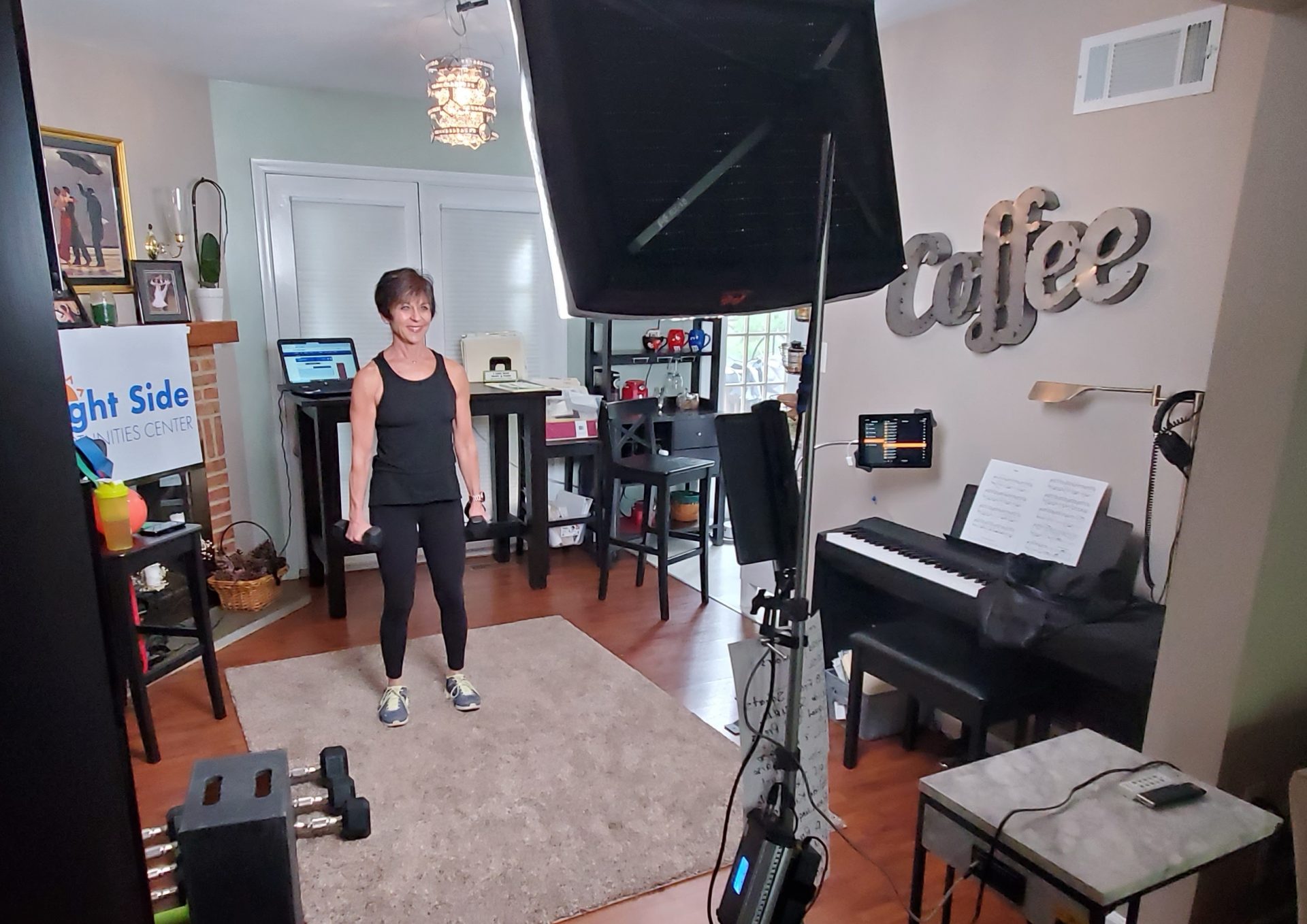 "Hey, everyone!" Sally Winchell exclaims. "Coming to you live!"
As her class logs onto the Facebook Live stream by twos and threes, she looks into the camera and greets them by name. Meanwhile she gives a synopsis of the upcoming workout. A few minutes later, she's counting off deep knee bends.
Since mid-March, activities at Bright Side Opportunities Center have been shut down due to coronovirus. So Winchell, the facility's wellness director, has been offering online fitness classes for members from her Lancaster Township home.
At least 50 people a week tune in live, Sally said. Other viewers catch the videos later on Facebook and YouTube.
It's been a great way to keep members engaged while they're at home, she said.
Her husband, freelance cinematographer George Winchell, owns WM Productions. He created a basic lighting and camera setup in the couple's dining room.
From March 18 to 31, the classes were offered daily. There was even a contest with cash prizes (the first-place winner received $100) to encourage people to tune in.
Winchell now alternates with yoga instructor Teri Butson, with Winchell offering three online classes a week, and Butson offering two.
Bright Side member Maria Coole says Winchell's classes have been invaluable for her — for the social connection as well as the physical exercise.
"Sally mixes it up each day," she said. "She's so bright and sunny." It's fun to hear Winchell greet fellow class members, and nice to hear her say how much she misses the group.
Winchell said she's comfortable in front of the camera. In an in-person group class, people can feed off each other's intensity; that's harder when they're by themselves at home, so she's makes it a point to keep her own energy level high.
A couple of times, she's moved the setup into the kitchen and offered a food class.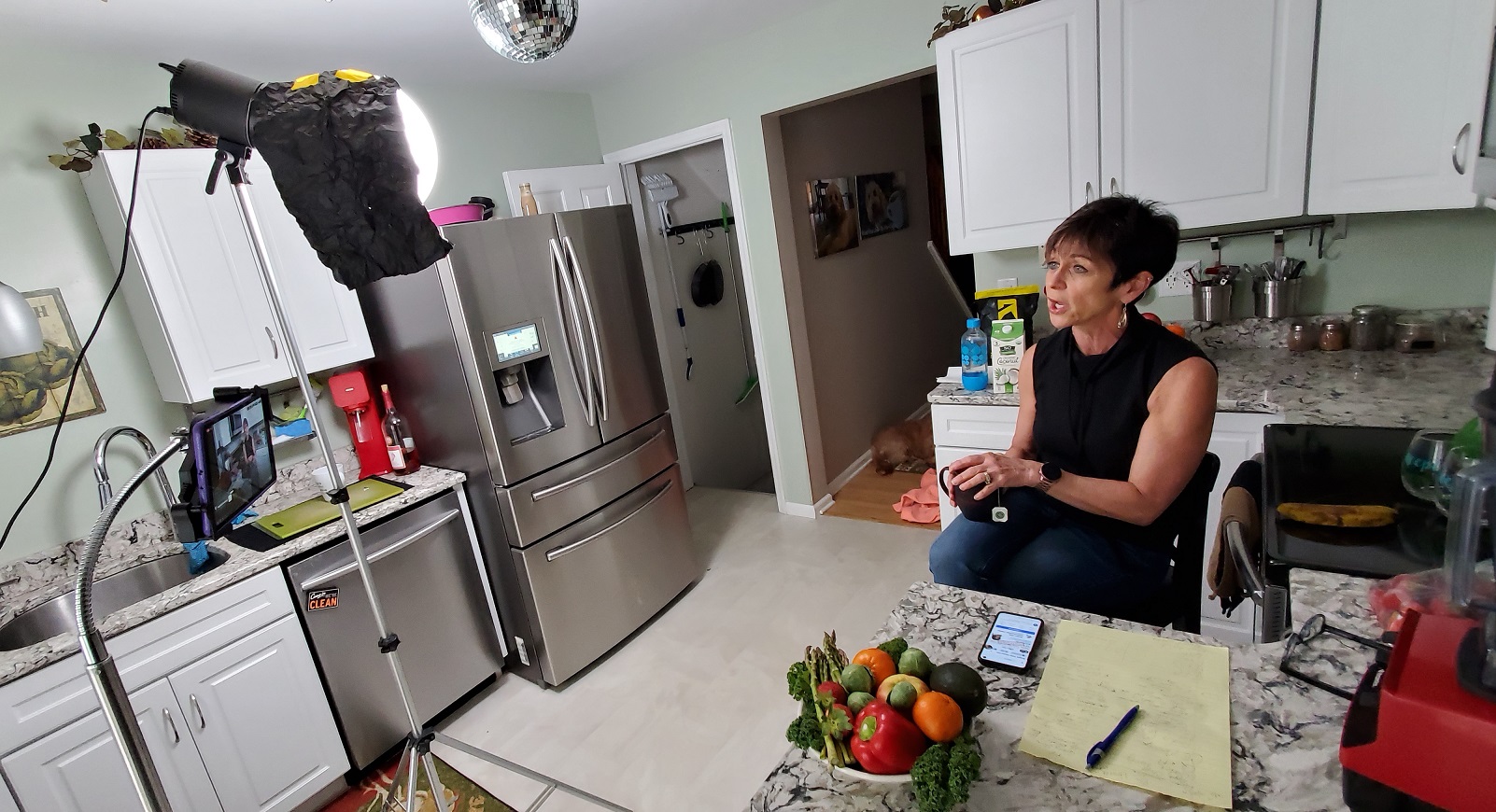 Willonda McCloud, Bright Side's President and CEO, said staff are working remotely. They're gaming out possible strategies for how to proceed when it's OK to reopen and are consulting with fellow nonprofits, trading ideas and best practices.
It's a tough challenge, she said: "Everything's so up in the air."
Winchell she thinks she'll keep doing some online videos even after there are other options again. But she said she's "super ready" to see her classes in person again.
"I'm chomping at the bit," she said.
Do's and don'ts
Thinking of offering a class or performance online? Here are a few tips from Sally and George Winchell:
Plan your setup: Make sure your space is tidy and uncluttered so viewers can focus on the action. Lights and camera should be positioned for full, balanced lighting.
Keep it simple: The simpler your setup, the easier it is to set up and tear down, and the fewer chances there are for something to malfunction.
Be close to the camera: Try to fill the frame: If you're too far away, it's harder for viewers to focus on you and stay interested.
Keep viewers engaged: People will drift away if you spend time fiddling with the camera or let stretches of slack time slow down your performance. Keep the momentum going from start to finish, and bring your warmth and enthusiasm to the fore.