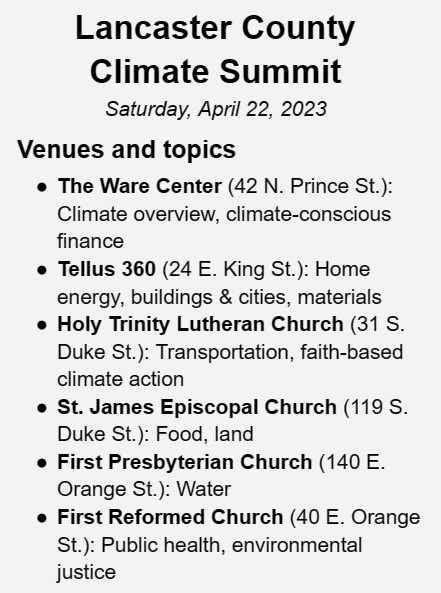 Local climate nonprofit RegenAll is planning a Lancaster County Climate Summit this spring in honor of Earth Day.
The event, billed as the first local climate event of its size and scope, will take place on Saturday, April 22, at six Lancaster city venues: The Ware Center, Tellus 360 and four city churches. Organizers hope to attract 5,000 attendees for wide-ranging discussions of the climate crisis and the local work on solutions.
"We want to establish Lancaster as a regional leader in climate action," Joyce Burkholder, community outreach coordinator at RegenAll, said in a statement.
"The Climate Summit will bring the important issues into focus and allow neighbors to connect in actionable ways they can reduce their impact on the environment."
Event details and speaker rosters are being finalized. Visit the Lancaster County Climate Summit web page for more information and to sign up for updates.
RegenAll provides various services to help organizations and households reduce their carbon emissions and advocates for policies to promote a sustainable environment. In late 2021, it hosted a local TEDx event on the environment, and it participated in Citizen Climate Lobby's Earth Day "half birthday" this past October.