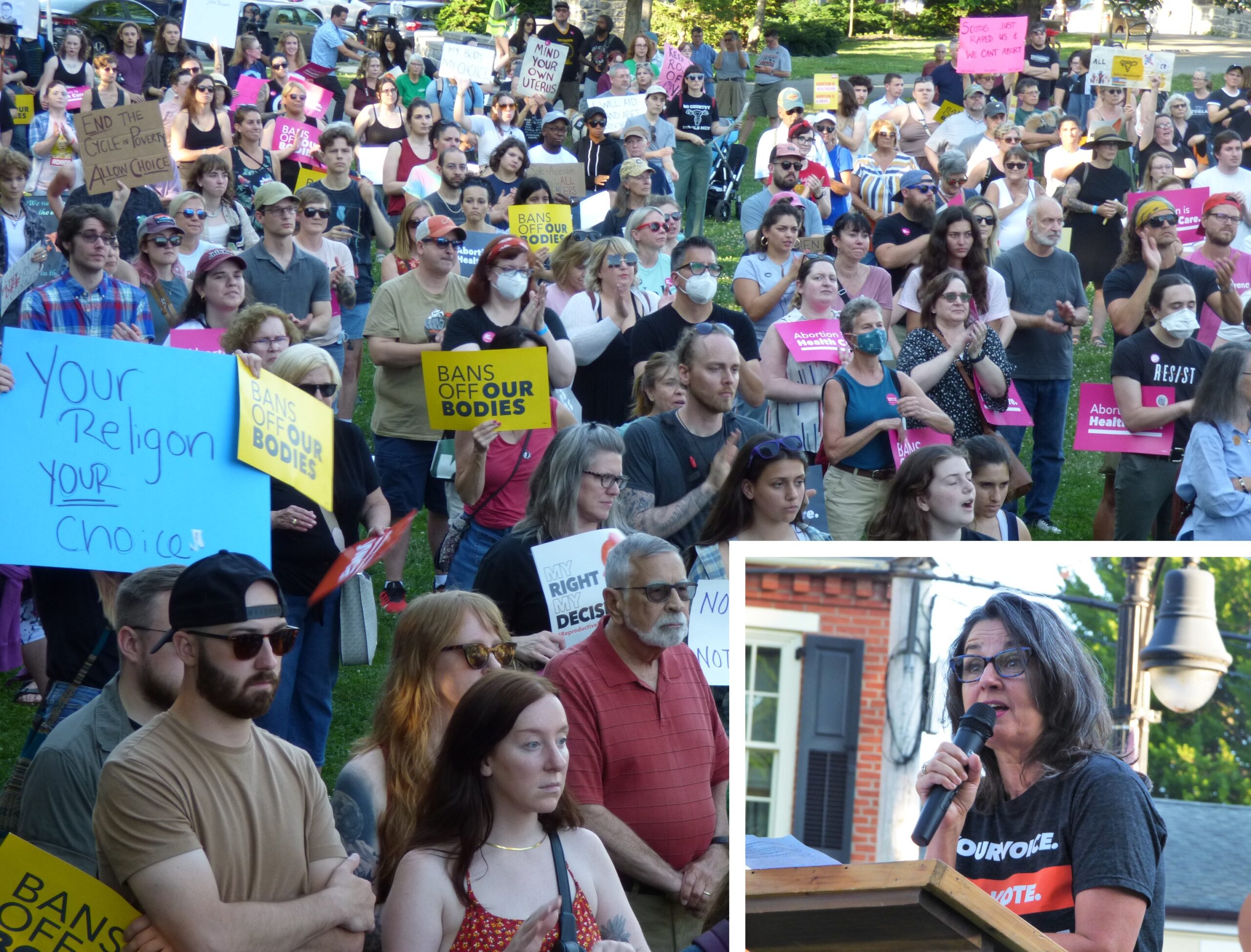 "I wasn't sure you would come," Lancaster YWCA CEO Stacie Blake told the crowd at Musser Park Friday evening.
But Lancaster residents did come out, several hundred strong, convening to express their outrage over the U.S. Supreme Court decision earlier in the day overturning Roe v. Wade and rescinding the constitutional right to an abortion.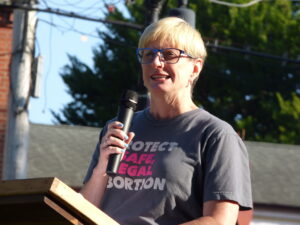 It's the first time in U.S. history that the Supreme Court has taken away a right, said Melissa Reed, CEO of Planned Parenthood Keystone.
"We've been betrayed," she said.
The ruling paves the way for states to restrict the procedure as they see fit. Several states with "trigger laws" imposed almost total bans within hours of the decision.
"We are at a crisis point," Reed said. The Supreme Court's decision will cause "immediate harm" to millions of women, she said, especially poor and non-White women.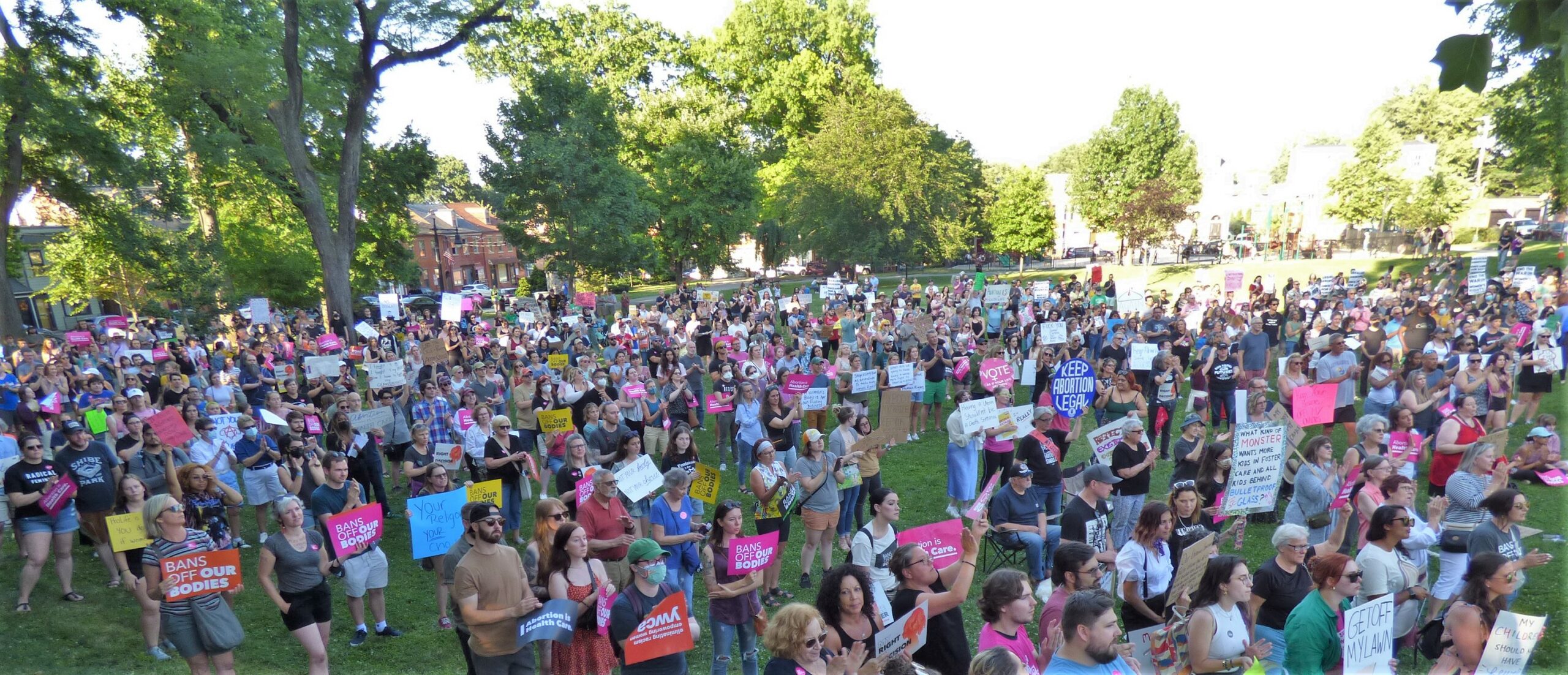 As Reed and other speakers noted, abortion remains legal and available in Pennsylvania. Planned Parenthood predicts a roughly five-fold increase here in abortion patients coming from out of state, or roughly 8,500 a year, Reed said.
The future of abortion access in Pennsylvania depends on pro-choice voters being alert and mobilized, the speakers said. Democratic Gov. Tom Wolf has been a "backstop," as Reed put it, vetoing anti-abortion laws, but his term is coming to an end. November's election pits Democratic candidate Josh Shapiro, who is firmly pro-choice, against Republican Doug Mastriano, who supports banning abortions without exception.
Meanwhile, the state's Republican legislative majority is advancing a constitutional amendment that would block the state Supreme Court from declaring abortion a right. Its supporters include state Sen. Ryan Aument of Lancaster County, who like many Republican legislators released a statement Friday affirming his support for anti-abortion legislation.
"We need each and every one of you in this fight," Reed said, calling on the rally participants to contact their legislators, to donate to pro-choice causes, to volunteer and to vote.
Pro-life organizations and conservative churches praised the court's ruling. Roe was "a deeply flawed decision which rightly has now been tossed into the ash bin of history," said Maria Gallagher of the Pennsylvania Pro-Life Federation.
Personal testimony
At the Musser Park rally, former Democratic U.S. House candidate Sarah Hammond described her experience five years ago obtaining an abortion through Planned Parenthood in York after a miscarriage — that is, to remove a fetus that had died. Had that procedure not been available, had sepsis set in, her own life and health would have been in danger, Hammond said.
Another woman at the clinic, Hammond said, had cancer, and was terminating her pregnancy to save her life. Others may have been choosing abortion for economic or personal reasons, but that doesn't matter, Hammond said: Every patient at that clinic "had a valid reason to be there."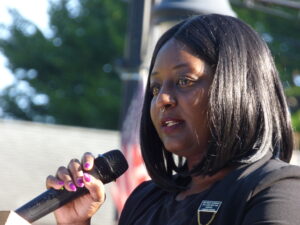 Jasmyne King, director of YWCA Lancaster's Center for Racial & Gender Equity said making abortion safe and accessible improves mental and physical health and economic outcomes.
"There is nothing moral about forcing countless people, women, nonbinary folks, trans men and other member of a gender expansive community into a position that doesn't let them choose their own future," she said.
Grace Dunigan, of the Pennsylvania Commission for Women, warned that the court's decision opens the door to the curtailment of other rights grounded in personal privacy, including the rights to birth control, gay marriage and interracial marriage.
Dr. Melanie Stone, an obstetrician/gynecologist and chair of Planned Parenthood Keystone said she feels a "sacred bond" when patients consult with her regarding an unplanned pregnancy.
"I cannot do my job if the government is inserting itself in my exam room," she said.
Blake, the YWCA Lancaster CEO, quoted activist Valarie Kaur on "rage as a practice of revolutionary love." Process your rage and understand it, she told the crowd, then harness it to "reorder the world."
"We're just getting started," she said.
Photos