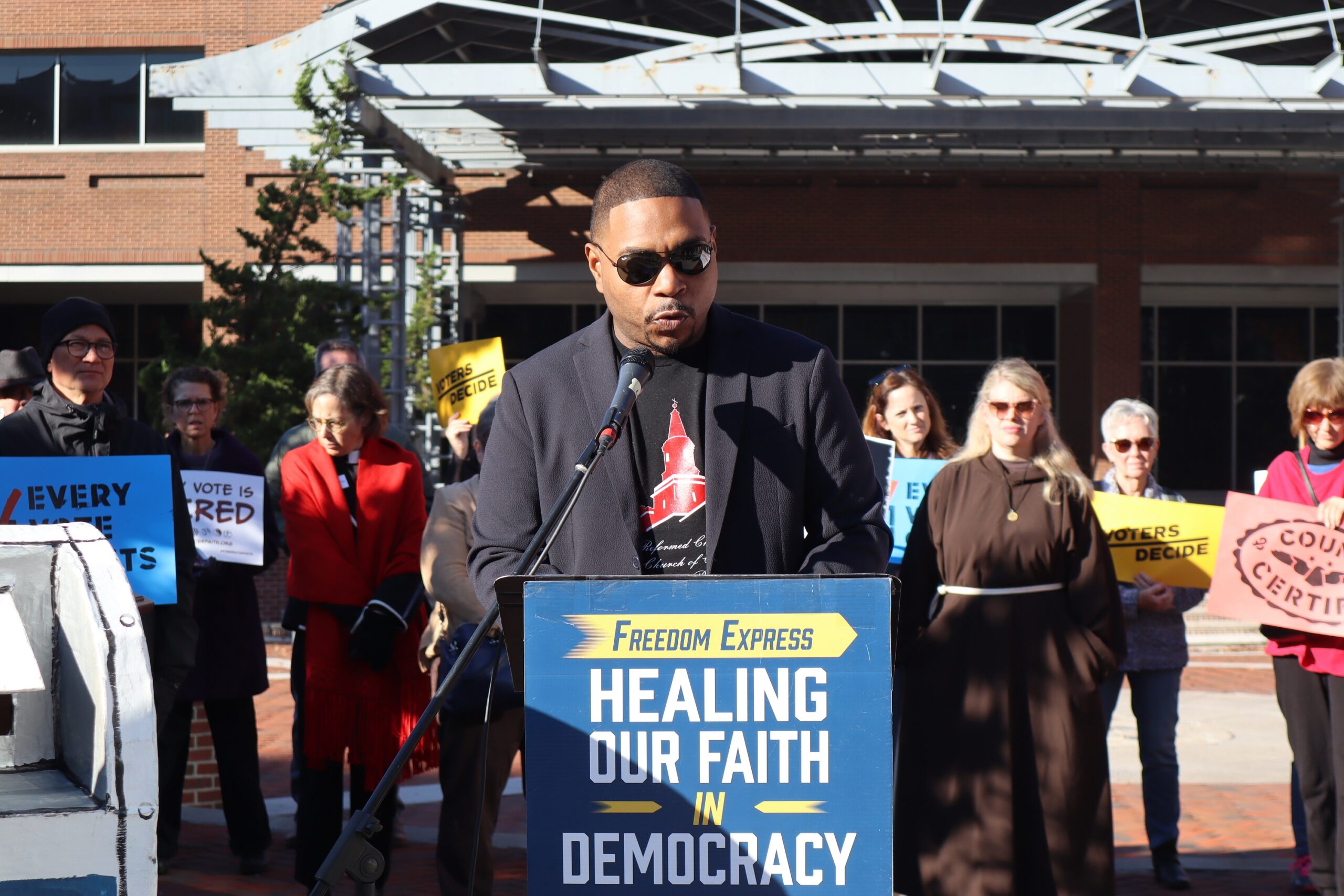 "Voting rights are under attack nationwide," the Rev. Devin Jeffers said.
Since 2008, he said, states across the country have passed measures making it harder for Americans, especially minorities, to cast their ballots.
"That is why we are here. ... Your vote is your voice," he said.
Jeffers, pastor of First Reformed United Church of Christ in Lancaster, was among a dozen religious leaders who spoke at a rally Thursday morning in Binns Park organized by the grassroots racial justice organization POWER Interfaith.
Hailing from a range of faith traditions, speakers representing congregations here and across Pennsylvania called for strengthening voting rights and urged everyone who is eligible to cast a ballot. They advocated for an array of progressive policies and denounced the influence of far-right Christian nationalism, calling it contrary to Christ's teachings and dangerous to democracy.
Several speakers called out Lancaster County Commissioners Josh Parsons' and Ray D'Agostino's decision this spring to remove the county's only ballot drop box.
"That is an act of voter suppression," said the Rev. Matt Lenahan of Zion Lutheran Church in Akron.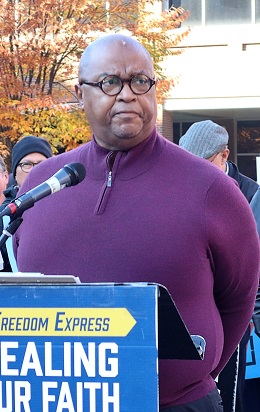 The Rev. Roland Forbes of Ebenezer Baptist Church in Lancaster described the way his grandmother "would fight her way to the election booth" in the pre-Civil Rights era, determined to exercise her rights. When people today fail to vote, he said, they are trampling on the sacrifices of those who came before.
The Rev. Jennifer Mattson, rector of St. Thomas Episcopal Church in Lancaster, said Christian nationalism "would tell us the lie that our nation is small, that it is for a select privileged few. Christian nationalism would tell us to be afraid of our neighbors, of our differences."
Christian nationalism contends that America is an inherently Christian nation and should be governed according to Biblical principles. It was a dominant theme at the "ReAwaken America" tour that drew an estimated 5,000 people to the Spooky Nook Sports complex last month, though some speakers there disputed the term. Mainstream Christian churches have denounced it, while journalists and social scientists warn that the movement's intransigence and determination to wield power constitute a threat to American democracy.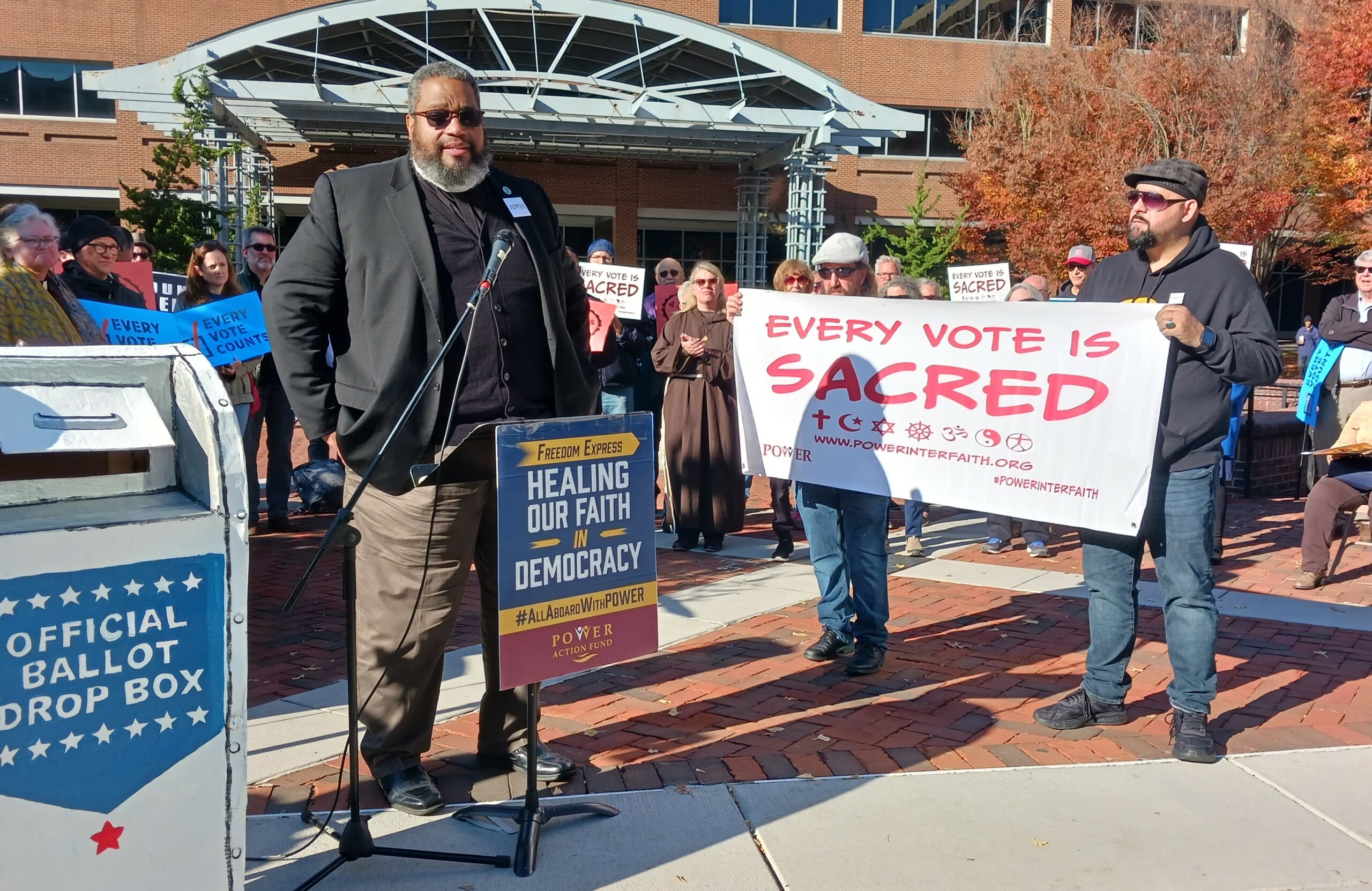 Bishop Dwayne Royster is the executive director of POWER Interfaith. Working to weaken voting rights instead of strengthening them is a sin, he said, and those who aim at restricting the franchise "are the minions of the devil himself."
"[For] too long, we have been told that we don't matter and we don't count," he said. "But the one way to level the playing field is to use your vote."
POWER Interfaith has about 25 member congregations in Lancaster County and about 200 statewide, said the Rev. Jason Perkowski, pastor of the Faith United Methodist Church and Oregon Community United Methodist Church, both in the Lititz area.
For the past two and a half weeks, members have been crisscrossing Pennsylvania on POWER Interfaith's "Freedom Express" bus tour. Week 1 covered the Philadelphia area, while Week 2 covered western Pennsylvania; Thursday's landing in Lancaster follows visits to Gettysburg, York and Reading. The tour wraps up Friday with a final stop in Harrisburg.
The Lancaster visit was to continue with a lunchtime workshop on Christian nationalism at Ebenezer Baptist Church; a get-out-the-vote drive Thursday afternoon. It closes with a vigil and concert in Penn Square at 7 p.m., featuring the Music for Everyone Community Chorus.
Photos