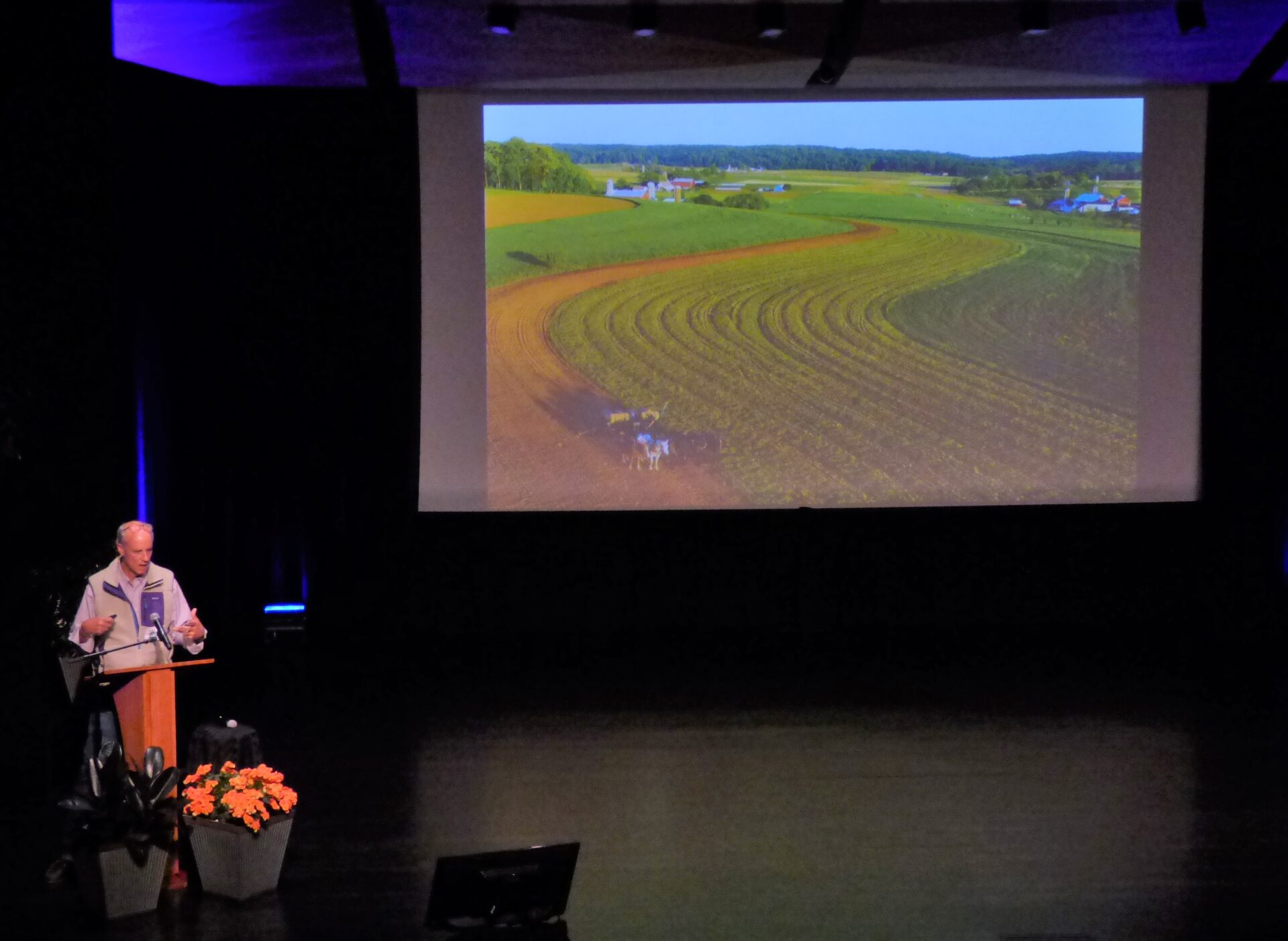 Award-winning photojournalist George Steinmetz has spent the past decade trying to help people understand the contours of the world's food supply chains.
Related: 'Lancaster Changemakers' recognized at forum
Populations' dietary decisions have profound worldwide economic and environmental impacts, yet "there's this huge disconnect" between consumers and the people who produce, process and transport what they eat, Steinmetz told the audience Wednesday evening at the Ware Center.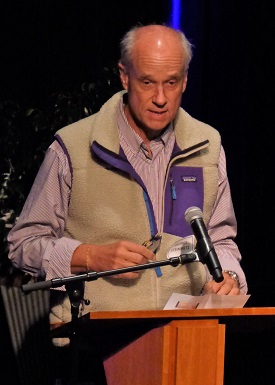 For the past decade, he has been trying to close the gap through his "Feed the Planet" project, documenting farms, feedlots, ranches, orchards, research labs, slaughterhouses and more. His goal isn't to push consumers' decisions in a particular direction, he said, but to "add more transparency" so their choices can be more informed.
Steinmetz, whose aerial photographs have been featured in National Geographic, the Smithsonian magazine and other national publications, was the keynote speaker at "Food for Thought," a forum sponsored by the Hourglass Foundation, a nonprofit that aims to spur informed debate on "complex legacy issues" facing Lancaster County, including urban vitality, education and the environment.
Steinmetz led his audience through a rapid-fire slideshow. Many of the photographs were captured by drones or from a motorized paraglider that he described as a "flying lawn chair."
The images were breathtaking, surreal and often disconcerting: A huge field clear-cut out of the Amazon jungle to raise soybeans for the Asian market; the world's largest chicken farm, where the chickens are tended almost entirely by robots; the world's largest pork processing plant; a crayfish festival that emptied an entire lake in a day; a phalanx of high-rises encroaching onto Chinese farmland. China has become the world's biggest food importer, Steinmetz noted, as it can no longer produce enough itself to feed its 1.4 billion people.
Other images were more encouraging, including one of a Tata Co. coffee plantation in India. It doubles as tiger habitat, its economic viability enhanced by growing and harvesting black pepper vines around the trees that shade the coffee plants.
Ideas that sound like silver-bullet solutions to food concerns may not be, Steinmetz said. An indoor "vertical farm" in New Jersey that he visited uses huge amounts of electricity and struggles to keep mold out of its air circulation system. The benefits of organic farming must be weighed against its tendency to require more inputs of soil, water and labor than high-tech, high-productivity farms that use pesticides.
In Lancaster County, he photographed Amish farmers who use 19th century technology to harvest the latest GMO crops, or who make a living selling free-range eggs at premium prices in Philadelphia or New York. (One local farmer charged Steinmetz $1,000 to retrieve his drone after it got caught in a tree.)
Overall, Steinmetz said he's bullish on innovations in food technology, particularly genetic modification, intensifying production enough to meet world food needs.
"Anyone who bets against human potential is a fool," he said.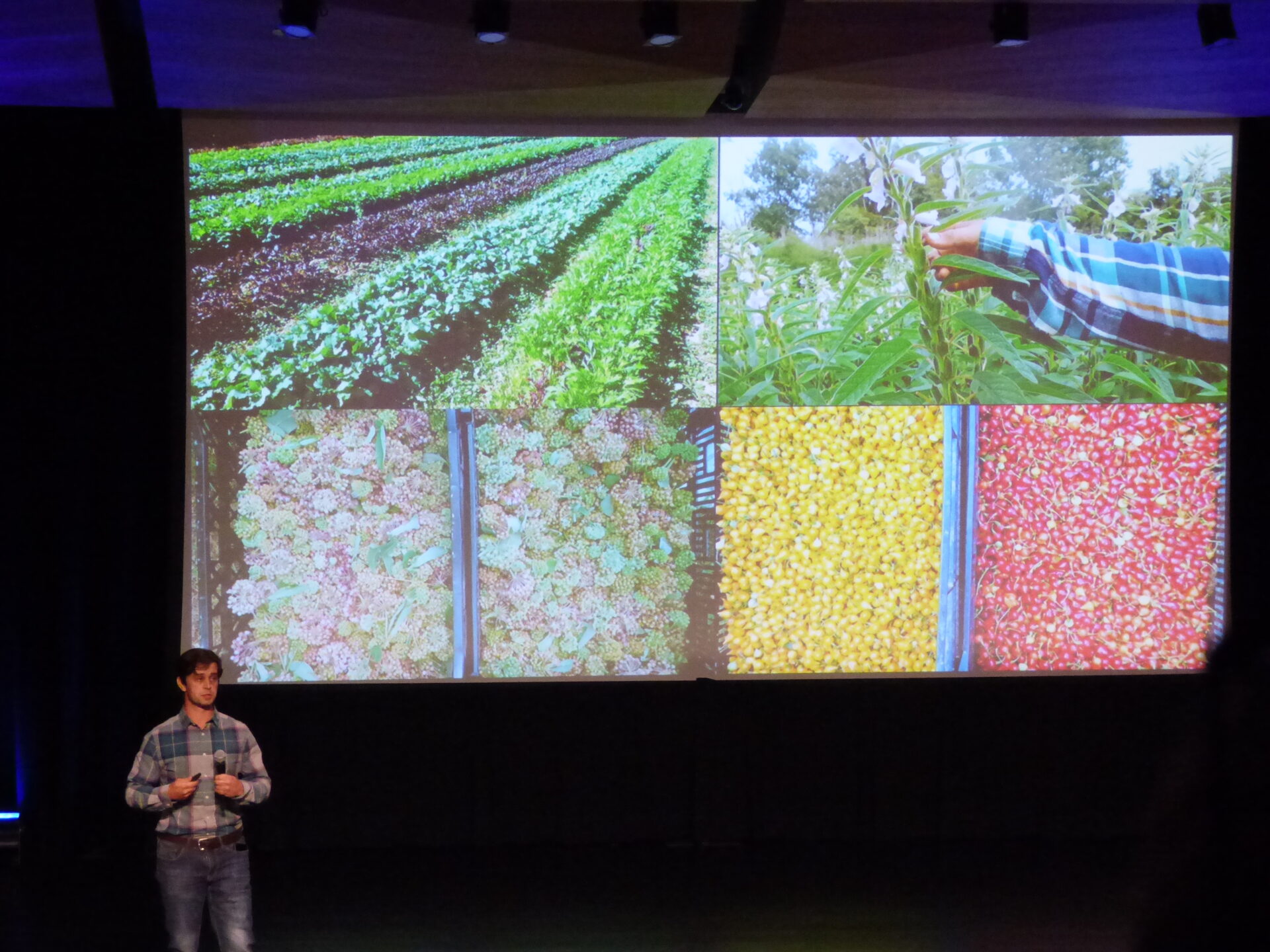 Other speakers
Besides Steinmetz, the forum featured five local speakers, as well as videos about Brubaker Farms and three "Lancaster Changemakers" involved in local food and community activism.
Joe Arthur, executive director of the Central Pennsylvania Food Bank, said that food insecurity shot up sharply in central Pennsylvania during the pandemic, and while it has ebbed, it remains higher than normal.
The Food Bank serves a 27-county footprint that's larger than the state of New Jersey. Its initiatives include programs targeted at children, seniors and military veterans, he said, and its connections with local farmers divert millions of pounds of fresh, edible "surplus" food out of the waste stream and onto families' dinner tables.
Chris Ballentine, community relations manager for Willow Valley Communities, touted the recently opened Southern Market Center food hall as "a pathway for culinary entrepreneurs to realize their dreams." One of the vendors there, Jessie Tuno of the Butter & Bean coffee shop, described the drive and commitment needed to operate a successful independent eatery, to overcome the odds and make a living in a highly competitive business with razor-thin margins.
"We put our passion on our plate for the world to judge day after day," she said.
Alex Wenger, owner of Fields Edge Research Farm, said creativity, stewardship and environmental sensitivity can help local, independent farmers remain viable and battle back against corporate monoculture farming. He described collaborating with recent immigrants and local chefs to find uses for a host of little-known crop varieties, from heirloom tomatoes to milkweed to a stand of invasive bamboo.
"If we change the way we eat a little bit, we can change our food system for the better really quickly," he said.
Mark Bryer, the Chesapeake Bay program director for the Nature Conservancy, offered "a story about optimism and hope": The restoration of oyster reefs in the bay, which is shaping up to be a major success.
Bryer cited three factors he believes have been crucial. Patient scientific research drove the decision to reintroduce native oysters rather than a foreign species initially thought to be preferable due to its disease-resistance; Collaboration among many partners has kept the restoration, the largest in the world, moving forward; and consistency ensures the kind of long-term, persistent focus needed for lasting results.
Put those factors together, he said, and "we can achieve incredible things."
Photos
(Photos: Tim Stuhldreher)