Lancaster County's immigrant and refugee population continues to increase and to make outsized contributions to the local economy, panelists told business leaders Thursday.
Speaking at a Lancaster Chamber "Wake Up to the Issues" forum, they outlined the challenges that new arrivals face in securing jobs and housing and building new lives. They urged their listeners to consider hiring immigrants and to get behind efforts to reform America's broken immigration system.
Immigrants are among the most loyal and motivated employees around, said Alain Martinez, employment supervisor with local resettlement agency Church World Service.
"They know they have been given a second chance, and they will grasp that," he said.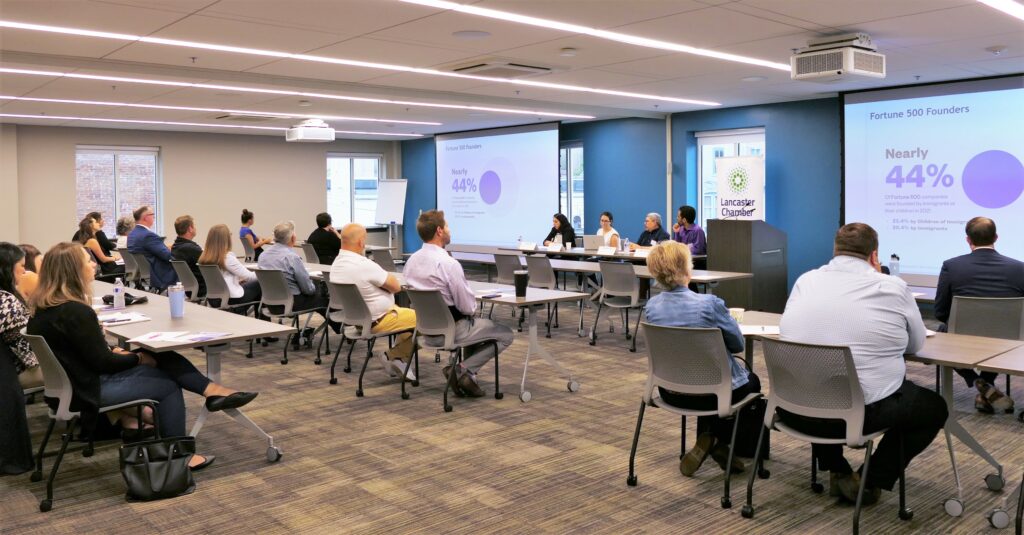 With the median age of America's native-born population rapidly rising, immigrants bring youth and economic dynamism, said Asma Easa, manager of state and local initiatives at the American Immigration Council. Since 1970, no metropolitan area in the U.S. has grown without immigrants, she said.
Immigrants are highly entrepreneurial: According to the council's data, one in five company founders is an immigrant, and more than two in five Fortune 500 companies were founded by immigrants or their children.
The Lancaster Chamber has been a strong pro-immigration advocate, seeing it as one of the keys to bolstering the local workforce and economy.
In 2016, it issued a report on the economic impact of immigration with New American Economy, a nonprofit that merged with the American Immigration Council in 2022. In 2021, in partnership with the Lancaster County Community Foundation, the chamber released a strategy paper on welcoming immigrants into the workforce and civic life.
"It's important for us as a business community to understand the nuances of this topic," Katharine DeSantis, the chamber's public policy coordinator, said.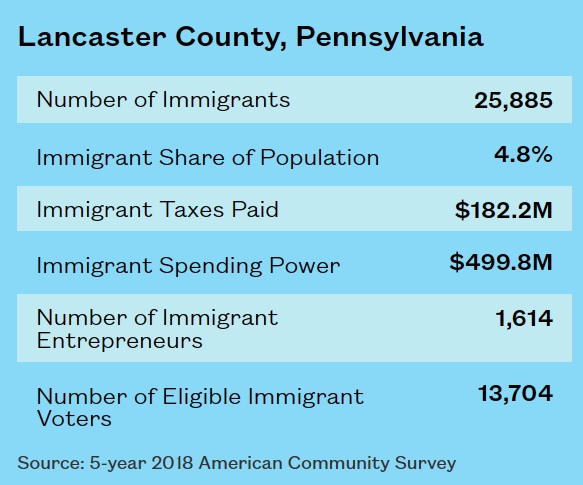 By the numbers
As of 2018, Lancaster County was home to 25,885 immigrants, making up 4.8% of the county population, according to U.S. Census data that Easa presented. That's up from 4.4% in 2014 and 4.2% in 2009.
They represented a hair under $500 million in annual spending power and paid at least $182.2 million in federal, state and local taxes.
Famously, Lancaster is a haven for refugees, individuals fleeing persecution in their home countries. Church World Service is the area's largest resettlement agency, helping more than 900 individuals relocate here between 2018 and 2022.
Resettlement has rebounded under President Joe Biden, who reversed the quota cuts imposed by his predecessor, Donald Trump. Church World Service has been tasked with resettling up to 358 individuals in the current fiscal year, which ends Sept. 30, spokeswoman Rachel Helwig told One United Lancaster. Next year, it increases to 475.
Over the past three years, Church World Service staff has grown from about 20 to 70 or so. Their work is supplemented through partnerships with churches and nonprofits and the efforts of individual volunteers. The goal is for refugees to be self-sufficient within 90 days, Martinez said.
After the fall of Kabul, Church World Service began resettling dozens of Afghan nationals. They were admitted as "humanitarian parolees," a temporary two-year status. To stay in the U.S. they must now apply for asylum, Helwig said.
Refugees overcome all sorts of barriers to employment Martinez said. Many lack transportation or child care or have little or no English proficiency. Individuals with professional training often have to take menial jobs, at least at first, because their academic degrees or professional certifications aren't recognized here.
'Alphabet soup'
The U.S. grants immediate work authorization to officially recognized refugees. For other immigrants, however, the issue of employment eligibility can be extremely complicated. There's a whole "alphabet soup" of visa categories with differing rules, immigration attorney Lauren Berkowitz of Barley Snyder said.
Employers need to handle such matters with care, she said: It's illegal to employ an individual without proper documentation, but it's also illegal to discriminate on the basis of citizenship or visa status.
Amer Al Fayadh, founder of the consulting firm Communication Essentials, said he experienced first-hand the difficulties of building a career as a refugee when he arrived here from Iraq.
"I was lost in the beginning," he said. He had no professional network. His engineering degree wasn't recognized by engineering firms, but when he sought lower-skilled work, he was told he was overqualified.
Communication Essentials offers multicultural training to employers to help them recognize and reduce barriers to employing immigrant. Echoing, Martinez, Al Fahadh listed the benefits: More cultural diversity, an expanded labor pool, and hardworking motivated employees who are eager remain with the company that hired them.
When employers hire immigrants and treat them well, word gets around, Asma said.
"You become part of the ecosystem," she said.