"The main message is simply this," Franklin & Marshall President Barbara Altmann said: "We want to continue to build on this relationship and continue to make progress together."
The relationship to which Altmann referred is the one fostered over the past four years between F&M and the broader community through the Center for Sustained Engagement with Lancaster.
Since 2019, the center has supported a range of research initiatives and projects in three focus areas: poverty and inequality, environmental sustainability and community-based art.
Support for its work came from a $1.5 million grant from New York City-based Endeavor Foundation. Now, with that funding having been expended, the center's organizers are pausing and taking stock.
On June 15, they convened a "bridging event" at Tellus360 to highlight the center's projects to date and gather input on next steps. About 125 participants registered, said F&M professor Berwood Yost, who emceed the forum.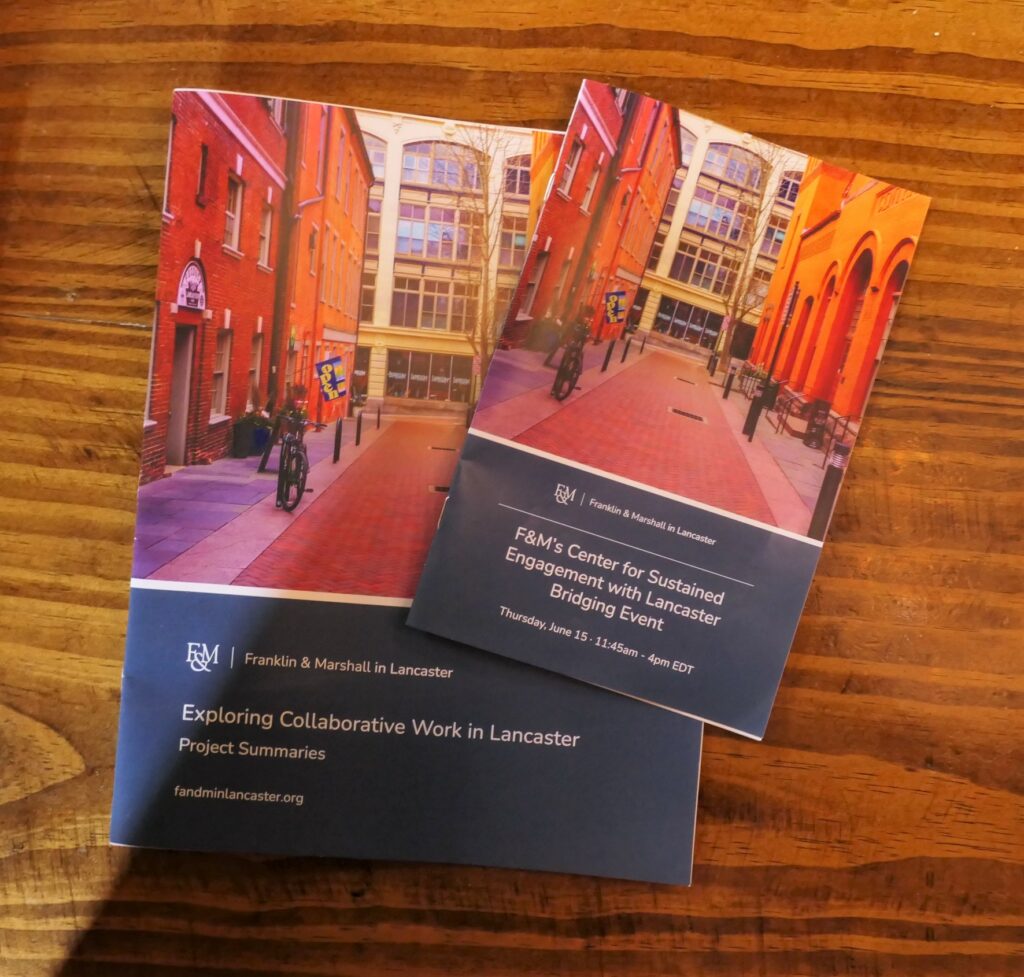 Thanks in large measure to the center, F&M "is far more outward-facing than it once was," Altmann told the gathering. Through it, she said, collaborations with Lancaster stakeholders have evolved into "a reciprocal, mutually reinforcing relationship of making progressive change."
Much of the forum was devoted to presentations on work facilitated through the center: A deliberative forum convened as part of Lancaster's comprehensive plan development; research on the economic and social impacts of the pandemic in Lancaster County (undertaken in partnership with United Way of Lancaster County) and on local undocumented immigrants specifically; publicizing best practices for stream restoration; arts projects amplifying young local voices, highlighting Lancaster's Black community and reducing stigma around mental health, among others.
"This is not faculty simply going out into the community with theoretical questions," Altmann said. "It is community-engaged action research that involves questions and research agendas that are co-created with community partners."
In several cases, projects that began with seed money from the center have been able to secure sustaining funding from other sources.
Mayor Danene Sorace said F&M has been a key partner in the city's ongoing efforts to nurture community engagement and its data-driven approach to "block-by-block" neighborhood improvement.
"We want to do more of this," she said. She asked the audience to imagine a coordinated city-community partnership working to promote community health and welfare, using data to allocate resources and track results accurately.
"Isn't that what we are all about?" she said.
Going forward, the center will need sustainable funding, Altmann said, encouraging local foundations and donors to get involved.
Meanwhile, organizers will be evaluating the center and whether its three-prong mission remains optimal or should be adjusted. She urged community stakeholders to stay in contact and provide input, and F&M faculty and students "to think about what you can offer."
Professor Eve Bratman, one of the center's two faculty co-chairs, said F&M and the Endeavor Foundation are in ongoing discussions about the possibility of the foundation continuing its support. A call by One United Lancaster to the foundation's office seeking comment had not been returned as of Friday.
Bratman said she was delighted at how the forum went and by the opportunity it provided for people interested in the center's work to meet each other and make connections.
Yost said a final assessment of the center's work, along with recommendations, is in process and should be finished by Sept. 1.