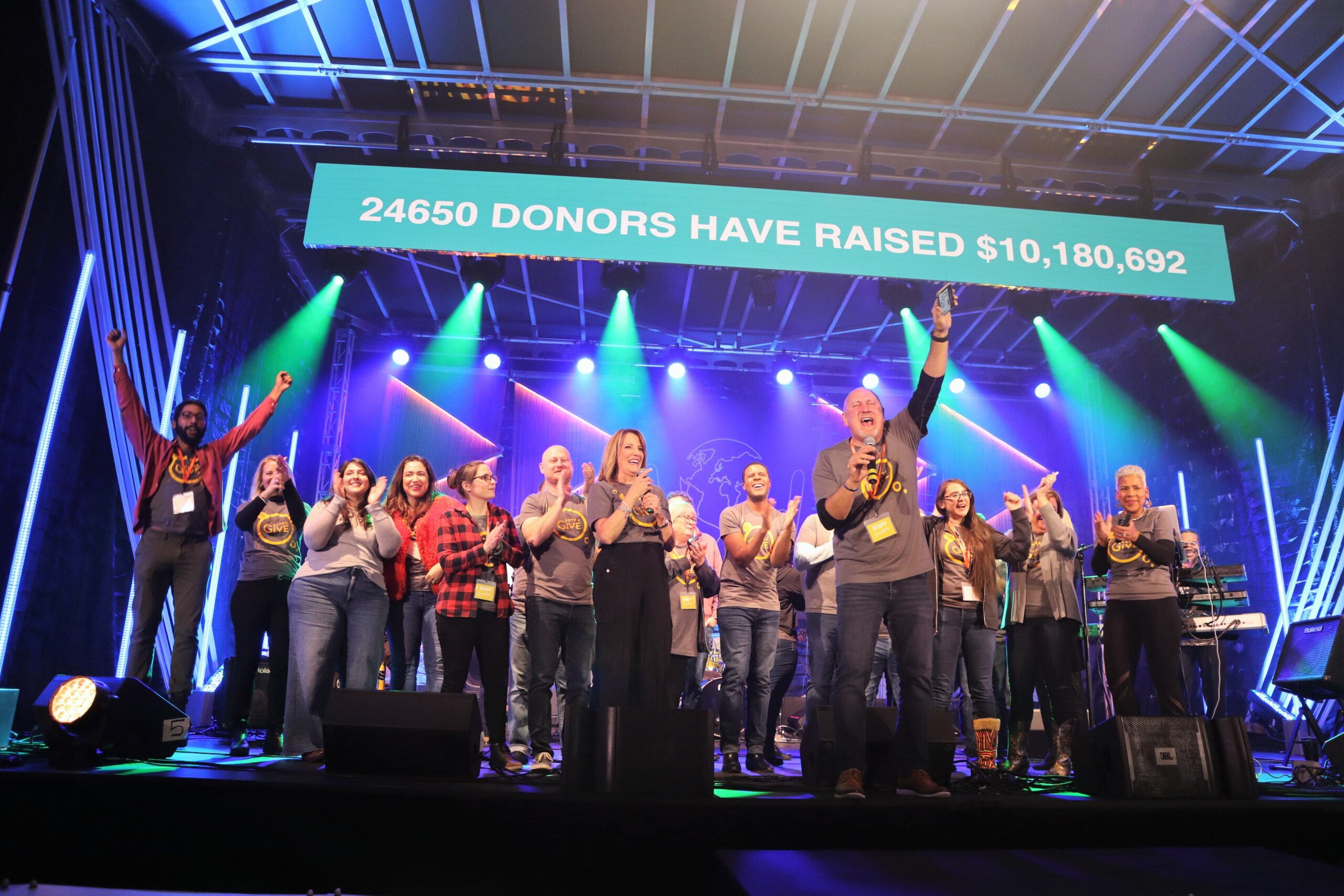 (Editor's Note: For coverage of the first part of ExtraGive 2022, click here.) 
"You are the most generous community in the world!" Lancaster County Community Foundation President & CEO Sam Bressi exclaimed to the crowd at the ExtraGive Fest.
Seconds before, the digital display above his head had updated, showing the total as 11:59 p.m. Friday ticked over to 12 midnight Saturday. It read: $10,180,692.
"You know what we do with that? We celebrate!" Bressi said.
The moment marked the culmination of Lancaster County's 11th 24-hour giving marathon, during which more than 24,000 donors made contributions to some 450 nonprofits.
This year's ExtraGive is the first not to break the previous year's record. The event notched $15.8 million in 2021, raised from 30,800 donors; the 2022 total looks to be the fifth best, just behind 2018's $10.2 million.
Per the ExtraGive leaderboards, Friday's top five recipient organizations by donor count were Children Deserve a Chance | Attollo (1,628), Water Street Mission (1,496), Lancaster Conservancy (1,261), Central Pennsylvania Food Bank (1,173) and Pet Pantry of Lancaster County (908).
The top five organizations by dollars raised were the Lancaster Conservancy ($438,308.57), Water Street Mission ($374,247.16), Our Mother of Perpetual Help School ($223,119.72), Boys & Girls Club of Lancaster ($208,030.74) and Delaware Valley Golden Retriever Rescue Inc. ($183,508.00)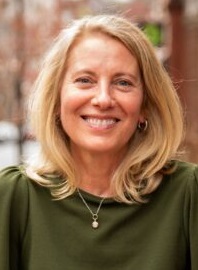 For the Community Foundation, the day is the outcome of months of work. The team was up at midnight Friday for the launch, Executive Vice President Tracy Cutler said, then back in action by 5 or 6 a.m. During the day, staff members fanned out to attend events all across Lancaster County.
Everything went smoothly and the online giving platform worked without a hitch, she said.
Before the total was announced, Cutler said the foundation would not be distressed if it did not attain yet another record.
"Whatever happens, we're raising millions of dollars to support hundreds of organizations," she said. "The giving spirit is alive and well."
Photos: ExtraGive Fest
Throughout Friday evening, there had been a hubbub of ExtraGive activity throughout Lancaster city.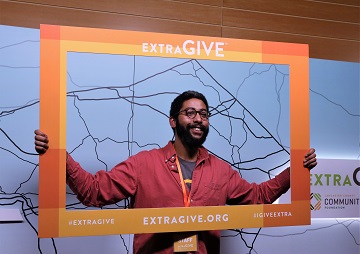 At 5 o'clock, Ian Sanchez-Herasme gave the first live performance of his ExtraGive theme song in Penn Square. Then he performed it again, for the local TV news cameras.
Around a quarter to 6, night had fallen and a few scattered snowflakes were in the air, but a half-dozen regulars from YMCA of the Roses' Zumba class were in Penn Square moving energetically to a thumping dance beat.
"Zumba in the Square" was part of the YMCA's "ExtraFun: Out on the Town" slate of events, and anyone was welcome to participate. YMCA was raising money through ExtraGive for its Youth Development programs.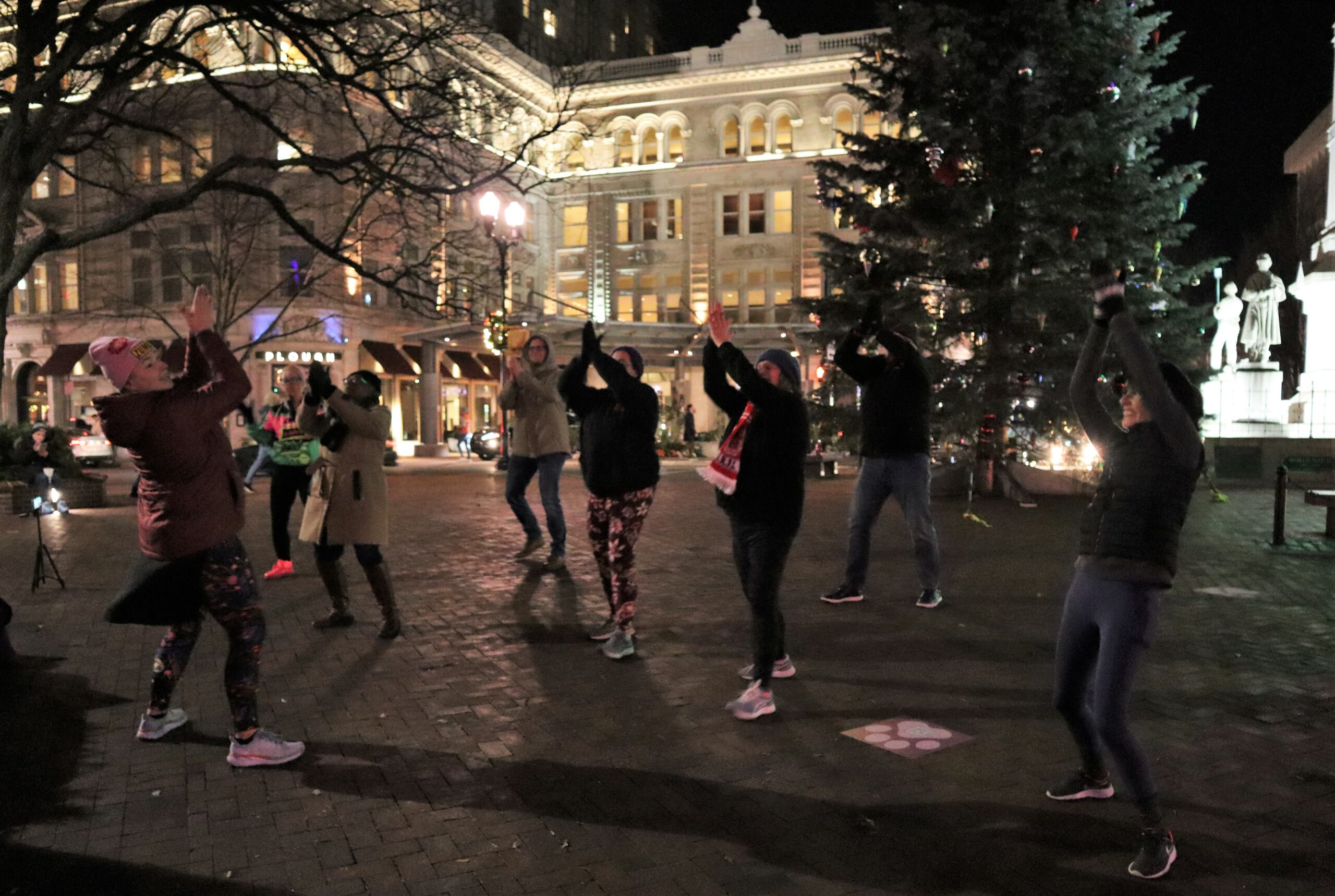 Zumba is "dance fitness," instructor Amanda Klotz said. The music is a mix of international flavors: Latino, African, even Maori.
"It's really fun, and you burn a heck of a lot of calories," she said.
The Lancaster Chamber, meanwhile, hosted an exhibit and reception promoting "Discovering Paths," its yearlong mentorship and career exploration program for high school juniors. Its active in 13 Lancaster County school districts and has served more than 1,000 students since its founding in 2008. This year, found Sandi Thompson is retiring and passing the baton to Ashley Glensor, the chamber's program and marketing specialist.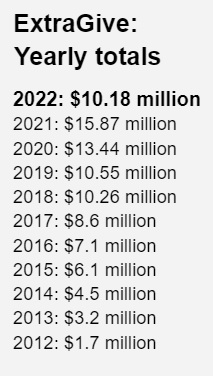 As more flurries fell, and with temperatures forecast to drop into the mid-20s early Saturday, Tenfold made the decision to have the participants in its annual ExtraGive Camp Out at Clipper Magazine Stadium sleep indoors, in the stadium clubhouse, rather than pitch their tents on the outfield.
About 100 people were signed up to participate in the Camp Out, Tenfold spokeswoman Stacey Karshin said. Tenfold used the colder weather as a teaching moment, she said, explaining to participants the enhanced services Tenfold offers homeless clients over the winter months.
The Camp Out featured a cornhole tournament, hot chocolate and a live peformance by the band Dime Store Dolls. That all took place outside as planned, although the Dime Store Dolls had to relocate their stage up onto the councourse and away from the precipitation.
Outside Clipper Magazine Stadium, representatives of Milagro House were offering guests cups of hot coffee. Earlier Friday, director of funding and sustainability Kristy Gismot said, they had handed out more than 200 cups outside the historic building that Milagro House calls home at the corner of College Avenue and West Chestnut Street.
Kaden Perez said it was his second Camp Out. He came last year with his church, Blossom Hill Mennonite, and liked it so much that he decided to return. He wasn't fazed by the weather: "It's part of the experience he said.
Photos