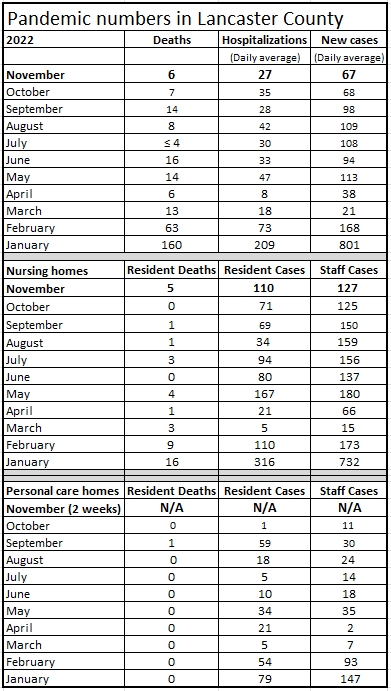 The COVID-19 pandemic continues to decline in Lancaster County.
In November, just six county residents died from the virus, one fewer than in October, according to the Lancaster County Coroner's Office.
Five of those deaths occurred in the nursing home at St. Anne's Retirement Community in West Hempfield Township, data filed with the Centers for Medicare & Medicaid Services show.
A year ago was far different: 73 county residents died in November, the beginning of a three-month surge. The surge peaked in January with 160 deaths.
Serious COVID cases requiring hospital treatment also continued to decline. There was an average of 27 patients in area hospitals during November, down from 35 in October. In November 2021, the daily case average was 107.
New cases of COVID reported to the state Health Department from area medical facilities changed from week to week through the month — from 520 the first week, to 412 the second week, 378 the third, and 535 the final week.
Those cumulative 1,845 cases were about one-third the 5,796 cases reported in November a year ago. Much of the decline can be attributed to increased self-testing and self-care, cases that go unreported to medical authorities and the state.
Cases of COVID illness at nursing homes increased from 71 in October to 110 in November. That was the highest since a report of 167 cases in May.
Data for cases and deaths at personal care homes in November is not yet available from the state.
The chart accompanying this post shows complete case and fatality numbers for the county during the past 11 months.
This report was compiled by Erica Runkles, Dr. Mary Glazier, Penn Glazier, and Ernie Schreiber using records from the Lancaster County Coroner's Office, the state Health Department, and the Centers for Medicare and Medicaid Services.