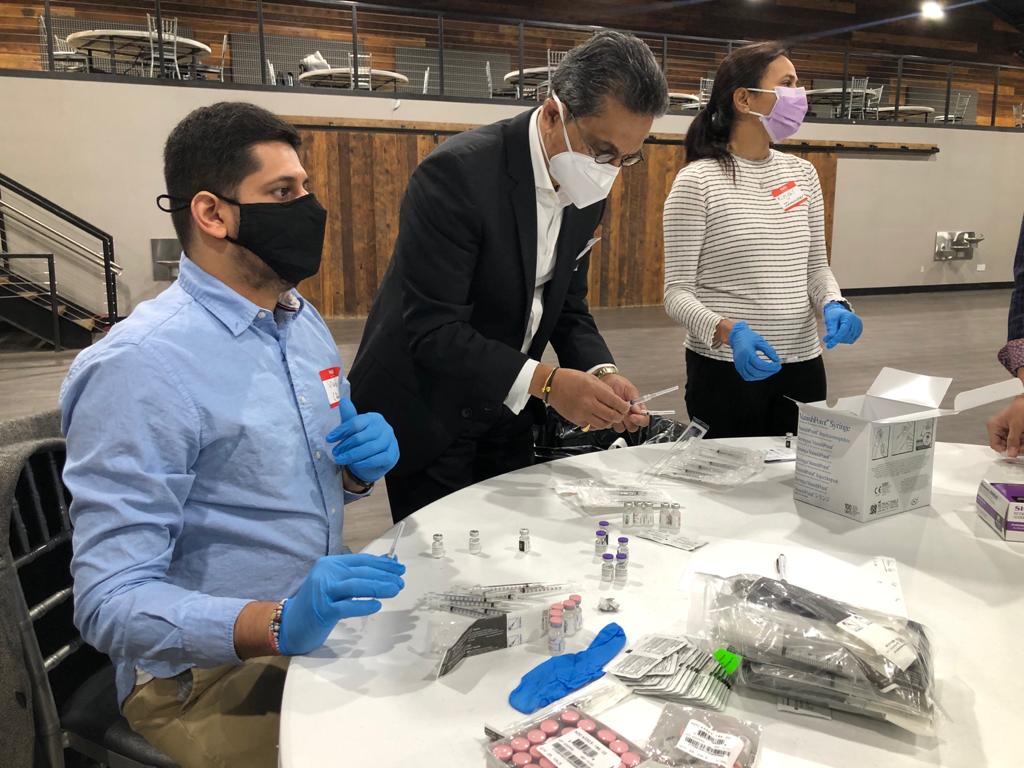 (Editor's Note: This article is part of One United Lancaster's series in honor of National Volunteer Month 2021.)  
In early April, I had the opportunity to receive my first COVID-19 vaccine at a clinic site hosted by the South Asian Association of Lancaster at the Wyndham Lancaster Resort & Convention Center. The clinic was in the Wyndham's Expo Center, with vaccine doses provided by NCS Pharmacy.
Upon entry into the single, open space I saw a basic layout of strategically placed tables. It made little sense at first glance, but by the way the various lines of vaccine recipients were moving along, stopping every so often for identification and contact-information checks, this was clearly a smooth-sailing ship.
As I stood in each section awaiting my turn, I had the chance to look around and see just where I was, what was going on, and who were the key players. What immediately struck me was how kind, patient, and eager to help each volunteer was. I believe the word 'sweet' crossed my mind after every interaction.
I also noticed the vast range of ages among the volunteers, and something about that observation stuck with me.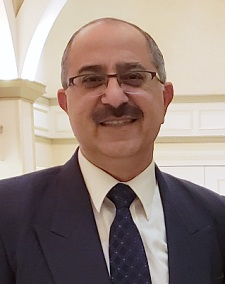 So I was more than delighted, as part of One United Lancaster's coverage of National Volunteer Month, to speak with one of SAAL's co-founders, Hans Raj, to hear more about the organization and what it means to him to volunteer during such a time.
"When this opportunity came through NCS Pharmacy that SAAL could help and volunteer at the vaccination clinic, we said yes, we should do it," Hans said.
At the beginning, the clinic was given a meager 100 doses. Fortunately, it wasn't long before the state of Pennsylvania was able to better support the NCS Pharmacy by providing more.
The clinic quickly outgrew its first location in the Wyndham's ballroom, prompting the move to the Expo Center. Local businesses such as Taj Mahal, El Serrano, and Dunkin' Donuts in Leola have helped by providing food for SAAL's volunteers.
The clinics, which have been taking place every Saturday, are staffed by 30 to 40 volunteers per four-hour shift. As of mid-April, more than 10,000 doses had been administered.
Hans' own role has been in assisting with data entry during the patient intake process.  Even his children have joined in the effort.
"Everything, at the end of the day, is for a good cause," Hans said.
Photo Gallery:
About Hans and SAAL
Hans moved from India to Arlington, Texas, in 1992 to earn his master's degree in Industrial Engineering. After working in product development, sales and application engineering, he moved to Michigan to continue his education. He moved to Lancaster County in 2005 to take a job with Fenner Precision.
He said SAAL started as a way to preserve the community's culture and traditions.
"We asked, 'How do we create a platform where we can support our future and previous generations? How can we share our cultural heritage on a wider base?' The camaraderie between different youngsters—they become friends. Otherwise, they become strangers and they are limited to family friends which you visit their homes, or they come to your home.
"We needed to have an association which is a little bit wider platform—not only Indians but South Asians— so that we can give a platform to all of our culturally similar social circle. That's how it started developing in 2012.
"So, like-minded people came together. We said, 'Okay, let's do it!', and it happened. There's so much you can learn from one another. It is so remarkable. The more you connect with people, the more you can learn and the better you can be."
After a few years, it was decided that SAAL needed to create a cultural classroom to teach young people Hindi. "At least how to understand it," said Hans, "so when talking with their grandparents in India, they are able to converse."
Despite having success, the program eventually wound down. Others soon took its place, one of which involved Hans tutoring children for the SAT to increase their chances of getting into the best schools possible.
Photo Gallery: SAAL activities
A passion for service
Hans served four years as SAAL's vice-president and two years as its president. His tenure as president ended in 2016, but he had a strong desire to remain involved.
He helped with a fundraiser SAAL held in the wake of the 2015 Nepal earthquake, which brought in close to $15,000 for relief efforts. Other activities have included raising funds for Schreiber Pediatrics and collecting and delivering food to the Water Street Mission each year during the Diwali festival.
"We are trying to help and have that kind of personality development in the younger kids, so that they become part of the local fabric," he said.
"It is very hard when you are a different color, have different skin, a different accent. When you go to school, either you are embedded well, depending on which school you are in, or sometimes you are left alone.
"So, when you are creating those connections at a different level, it is helping not just the people doing it, but next generations as well. It's how you take them along—not telling them where to go, but you take them by the hand, start walking and running with them so they learn a few things, and then you say, 'You go now'.
"The goal is how to bring the communities together, how to implicate those heritage values in the next generation, and how we can be better than we are today."
Hans said SAAL has plans to continue holding a summer camp every Sunday that provides coaching for youths learning how to play cricket.
SAAL has also offered free medical clinics to help older folks who may not have insurance or computer skills, their ultimate goal being to help everyone get the same level of service in a "nobody gets left behind" approach. "That's our philosophy," Hans said.
Hans said SAAL will continue volunteering at the vaccination clinic until NCS Pharmacy says enough doses have been administered.
"Even if you help to save a few lives — and when you meet people, the blessings, the thank you notes we're getting from all of them — it is so fulfilling that whatever you are doing, it's for a good cause," he said. "We'll definitely help the good cause."