There is encouraging data on Black Pennsylvanians over the past decade, and state Sen. Art Haywood would like to see progress continue.
In February, Haywood released "The State of Black Pennsylvania," a state-focused counterpart to the National Urban League's State of Black America. On Friday, the Philadelphia Democrat visited Lancaster's Bright Side Opportunities Center for a roundtable discussion of the report with local community leaders, one of several he is convening around the state.
Haywood termed some trends in the report "surprising." One was a 32% drop of the number of Black inmates in state prison, which Haywood attributed to Gov. Tom Wolf and other factors.
The number of Black students completing a bachelor's degree is up significantly. And heath insurance coverage has improved, with the percentage of uninsured Black Pennsylvanians dropping from 14.6% in 2010 to 6.1% in 2021.

"As we face continued challenges," Haywood said, "it's important to see where we did and didn't make progress … We're looking for solutions going forward in the next decade.
The roundtable participants spoke about their hopes for the future.
"The next 10 years of Black Pennsylvania, we'll be welcoming more than we exclude – in seeking collective power for our communities said state Rep. Ismail Smith-Wade-El, citing the "richness, depth and power" of the community and predicting its future "achievement (and) joy."
"The success for our students depends on making them feel welcome on campus," said Millersville University President Daniel Wubah, noting an increase in students of color. "Until we take care of everyone in the community, we will not be successful. … I would say we are doing something right, but there is more to be done."
Melisa Baez, CEO of consulting firm Elume, talked about the importance o fostering entrepreneurship among young people of color, while City Councilman Ahmed Ahmed talked about the experiences of immigrants, including his own journey from near the Cameroon/Chad border.
"We were able to find the safety and right of human settlement that we deserve," he said, citing shared goals that apply to all in the community: affordable housing, a thriving community and a safe place to live.
"We need to remain welcoming," he said. "We all want to raise our families and stay in our homes."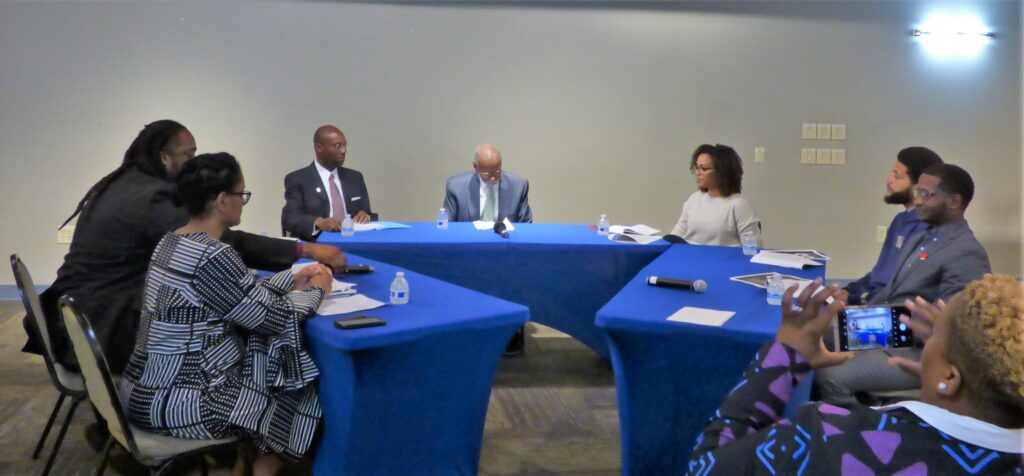 Diversity in medicine
Dr. Sharee Livingston, a co-founder of the nonprofit Patients R Waiting pointed to the U.S.' high and increasing Black maternal mortality rates and noted how unusual they are for a wealthy country.
"We've been birthing babies for 300,000 years," she said. "Women are the bellwether for the family."
Patients R Waiting's Diversifying Doulas initiative has provided free doula care to 230 Black women. Livingston is now working to buld what she calls a "a Black doctor factory," a comprehensive training and mentoring facility for Black students pursuing careers in medicine.
She talked about the need to ask "why" multiple times, and get to the bottom of systemic problems that may be complex.
"We have reckoning to do," she said.
Mentorship and success
Participants talked about building a pipeline toward success and breathing life into young people's dreams.
Wubah said high school students should be encouraged in their professional aspirations.
"Knowledge is power," he said, suggesting that the rise of osteopathic medicine provides opportunities, as does the need for doctors in rural areas of Appalachia.
Haywood said it's also about something simple: getting people paid.
"With low pay, it's hard to advance your family and yourself," he said.
One challenge, Wubah said, is the cost of higher education, and lack of awareness of available scholarships and grants. To that end, he said, stakeholders need to improve the student advisor system. He described a joint program with Millersville and McCaskey and Penn Manor high schools that he believes will help.
Threats to cut the Pell grant program were raised as a concern, but Haywood said he's confident President Biden would veto any such effort.
Participants discussed how to solve Pennsylvania's teacher shortage. The state has gone from being a net exporter to a net importer of teachers.
Recalling how often he ran into Army recruiting as a young man, Smith-Wade-El suggested teacher recruitment should be similarly widespread.
Baez said entrepreneurs need support — education, childcare, access to financing — and that Lancaster has a strong support system, citing entities such as small-business consulting nonprofit Assets.
Jordan said young people of color don't trust the educational system. Panelists talked about how to change that, with Ahmed calling for focus on cultivating the next generation of leaders.
"We need to make sure that we retain a seat at the table," he said
The panel discussed the value of mentorship. Haywood said it's important to "fix the leaks" in the pipelines that channel youth from minority groups into professions and positions of influence.
Enterline said that without outside help, young people don't know what resources are available to them.
"As a young person, it's sometimes hard to go search for these things." she said.
"We want youth to come out, we want youth to begin these conversations … There's a lot of good things happening within our community, but there are also Black and Brown kids who need someone."
Jordan, a military veteran, talked about using that experience in later life. He cited the appointment of Lancaster's first poet laureate, Evita Colon, as a big change, and suggested people like her can be spokespersons for marginalized communities.
"We have a lot of issues here, and solution-based thinkers here," Jordan said. "Good things can happen."