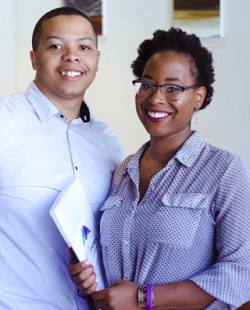 (Click here to return to the link page for the Waystation Exemplars' personal statements.) 
"When Summer Came: A Photographic Documentation of the Black Lives Matter Protest 2020" is an immerse experience of the protest that took place the Summer of 2020 after the murder of George Floyd. People will be able to walk through the park and will be able to read and see some of the stories of the protesters.
This installation will feature images and audio from the 2020 protest that took place in Lancaster city. The idea is for people in the community to see the protest from a different lens and will act as a way to mark and remind people who pass through what happened there. The images will feature the stories of protesters and facts about what took place there.
This project serves as a way to keep the conversation going around the black experience and the historic events that happened in Lancaster.
About Jordan & Shelby Wormley
Jordan and Shelby Wormley are the visionaries behind W.E. & Company. As a married couple in Central Pennsylvania, they love being around family and engaging with their community.
With a combined education and background in communications, media studies, and photography, Jordan and Shelby are inspired by storytelling. Shelby's profession and hobby behind the camera influenced the two of them to capture people and their stories.
They love meeting and connecting with new people. As the "we" in W.E. & Company, they work closely with people to tell their captivating and honest stories, so they're always in good company.
W.E. & Company is a storytelling company that allows people to tell their stories, their way. Through photography, videography and well-crafted visual strategies, every person is given their own platform to share a piece of their own story.