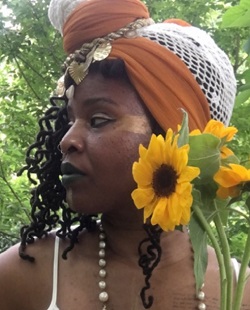 (Click here to return to the link page for the Waystation Exemplars' personal statements.) 
My work is deeply spiritual and influenced by themes and stories of ancient civilizations of Black-Afrikan ancestors, cultural diaspora, generational healing, identity, and sexuality. I truly believe that's what gives my work the most depth.
As a creative this allows me the opportunity to reimagine and renegotiate narratives and spaces occupied by Black & Brown bodies while simultaneously interrogating and recontexualizing systems of oppression because the primordial origins of a people can't be eradicated. Black people were there. We are here. And we are in the future.
I'm a griot before anything else, so it's important to the integrity of my work that any messages shared will always honor my ancestors and come from a place of Afro-diasporic point of view.
For Black Artist Waystation, I will combine a spoken word performance of my newest poem, "Watermelon," and use the sekere, a West Afrikan percussion instrument both as tools to educate, promote culture, creative expression, and independence.
Watermelon is a metaphor I created to symbolize Black wealth. It's chock full of historical and biological facts about the Afrikan origins of the fruit etc., while simultaneously deconstructing negative stereotypes about Black community.
Watermelon is uplifting to the spirit of Black life in the Afrikan diaspora. Aside, the sekere offers an energizing experience and connection to our ancestors ingenuity and strength. That connection is one of the most important relationships one will ever have because it guides us and helps us to understand our inherent birth right and potential, that's been passed down through the generations.
The sekere offers a fun opportunity to interact locally and abroad to other communities of shakers, creatives and musicians. I will handcraft 19 sekere to resemble watermelons prior to the installation. I chose 19 to commemorate the anniversary of Juneteenth.
About Gracie Berry
Gracie Berry is Sierra Leonean West Afrikan born in West Philadelphia. She is the owner of GirlrillaVintage, an Afrikan Roots and empowerment organization.
Through her company she is sharing Afrikan cultural diasporic content, events, and perspectives through offerings of education, expressive arts, spirituality, vintage aesthetic, workshops, etc.
All of Gracie's offerings serve as tools to engage people of Afrikan descent in becoming more aware of their inherent birth right to their blood culture and identity, no matter how they were born into it.
Gracie has served as a bachelors level behavioral health therapist for 17 years. Also as a creative workshop leader, teaching artist, professional dancer, and spoken word performer, for the last 25 years.
She has worked with children, youth and adults, colleges, non-profit organizations and festivals locally and abroad.