Saturday marks the launch of 988, a new number for the U.S.' nationwide mental health emergency hotline. The three-digit number is easy to remember and is part of a broader effort to improve access to mental health care.
The number provides access to the National Suicide Prevention Lifeline, a network of more than 200 local and regional crisis centers, backed up by a National Call Center. It replaces the previous Lifeline number, 1-800-273-8255. (Both numbers will remain in service after 988's launch.)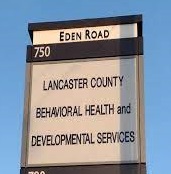 Lancaster County Crisis Intervention is a local 24/7 emergency mental health service provided by Lancaster County Behavioral Health & Developmental Services, which I lead as executive director. Its trained counselors can talk individuals through an emergency situation and refer them for follow-up care.
Crisis Intervention became a member of the National Suicide Prevention Lifeline system in September 2021. Since that time, we have been responding to calls rerouted by the National Center from callers dialing from a 717 or 233 area code.
We average between 150 and 180 Lifeline calls per month, in addition to the 1,500+ monthly calls that come directly to our office.
Lancaster County Crisis Intervention is one of 13 call centers in Pennsylvania, of which three are considered to be regional centers. They serve as backups to the other 10.
When people call 988, they can choose to be routed to a Spanish-speaking responder or a military veteran.
Unlike some call centers, Lancaster County does not have the ability to receive and respond to texts or emails. Those communications will be managed by either the National Lifeline Center or a regional center with that capability.
Call centers have 15 seconds to answer 988 calls. If they aren't able to do so, due to too many calls coming in or not enough staff available, the call bounces to a regional call center. If it's not able to respond, the National Call Center will.
Right now, Lancaster County Crisis Intervention's statistics show that we have a 90% to 95% response rate for 988 calls, which is considered excellent.
The expectation is that 80% to 85% of 988 calls can be resolved through talking with Call Center staff. The other 15% to 20% may require a more significant intervention, such as mobile outreach. Our experience to date has been in line with those figures.
Individuals in Lancaster County should experience no changes when 988 goes live. It actually has been active for some time now through a "testing phase," without the community being aware of it.
We are not eliminating our local crisis hotline, (717) 394-2631, as it's a familiar number within the county.
Individuals can continue to call our direct number, or the old National Suicide Prevention Lifeline, 1-800-273-8255, or 988. All three numbers should connect you with a counselor at Lancaster County Crisis Intervention.
Another reason we are not eliminating our crisis hotline is that the regional or national 988 call centers may need to refer someone to Lancaster County for ongoing support when they field a 717 or 233 call.
The state and federal governments are calling this weekend's launch a "soft rollout," and are not doing much, if anything, to publicize it.
One reason is that 988's capacity remains limited. The goal is to make it "the 911 for mental health emergencies," but the underlying infrastructure does not yet exist. For example, in Pennsylvania, 988 does not yet have geolocation ability.
This means that although a call may originate from a 717 or 233 area code, the caller may be using a cell phone in another part of Pennsylvania or another state altogether. Regardless of the physical location, those 717 and 233 area code calls will be routed to us.
The important takeaway is that 988 is an easy number to use if you or your loved one is experiencing a mental health emergency. Please do not hesitate to use it.
More information on 988 is available from the U.S. Substance Abuse & Mental Health Services Administration and Pennsylvania's Department of Human Services.