Donors, volunteers, community leaders, and local clergy gathered Wednesday morning for a ribbon-cutting and dedication ceremony at Solanco Neighborhood Ministries' new home.
The nonprofit has relocated to the former Masonic Lodge at 14 S. Church St. in Quarryville.
The building gives the ministry just over 7,500 square feet, 3,000 more than it had before, allowing it to expand its food bank and add office and program space.
Teresa Dolan, Solanco Neighborhood Ministries' executive director, said she began conversations with the ministry's board of directors five years ago about a possible expansion.
The organization was seeing the difficulties faced by families trying to access resources like job training and budget counseling in Lancaster city and more northern parts of the county. They needed a location that was closer to home and more convenient.
"We knew that we wanted to be able to offer programming that would allow our families to get ahead a little bit more," Dolan said.
Open House
Solanco Neighborhood Ministries is hosting a community open house at 14 S. Church St., Quarryville, from 9 a.m. to noon Saturday, Oct. 29. Everyone is invited to drop by and learn more about the organization and its new home.
In 2020, the organization was approached by the owners of the Masonic Lodge about purchasing the soon-to-be-vacant building.
After finalizing the $250,000 purchase in December 2020, the organization spent 2021 working with local architects and contractors to determine a cost-effective design solution that factored in the long-term potential for growth.
"We really wanted to think about not only what we would use it for our current programs, but really trying to vision ahead," Dolan said.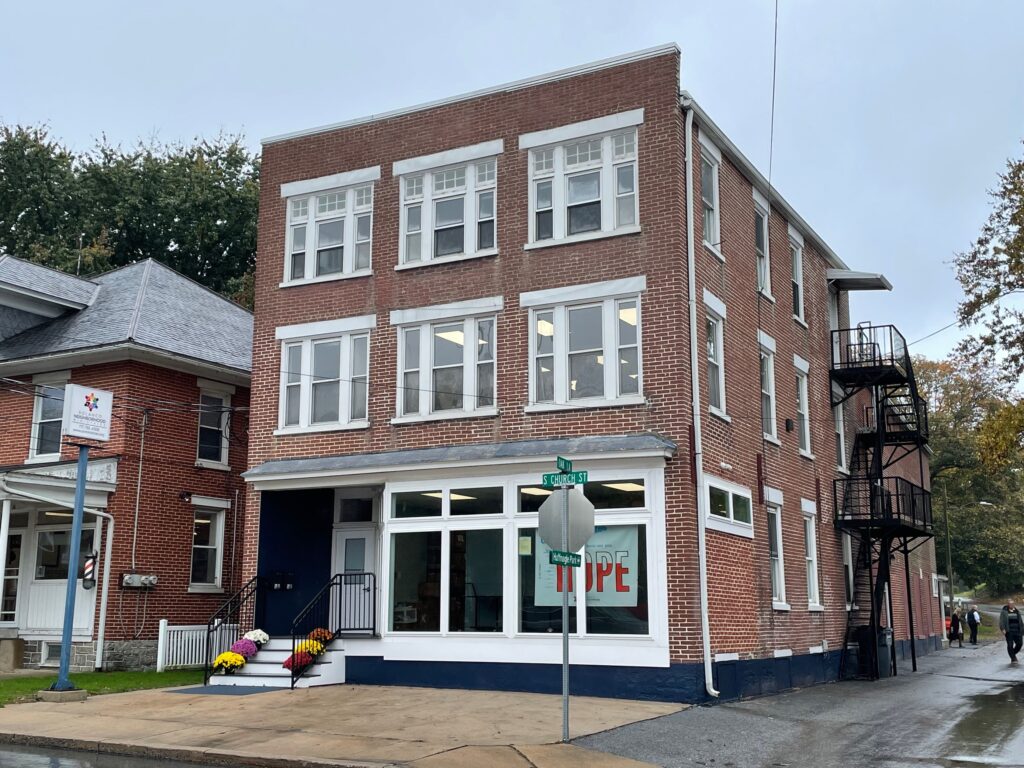 Construction officially began in the spring. The organization worked with community partners and renovation team to navigate supply chain issues triggered by the pandemic.
While the structure of the building was sound, the interior of the building required extensive renovations to bring the building up to code, including new electrical and HVAC systems. An Americans with Disabilities Act-compliant lift was installed to get people up to the second floor.
"We really tried to use every square inch very efficiently," Dolan said.
The building houses a food bank on the first floor, offices and programming space on the second floor An apartment on the third floor helps to offset the mortgage.
Among the services envisioned are high school equivalency classes, resume writing and interview skill building, nutrition classes, budgeting and financial workshops and Bible study.
"We finished ahead of schedule and under budget," Dolan said. "We have such a unique community [that] really steps up and takes care of its own."
She said the $900,000 in renovation costs were offset by in-kind donations from community partners and contractors, grants, individual donations and contributions to the Faith-Community-Cares Capital Campaign, which has raised more than $1.1 million toward a goal of $1.3 million.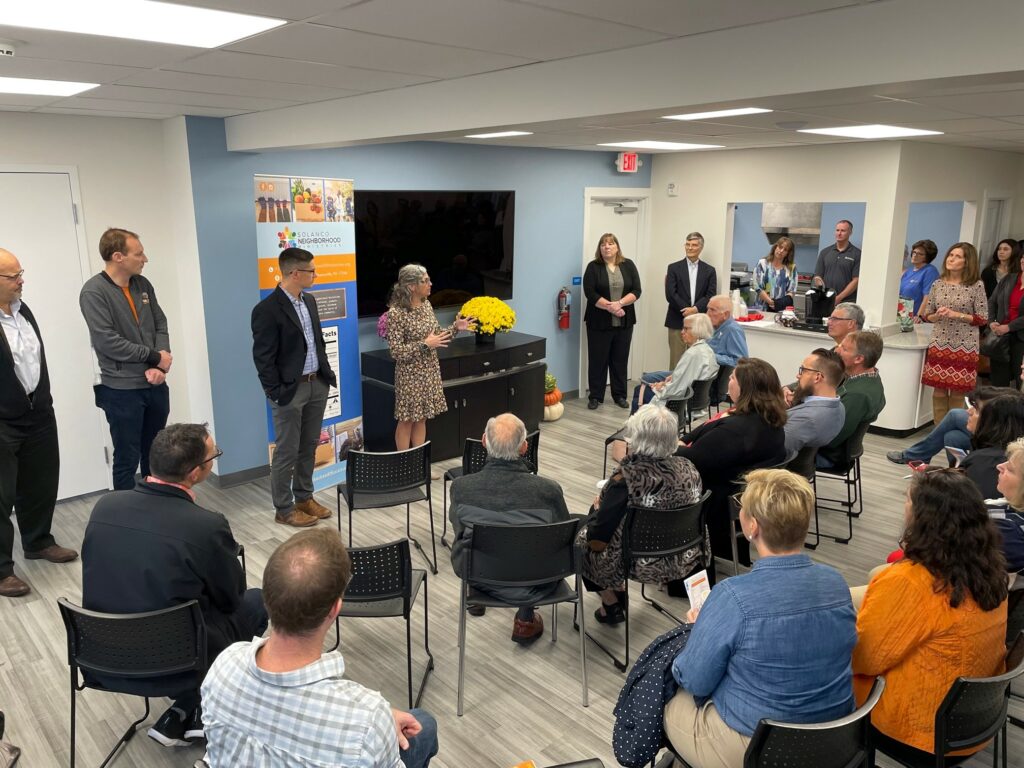 Starting in January, the food bank will operate on a choice-shopping system, a change made possible by the move to larger quarters. Rather than receiving food distributions, participants will be able to select grocery items themselves. If individuals can't visit the food bank in person, they will be given a form that allows them to select items based on what is available.
The organization will also adopt SWAP (Supporting Wellness at Pantries) practices. As part of the SWAP program, food items are categorized and shelved based on nutritional information.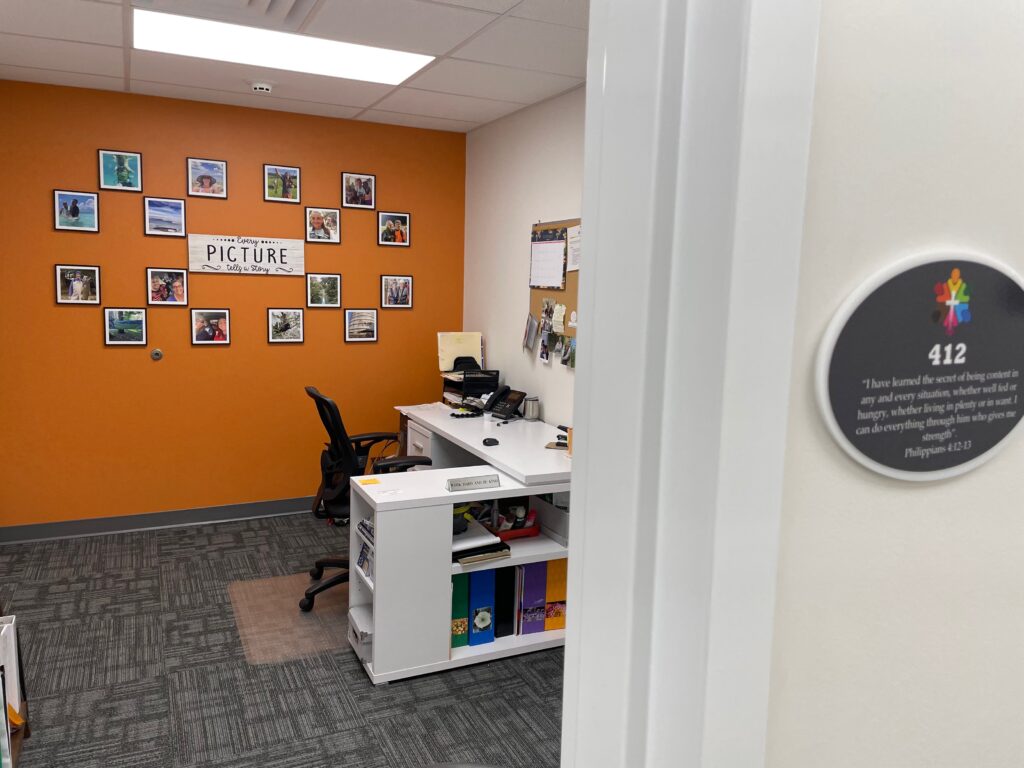 "They can choose whatever they like, but if you're diabetic [or] gluten-free you can just make better choices. We make it a little bit easier for you to do that for you or your family," Dolan said.
Solanco Neighborhood Ministries distributes meals to students in the Solanco School District through a program called SWEEP (Student WeekEnd Eating Program). It reaches 249 students in kindergarten through 8th grade, who receive enough for two breakfasts, lunches and dinners as well as snacks and drinks.
Dolan expects the number will continue to rise and said the new space will make it easier to increase distribution.
The ministry is looking forward to expanding its programming and wants community partners to utilize the space, too.
Dolan says the organization is committed to maintaining its small-town feel.
"Just being open a week, already, we had four families walk in who needed help, and one who came in and wanted to volunteer," Dolan said. "I think the key really is to make this a true community center. Anybody can walk in [and] there's something for everybody."
(Editor's Note: Videographer Kyle Gamble contributed to this report.)