A new vision for the housing of homeless military veterans is taking shape along South Front Street in Harrisburg, near the office of the state Department of Transportation.
That's where a local nonprofit, Veterans Outreach of Pennsylvania, is building Veterans Grove, a complex of 15 tiny houses and a community center on 5 acres of land. The $4.1 million project broke ground in June, with completion projected for early 2024.
The tiny houses, which are handicap-accessible and have full plumbing and other amenities, are meant to be transitional housing, with residents eventually transferring into long-term quarters.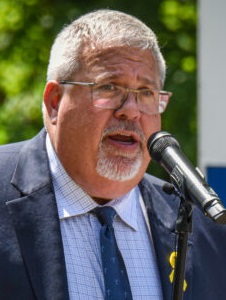 Thomas Zimmerman Jr. is Veterans Outreach of Pennsylvania's co-founder and chairman. He spoke about helping to invest homeless veterans with the "power, dignity and pride" that they deserve.
The tiny homes, he said, are for them to have a "safe haven," a place to call their own.
Diana McNaughton, the nonprofit's spokeswoman, said veterans will have meals together and otherwise congregate in the community center.
"(There's a goal) to not have them be isolated," she said.
Said Zimmerman: "All of the magic will be done in the community center. We want to be able to acclimate (homeless veterans) back into society."
'People have been so generous'
Veterans are 50% more likely than other Americans to become homeless, according to the nonprofit Green Doors. More than 40,000 veterans are homeless on any given night, according to the National Coalition for Homeless Veterans, citing U.S. Department of Housing & Urban Development point-in-time counts.
McNaughton said local partners and community members have helped promote and fund Veterans Grove and assist with logistics.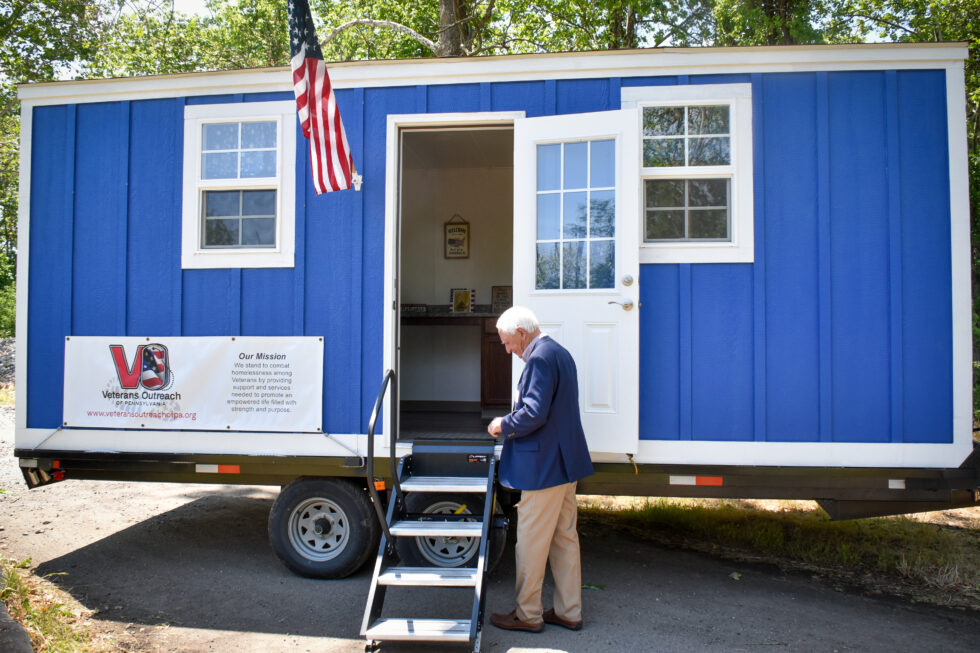 The Hershey Co., she said, is planning to help to develop the meals program. The Harrisburg YMCA, UPMC, the Dauphin County Office of Veteran Affairs, and the Veterans Multi-Service Center in Harrisburg have all been involved in some capacity.
 "It's amazing," she said. "People have been so generous."
"The goal is to be a one-stop shop (for veterans who need help)" she said. "That's part of the reason we were so thrilled with the location (near schools, hospitals and other infrastructure)… for them to have everything they need right there." 
As for demand, she said, it's high: People have been calling asking for themselves, a family member, or acquaintances.
"It's heartbreaking to say we don't have the housing available," she said. "What we discovered is a lot of our homeless come into the ER for all kinds of health issues."
McNaughton, who also works in communications at Central Penn College used to be executive director of the state Senate's Military and Veterans Affairs Committee.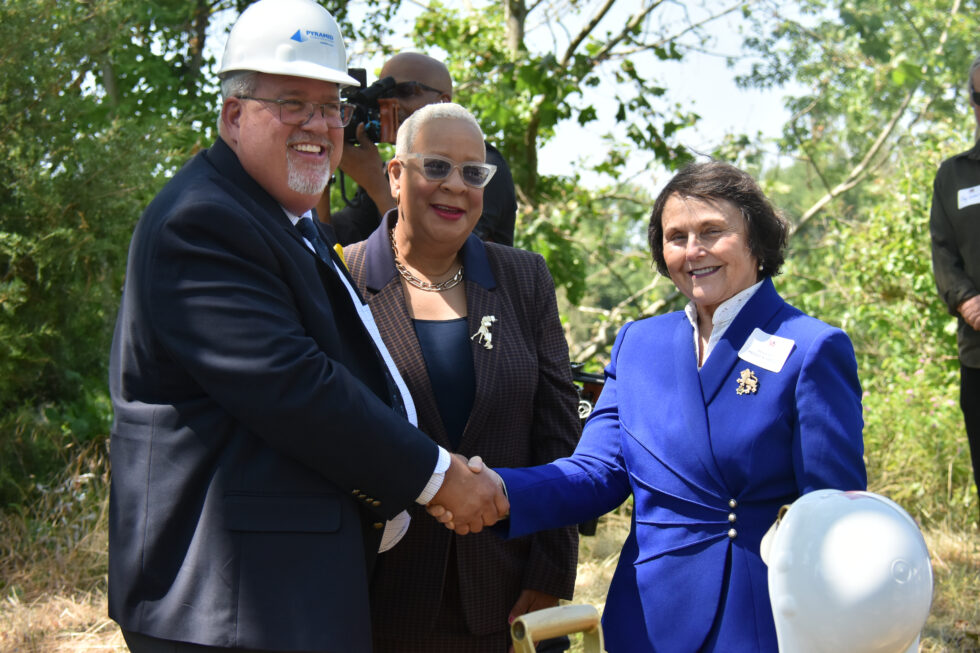 "Ever since then, I've been a part of the program," she said.
A member of the board, she said, pioneered a similar project in Kansas City, Missouri, which is helping to guide current plans. It's inspirational, she said, to see that this model works in other places. 
Veterans Outreach of Pennsylvania hopes to have the opportunity to build more Veterans Grove-style projects, McNaughton said, suggesting Lancaster County and Philadelphia as possible sites.
Vision for veterans
Commissioner Ray D'Agostino, a U.S. Navy veteran, said he applauds Veterans Outreach of Pennsylvania and its Veterans Grove partners.
Veterans often deal with post-traumatic stress disorder (PTSD) and other problems that make it challenging to reacclimate to civilian life, he said, and "stable housing is important to successfully navigating these issues."
D'Agostino was involved in the creation of Lancaster Barracks, a facility on Fremont Street in Lancaster that provides temporary supportive housing for participants in the county's Veterans Court diversion program.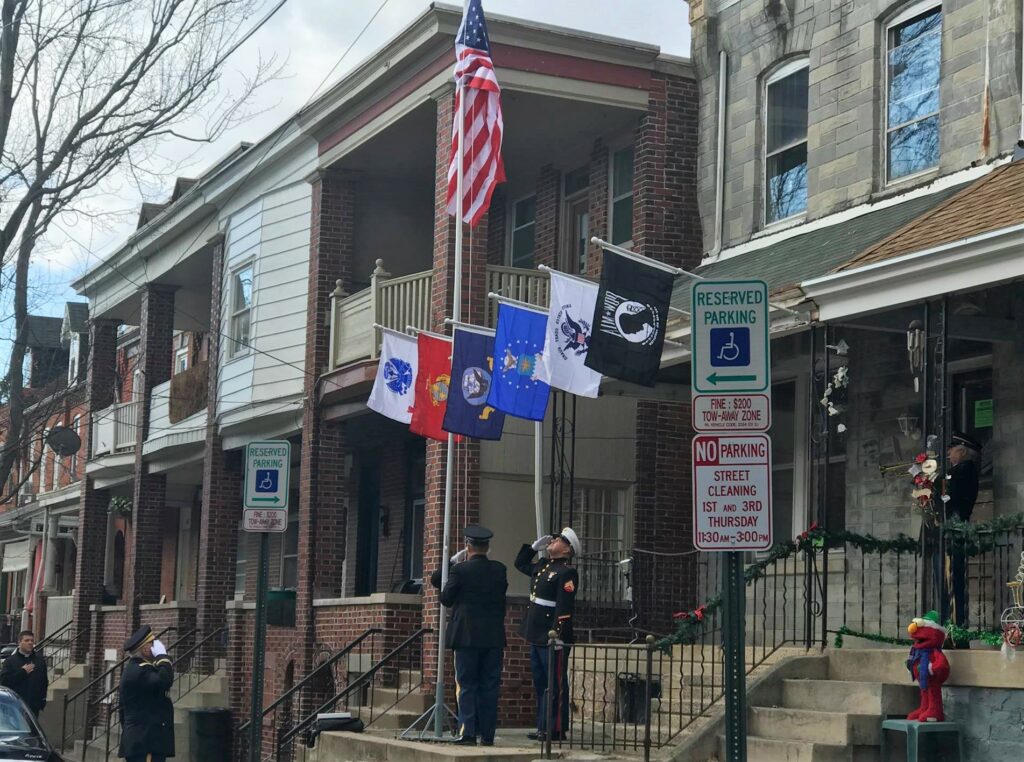 "Assisting with behavioral health, substance abuse, financial literacy and housing are just some of the many ways we can give back to those who served and now need our help," he said.
Zimmerman called Veterans Grove a "therapeutic model" that contemplates the best ways to help those who are down.
"There are so many reasons people become homeless," he said, referencing PTSD, addiction or the loss of a job.
Lancaster County organizations, he said, have been very helpful, including the Mount Joy Veterans of Foreign Wars and New Holland American Legion, as well as groups in Marietta and elsewhere. Other partners, Zimmerman added, include TE Connectivity and the  Harrisburg Builders Association.
All of it, he said, is for the vets.
"If they are willing to sacrifice their life for our freedom, they deserve better," he said.