The Lancaster County Homelessness Coalition has put out the call for an organization to manage the emergency shelter it plans to open this winter.
The shelter is to open by Dec. 1 and provide at least 40 overnight beds, according to the coalition's Request for Proposals, or RFP. It is to operate year-round for 29 months, until April 1, 2026.
It will be housed at Otterbein United Methodist Church, 20 E. Clay St., Lancaster, which has entered into an agreement with the Lancaster County Redevelopment Authority to host it, the RFP says. The coalition's administration is part of the authority's Department of Human Services.
The shelter is to be "low barrier," with minimal requirements imposed on those staying there. Case management services are to be provided, with outreach workers "actively and intentionally working with the client to secure sustainable housing."
The operator must also be prepared to expand capacity when the county issues extreme weather alerts, whether that be Code Blue for cold snaps and snowstorms, or Code Red for heat waves.
The deadline to apply is 5 p.m. Sept. 29, with a contract award anticipated Oct. 18, the RFP says.
Leadership at Otterbein United Methodist Church did not respond to messages seeking comment.
The shelter is a collaboration between the coalition and the city of Lancaster, which is providing $800,000 from American Rescue Plan Act funds toward its establishment and operation.
Finding a suitable site was no small task. As of early August, coalition officials had looked at more than 20 sites without finding one that would work, according to Deb Jones, who heads the coalition's office.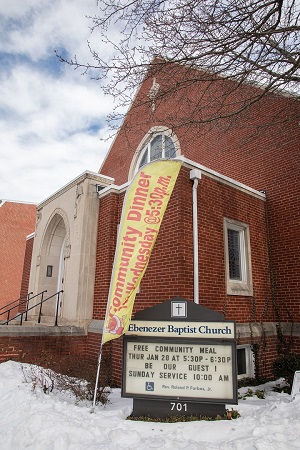 The city plans to provide another $800,000 from ARPA for the coalition's planned homelessness services hub at the former Neighborhood Services building in the 100 block of South Prince St. The project plan calls for the hub to open by September 2024.
The new shelter is intended to complement the low-barrier shelter at Ebenezer Baptist Church, which opened in summer 2020 and is operated by the Lancaster County Food Hub under a contract with the coalition. It, too, is 40 beds; it has been operating at capacity since December 2021 and has a waiting list.
Other nonprofits also operate shelters and transitional housing. However, demand is exceeding capacity, so an additional shelter is needed, the RFP says.