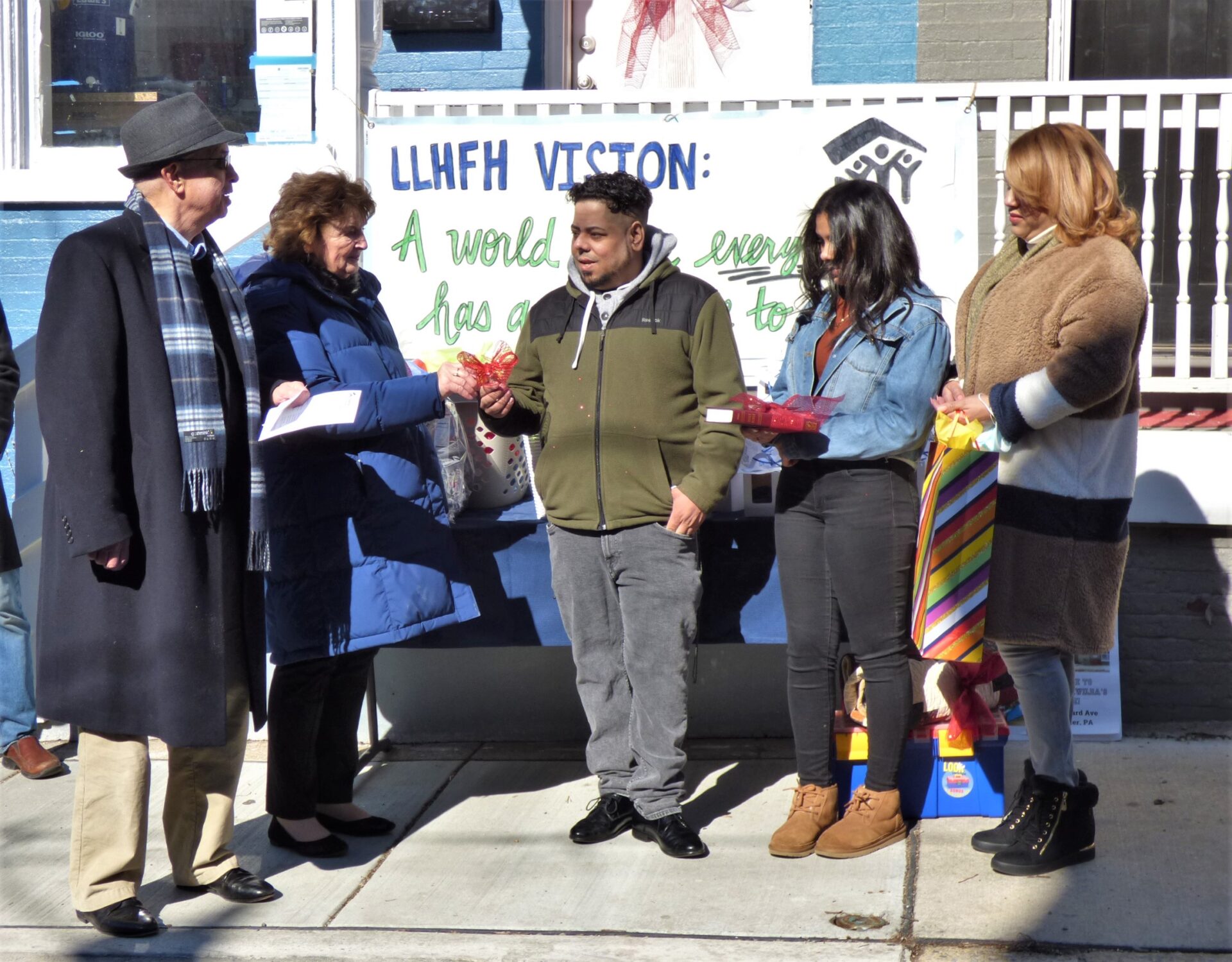 "Manny, we made it!" Allyson Wells exclaimed.
Wells is family services manager for Lancaster Lebanon Habitat for Humanity. She was speaking to Manny Cruz, who with his wife, Awilda Cruz, was about to receive the keys for their newly renovated home at 530 Howard Ave. in Lancaster.
Several dozen Habitat for Humanity staff, volunteers, city officials and well-wishers turned out for a celebration and dedication ceremony with the family Saturday morning.
From the moment Cruz walked into her office, Wells said, she knew he was committed to succeeding, "whatever it took."
"I don't know who has visualized this moment more, you or me," she told him.
Cruz said he was excited and "super happy."
Habitat for Humanity builds and renovates affordable properties, giving eligible low- and middle-income families a path to homeownership. Candidates must complete workshops and put in "sweat equity" hours. The benchmark is 250 to 400 hours: Cruz put in almost double that latter amount, 795 hours.
Habitat for Humanity acquired 530 Howard Ave. from the Lancaster City Land Bank Authority for $15,250 in October 2020. The Land Bank had acquired the property eight months earlier in a tax sale. The Land Bank is the city's newest authority; the transaction was its first, but "we hope many more will be coming," Land Bank board chairman Doug Byler said.
The sale to Habitat for Humanity included a mutually agreed timetable for renovation of what at that point was a badly deteriorated house. The schedule had to be revised and extended several times due to delays resulting from the pandemic, Habitat for Humanity President & CEO Andrew Szalay said. As of Saturday, the project team was still waiting on the delivery of wooden windows.
Including the purchase price, Habitat for Humanity has invested about $110,000, Szalay said.
The lion's share, $75,000, came in the form of a donation from Highland Presbyterian Church, the church whose members founded Lancaster's Habitat for Humanity in the mid-1980s. The money came from a special fundraiser; dozens of church volunteers participated in the renovation as well.
"We are so pleased to have shared in the purchase of your new home," church representative Larry Ewing told the Cruz family.
Cruz, a welder by trade, moved to Lancaster in 2016. Initially, the family lived with his grandmother, then in an apartment. He turns 37 in a couple of weeks, making 530 Howard Ave. something of an early birthday present.
When the deed is transferred, the Cruzes will have a 0% interest mortgage with monthly payments set at 30% of family income — a widely accepted benchmark for affordability.
That helps to position families for success. Habitat for Humanity says 95% of the clients it has placed through its homeownership program are still there today.
Projects like 530 Howard Ave. are a key part of Lancaster's efforts to address its housing crisis, Mayor Danene Sorace said. Because it's difficult to build new housing, preserving existing stock is essential, she said.
Photo gallery
(Photos: Tim Stuhldreher)