On the Conestoga River Club's website, Executive Director Todd Roy describes himself, among other things, as a "self-styled warrior poet" and "hard headed idealist."
He's also an enthusiastic kayaker, or as he puts it, "overzealous river rat."
In 2022, state environmental agencies designated the club the official manager for the Conestoga Water Trail, one of more than two dozen trails statewide. With state support, the organization has been developing a strategic plan for improving river access for all, including individuals with limited mobility.
One United Lancaster recently spoke with Roy about the club and its activities. The following has been edited for length and clarity.
One United Lancaster: Tell us a little about the history of the Conestoga River Club.
Todd Roy: The club began in concept in 2019. Due to some personal lifestyle choices, I'd started kayaking more often with friends, seeking out places to go, local waterways, that sort of thing.
Living in Lancaster, besides the Susquehanna (River), the Conestoga is the 'big obvious.' So, me and a bunch of my friends thought: Hey, wouldn't it be cool if we had better access to the river? "Wouldn't it be cool if…?' That was sort of the catchphrase. …
We're just over 225 paid members, and we have an active social media following of about 2,000 people. We usually get anywhere from 50% to 75% engagement on our major posts.
OUL: You've said that one of the major roles of the club is advocacy of access, and going out presenting to municipalities. Can you explain that a little more?
Roy: Towards the end of 2020, when COVID hit, I was a furloughed chef. I just took that as a sign from the heavens that 'Hey, I get to go kayaking more.' So we dove into the idea of improving access.
Along the way, we became designated water trail managers. That is why we became a 501(c)3, so that we can actually fulfill that role appropriately. The water trail management organizations, DCNR (Department of Conservation & Natural Resources), Pennsylvania Fish & Boat Commission and so on, they said that we should have a plan, that we can't write money for grants without a plan. We had to have a strategic vision of how to rehabilitate the water trail and improve accessibility.
In 2020 to 2021, we wrote a grant for the project. That was $62,000. The money was awarded by Pennsylvania Fish and Boat (Commission), the Riverlands Conservation (program) that is administered by the Lancaster Conservancy, and money from ARPA funds from the Lancaster County commissioners, which is administered by the Conservation District. We're at the very tail end of putting that project together.
It's an 85-page document. It's the strategic vision of everything from recreational access improvements, sustainability of those improvements, best practices for environmental concerns, whether it be waste removal, habitat creation, bank stabilization, invasive species removal, et cetera.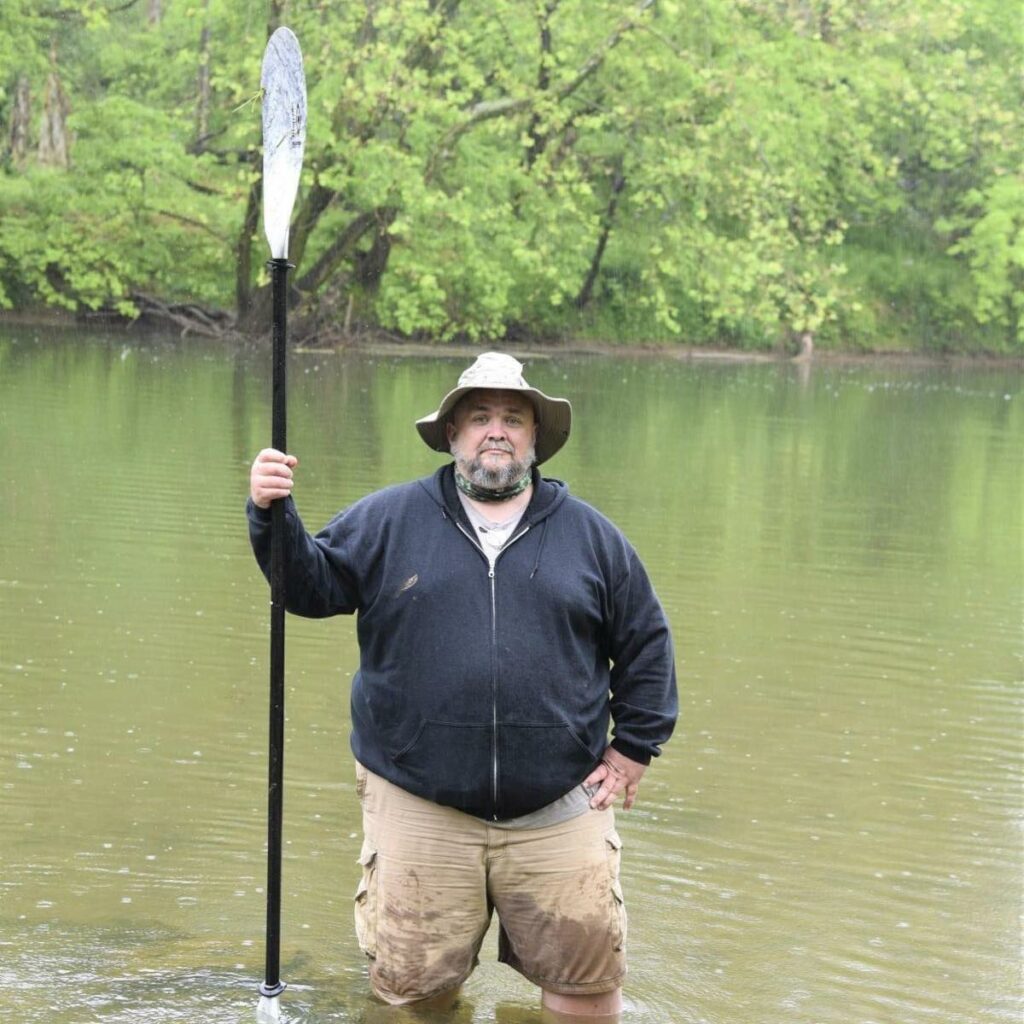 OUL: Part of your project involves access points, (including) boat-ramp types of access points for the disabled. Can you explain that, and the difference between ADA (Americans with Disabilities Act) compliance and general disabled-access planning?
Roy: ADA, from my understanding, is a very specific set of construction guidelines. So many inches to reach a door handle, signage must be at a particular level of a particular format, particular visibility. All of these things are taken into consideration as holistically as possible: Every disability need that could be had in a public place. Wheelchair ramps, handicap parking, self-closing and opening doorways, that sort of thing. That's ADA: it's a very specific set of legal guidelines to meet that compliance.
What we're looking at more is what is considered 'universal design elements,' where we take a look at how you get a wheelchair or a mobility device to the edge of the river for the purposes of recreation. We look at things like the degree of slope, and what are the construction materials that are used – We ask: is it a firm enough surface and is it a clean enough surface?
Kayaking and fishing are both considered 'at your own risk' activities. There's still an element that we cannot protect perfectly from, but we can make it more attainable. …
We cannot make it accessible for everyone. We just can't. We work very closely with a group called Team River Runner. They are a national organization that deals with disabled American soldiers and their families, for the purposes of therapy.
They also do a lot of work with a group called KAOS: Kids are Outta Sight, where they teach blind children how to paddle. Even by their standards, which are just about as inclusive as anything you can possibly imagine, there's still some medical conditions that absolutely will not allow someone on the water.
OUL: The Chesapeake Bay Foundation is working on efforts upstream and downstream to improve the health of the river.
Roy: Specifically, the Chesapeake Bay Foundation under Brian Gish is working on a headwaters plan. That is primarily agriculturally based, but they are going to be studying the residential impact on (stormwater runoff), versus the agricultural runoff and best management practices.
A similar conservation plan to protect stream water quality, known as an "Act 319" plan, was recently completed in Lancaster County.
OUL: The 319 plan, is there a partnership on that? Who did the 319 plan?
Roy: That's the Chesapeake Bay Foundation. And I am pleased to say that we have been included in the steering committee for that, because of our advocacy and interest.
OUL: Is there anything else you want to tell people about the effort in general?
Roy: The Conestoga is Lancaster's river. It's our river. Being a small-town farm boy from West Virginia, I was raised under the understanding that when you go to a place, when you go to the woods, when you go to the mountains and the streams, you leave it better than you found it. You clean up trash, you leave no footprints, you leave no trace when you hunt, and you hunt for sustainability, not for sport. … You live with the planet.
Here in Lancaster County, (there's) that deep-rooted grassroots citizen stewardship of our natural and historical resources. They belong to us, we enjoy them, we live there. It's our job to care for them. That's really the mission on the greater scale at the Conestoga River Club. Make the river accessible, make the river cleaner and healthier. Make it as safe as possible and educate people on what they can do to make the world a better place.