Students, faculty, union representatives and activists delivered a petition Wednesday to Millersville University's president and its vice president of student affairs, urging the administration not to outsource the university's student health service.
The petition, submitted with nearly 1,400 signatures, comes in reaction to a request for proposals that Millersville released this summer, seeking third-party bids to operate the service. Responses are due by Tuesday, Sept. 6.
The existing in-house Health Services staff provided tremendous care throughout the pandemic, and the notion of replacing them with contract staff is "outrageous," said Seth Goldstein, a business representative with the Office and Professional Employees International Union Local 153.
"There's just no reason for this," he said.
Millersville's Health Services employs four nurses who are OPEIU members. Its online roster also lists two doctors, an administrative assistant and one contracted nurse.
The OPEIU nurses joined the delegation to deliver the petition, as did nurse Carol Meraner, who retired from the Health Service in June.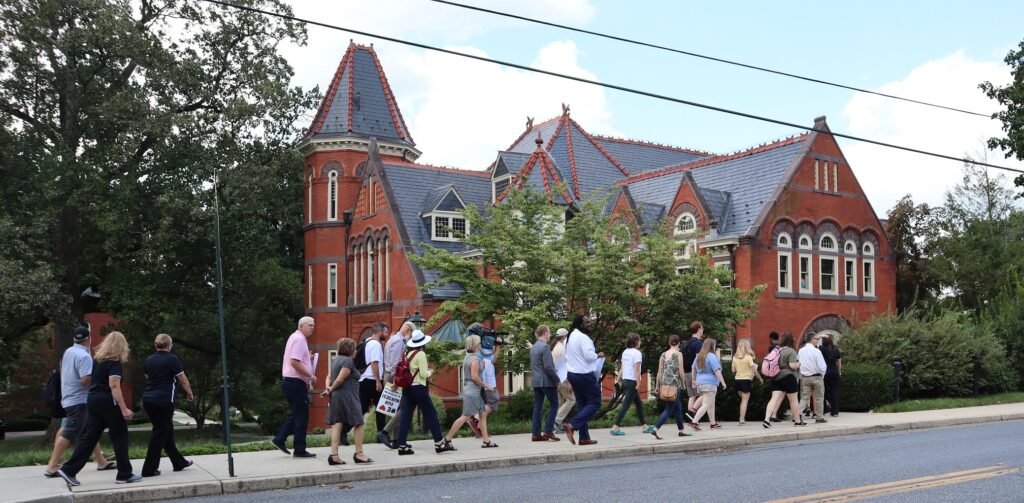 University President Daniel Wubah was not in his office when the contingent arrived. Vice President of Student Affairs Mary Beth Williams was, and she and group members had a brief dialogue.
Meraner said Health Services staff members work hard to build relationships with patients and accommodate their individual needs. That nourishes students' wellbeing and bolsters retention, she said. She fears a corporate contractor would instead concentrate on its financial bottom line.
Andrew Greer, president of the Millersville College Democrats, said the same: The Health Services nurses do indeed put students' needs first, he said, and a lot of his peers worry "that any alternative … isn't going to have the same care for us."
Williams said the university is committed to honoring its collective bargaining agreement, and to making decisions that serve the best interests of its students.
She declined to promise a face-to-face meeting with Wubah or to guarantee the outsourcing idea will be dropped and the Health System's existing staff retained.
In an interview afterward, Williams and colleague Deborah Newsom, interim vice president for finance and administration, noted that universities put out RFPs all the time. The responses Millersville gets will be evaluated objectively, they said, and while it would be nice to save some money, the choice will be based entirely on what will serve students the best. If that turns out to be the in-house service, it will stay, they said.
That's what happened last year when Millersville issued an RFP for its dining services, Williams said: It ultimately decided to keep its in-house service — the only one in the State System of Higher Education.
The Millersville administration could not immediately say how much it costs to operate the health service.