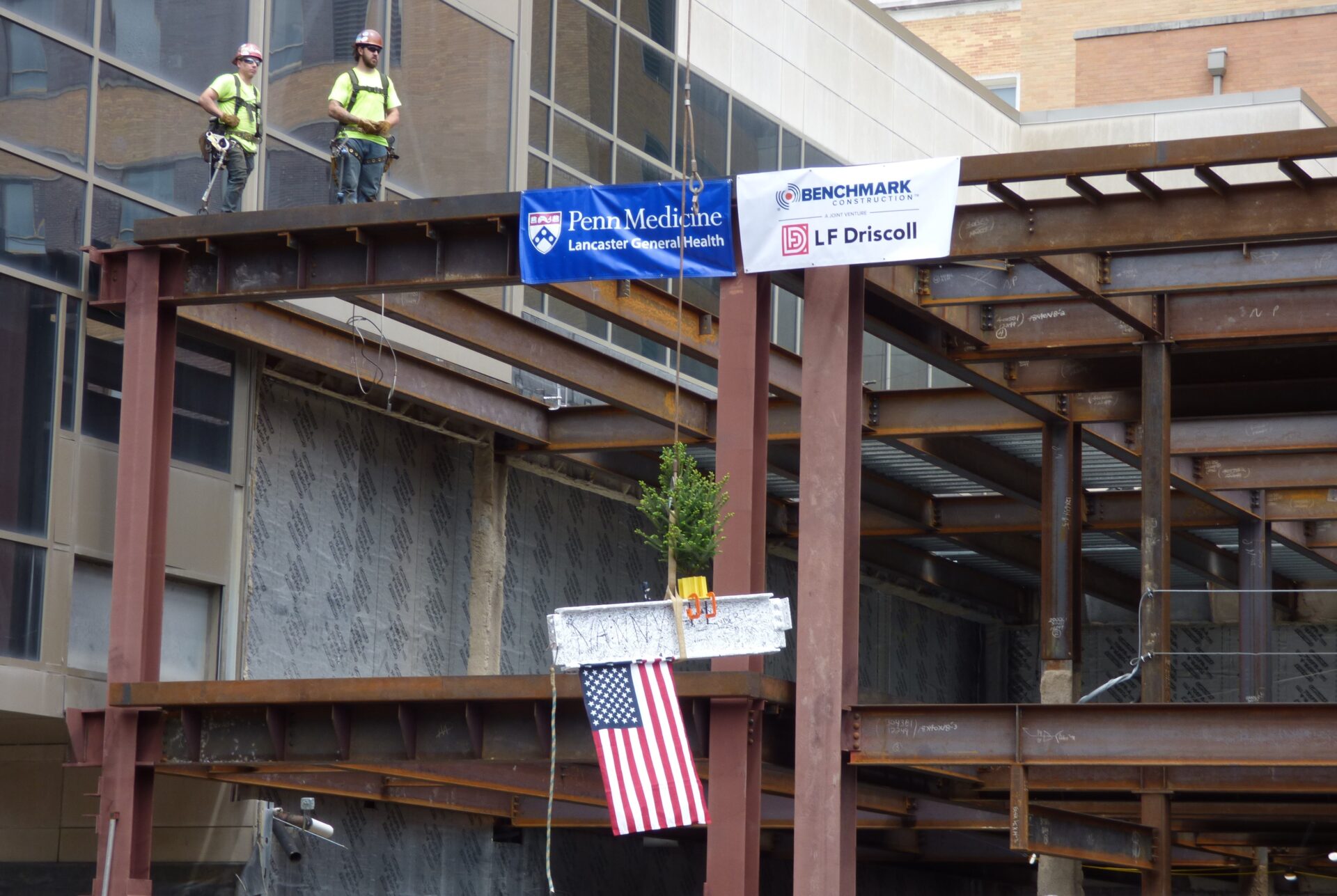 Lancaster General Hospital marked a milestone Monday with a "Topping Out" ceremony, the installation of the last beam as part of its Emergency Department expansion.
"Topping Out" stems from a Scandanavian tradition of placing a tree atop a new building to appease the spirit world. Monday's ceremony was a way both to honor the many months of effort from the workers on the project and to wish all the future occupants well, Penn Medicine Lancaster General Health CEO John Herman said during a brief news conference before the installation.
A few minutes later, as a crowd of hospital officials, construction team representatives and local dignitaries watched and cheered, the beam, along with a small fir tree clamped to it, was lifted into place on the north end of the expansion along North Duke Street and secured by a pair of construction workers.
Earlier, the beam had been signed by hundreds of LG Health staff, board members and patients.
That means "a small piece of each one of those individuals, each one of us, will be carried into the future of the new building," LG Health board chair Carolyn Scanlan said.
LGH is spending just over $180 million on the 40,000 square foot expansion, which will increase the number of ER beds by nearly 50%, to 95, and overall capacity by 60%, from 85,000 to 140,000 patients annually.
Recently, the ER has been exceeding capacity, with about 115,000 patients passing through its doors. Herman conceded conditions have been "less than optimal," with patients kept on gurneys in corridors for lack of alternatives.
The first component of the expansion, a food service venue named "Central Table Eatery," opened early this month. The ER expansion is to open in late summer or early fall, allowing the existing ER to be closed and remodeled. That is expected to take about 18 months, with all work completed by winter 2023.
Despite the pandemic and related challenges, including labor and supply chain issues, "We are basically on schedule and we are on budget," Herman said.
Photos
(Photos: Tim Stuhldreher | One United Lancaster)