Lancaster County's reported Covid-19 cases are continuing to decline, and hospitalizations are beginning to come down as well, according to this week's update of Pennsylvania's Early Warning Monitoring System Dashboard.
Reported cases here dropped 12% to 466 this week, compared with 531 the week before, according to the dashboard, which is refreshed on Wednesdays.
The county's average inpatient count stayed essentially unchanged, dropping by a hair from 33.0 to 32.9.
As of Friday, however, the reported daily count stood at 28, suggesting that hospitalizations, which are a lagging indicator, may be starting to track downward along with case counts. One of those 28 patients was in intensive care; none was on a ventilator.
There were 17 Covid-19 deaths in Lancaster County from June 1 through June 23, versus a total of 21 in May.
The U.S. Centers for Disease Control & Prevention said this week that the omicron subvariants BA.4 and BA.5 are now responsible for just over half of Covid-19 cases in America, less than six months since they were first detected in South Africa.
The subvariants "exhibit the qualities of escape artists," as the New York Times puts it, evading the antibodies produced by vaccination and previous infection.
For that reason, the U.S. Food & Drug Administration decided Thursday to advise vaccine producers to add a BA.4/BA.5 component to their formulations, targeting the variants' spike protein.
The so-called "bivalent" vaccines would become available this fall.
A fresh Covid-19 surge is expected this fall and winter. Public health officials increasingly believe that annual Covid-19 vaccine booster shots may become standard practice, as flu shots are now.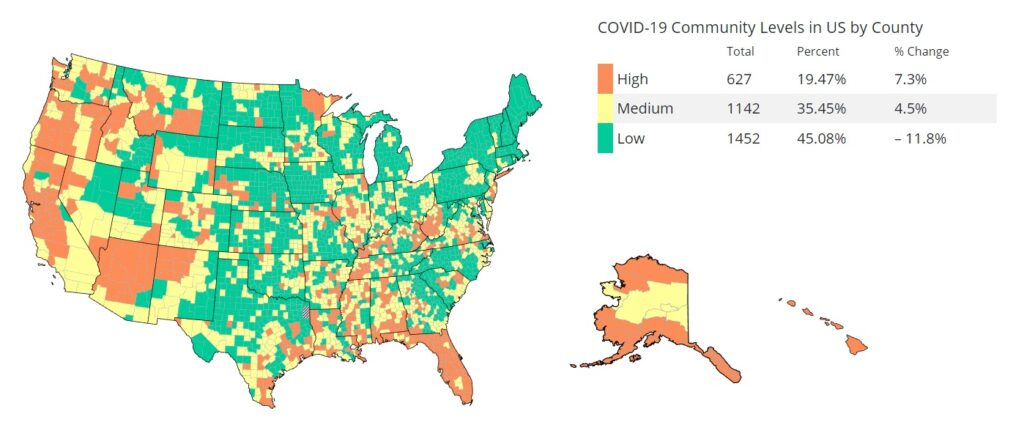 While Lancaster County is in the CDC's "low" classification for Covid-19 community impact, significant portions of the southern and western U.S. are at the medium or high category. Those areas account for a little over half of the country's population.
About one in five Americans lives in an area of high Covid-19 impact, meaning there is significant strain on local health resources. In those counties, the CDC recommends wearing masks in indoor spaces.
Public health officials note that reported case counts represent an increasingly smaller fraction of total disease burden, due to people testing at home or forgoing tests altogether. In Oregon, there may be 30 unreported cases for every reported one, state epidemiologist Dr. Dean Sidelinger told Oregon Public Broadcasting.