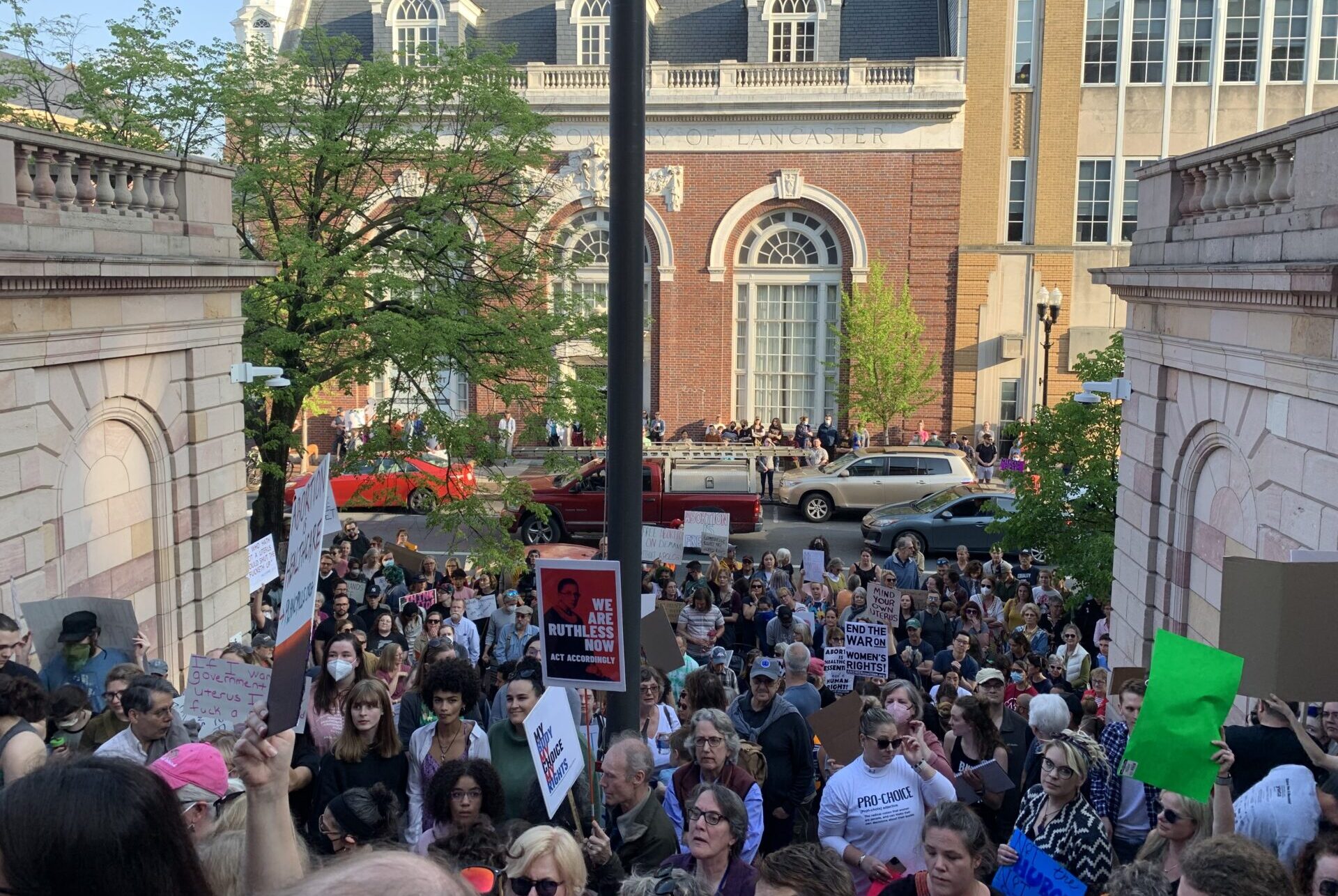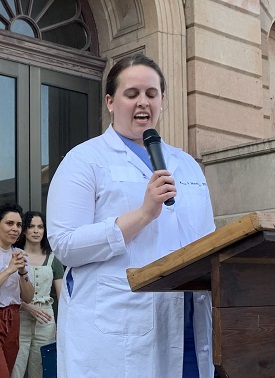 An estimated 800 people rallied Wednesday evening at the steps of the old courthouse in downtown Lancaster to demand that local and national Democrats protect reproductive rights.
"We have a moral and ethical obligation to serve our patients and respect their autonomy over their bodies and their ability to create the family of their choosing," said Dr. Laura Hatchman a family doctor with Penn Medicine Lancaster General Health.
The rally, organized by local progressive group Lancaster Stands Up, came in response to a draft U.S. Supreme Court opinion, leaked Monday, that indicates the court intends to overturn Roe v. Wade, the case establishing women's right to an abortion.
"I don't want politicians to tell my daughters what to do with their bodies," said Lancaster Stands Up organizer Suzy Wurtz.
"Every issue is a woman's issue," said Dana Hamp Gulick, who is running against state Rep. Mike Sturla in the Democratic primary.
City Council President Ismail Smith-Wade-El, who is vying with Councilwoman Janet Diaz in the primary, called on the crowd to call U.S. Sen. Bob Casey and demand he fully support reproductive rights.
"Sen. Casey, where the hell are you?" Smith-Wade-El exclaimed.
Casey describes himself as a pro-life Democrat and is one of two Democratic senators who did not co-sponsor the Women's Health Protection Act.
In a statement on the leaked draft opinion, Casey said he had "seroius concerns about what overturning almost 50 years of legal precedent will mean for women in states passing near or total bans on abortion."
Democratic Senators are planning a vote next week on an abortion rights bill, but with a 60-vote supermajority need to overcome a Republican filibuster, it's expected to be no more than a symbolic gesture.
Hatchman said abortions are safer for women than many common medical procedures, such as a tonsillectomy. Conversely, forcing women to carry unwanted pregnancies to term, she said, increases risk for a wide range of adverse physical and psychological consequences.
"Most every trained physician agrees that women's health care requires safe and legal abortion services," she said.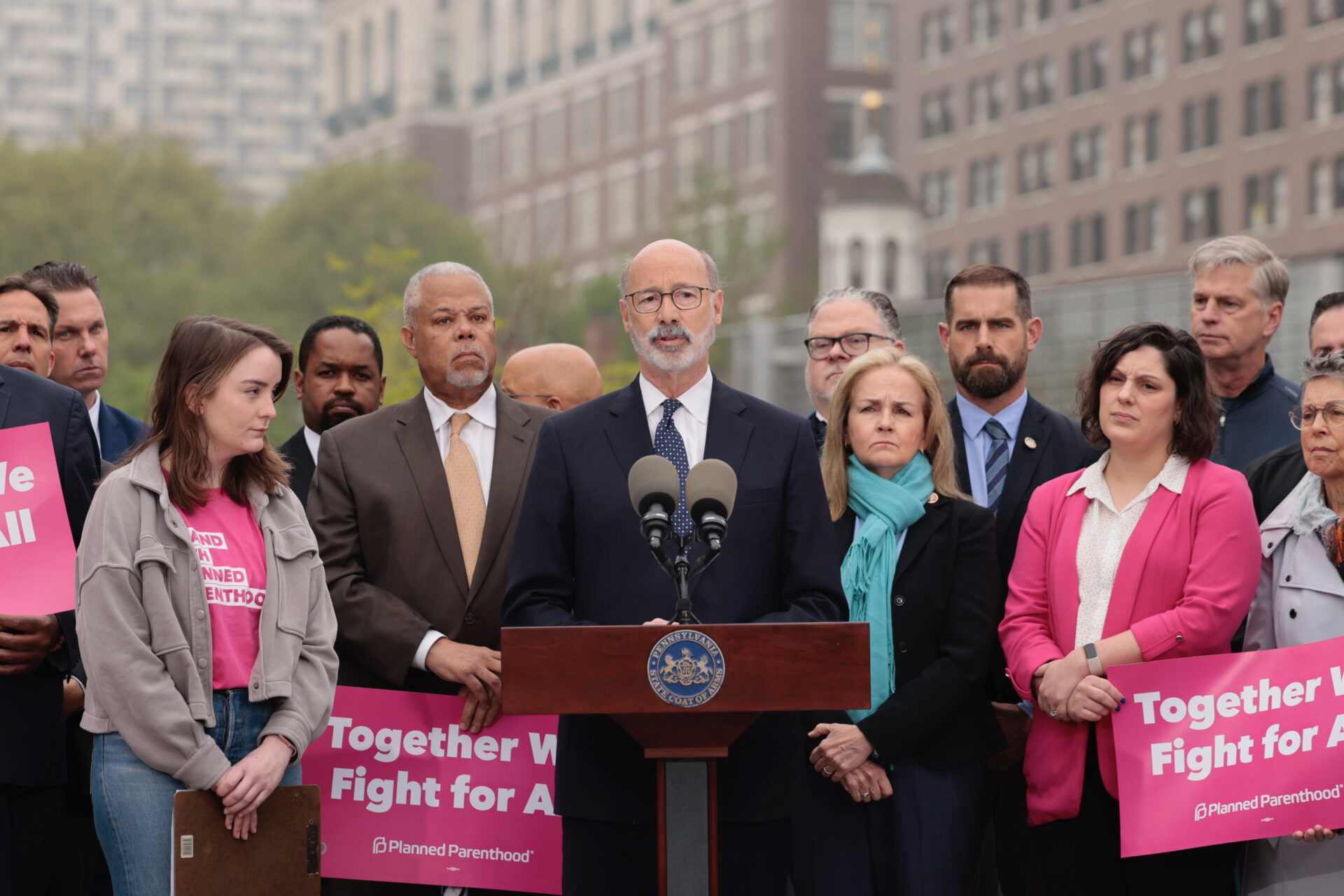 Other reactions
At a news conference Wednesday, Gov. Tom Wolf and First Lady Frances Wolf joined representatives of Planned Parenthood to signal their support for maintaining abortion access.
"The right to bodily autonomy is under attack," Gov. Wolf said. "Overturning Roe v. Wade isn't about preserving life. It's about exerting control. I don't think it's possible to overemphasize the seismic shift this represents in America's approach to privacy, to personal autonomy, to health care rights."
In a statement, YWCA Lancaster president and CEO Stacie Blake said, "The freedom of access to abortion is a human right, Roe v. Wade is a clearly established legal precedent, and access to safe abortion should not be up for debate."
YWCA Lancaster has supported reproductive choice for more than half a century and will continue to do so, she said.
Local Republican leaders, conversely, welcomed the prospect of a change in policy.
County Commissioner Josh Parsons posted online that overturning Roe would represent "the most important victory for life in a generation.
"The fight will now shift to the 50 states to ensure every person, including preborn, has the right to life!" he said.
State House Majority Leader Bryan Cutler wrote online, "I personally believe life begins at conception, and that every effort should be made to protect and promote the right to life for all people. ... I have consistently voted to protect life, and will continue to vote in the future to protect and promote life and support policies that promote a Commonwealth that respects the right to life for everyone."
Photos
(Photos: Olivia Smucker | One United Lancaster)