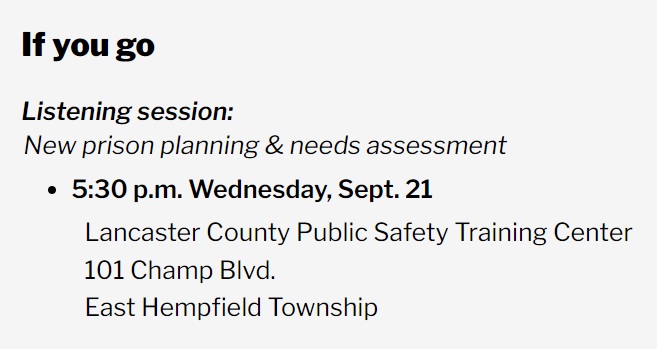 The county working group collaborating with owner's representative CGL to plan the new county prison is actively collecting information for its needs assessment, and it has scheduled its first "listening session" to gather public input.
It is scheduled for 5:30 next Wednesday, Sept. 21, at the Lancaster County Public Safety Training Center, 101 Champ Blvd., in East Hempfield Township.
The evening will offer an opportunity for county residents to share their thoughts as preliminary planning gets under way, county Commissioner John Trescot said.
Representatives of CGL and the working group will be on hand taking notes. It is a listening session, not a working group meeting, so no decisions will be made or votes taken.
That public input session will be followed by others as planning progresses, Trescot and his fellow commissioners said at Thursday morning's Prison Board meeting.
Kent Kroehler, of the advocacy group Have a Heart of Persons in the Criminal Justice System, suggested that future listening sessions be held later in the evening, perhaps 7 p.m., to make it easier for people who work during the day to attend.
The new prison is to be built on land in Lancaster Township adjoining Lancaster County Central Park and will replace the existing prison at 625 E. King St., which is outdated and in poor condition.
CGL, the world's largest prison consulting firm, is working with neighboring Berks County on a new prison, too. Trescot recently met with his Berks County counterparts: They are about six months ahead of Lancaster County, he said, adding that he looks forward to the counties sharing ideas and information as their respective projects take shape.
Lancaster County hopes to open its new facility in late 2026.