Lancaster County already has more potential demands on its American Rescue Plan Act funds than it has money to allocate.
That's not a surprise, Commissioner Ray D'Agostino said at Tuesday's work session, following a review of potential county uses and the third-party applications for ARPA funds received to date.
He and his colleagues agreed they will need to allocate the one-time funds carefully and thoughtfully to ensure the county gets the best possible long-term benefit.
The county received a total of $106 million from the federal ARPA initiative, of which it has allocated $17.1 million so far. It's entitled to use another $55.5 million for revenue replacement and spending on eligible projects through 2024, for a total of $72.6 million, Budget Services Director Patrick Mulligan estimated. That would potentially leave just $33.4 million for community uses.
As One United Lancaster reported, the county has already received 29 applications for funding. Of those, 19 totaling $52.6 million were deemed eligible under the federal ARPA guidelines, Deputy Chief Clerk Tammy Moyer said. One was deemed ineligible, and another eight, totaling about $4.3 million, remain to be reviewed, for a potential total of just under $57 million.
Mulligan and Moyer are part of the county's ARPA working group. Staffed by county administrators, it collects and reviews internal and community applications for funding.
The ineligible application was from West Lampeter Township, which sought $443,848 for a sidewalk project, Moyer said.
The $57 million sought by third-party applicants is higher than the previously reported amount, $35.6 million. That's because the Lancaster County Conservation District, with Lancaster Clean Water Partners as lead entity, is making a two-part request to fund pollution reduction in county waterways. The partners are seeking $4.6 million for high-priority projects — the number used in the $35.6 million calculation — but their total request is $26.47 million, yielding the higher figure.
Four of the 29 community applications are complete and ready to come before the commissioners, Moyer said: Two from East Cocalico Township; Martic Township's proposed pedestrian crosswalk for the Enola Low Grade Rail Trail; and the priority portion of the Clean Water Partners' request. The work group hopes to finalize a recommendation in time for the commissioners to vote by the end of the month, she said.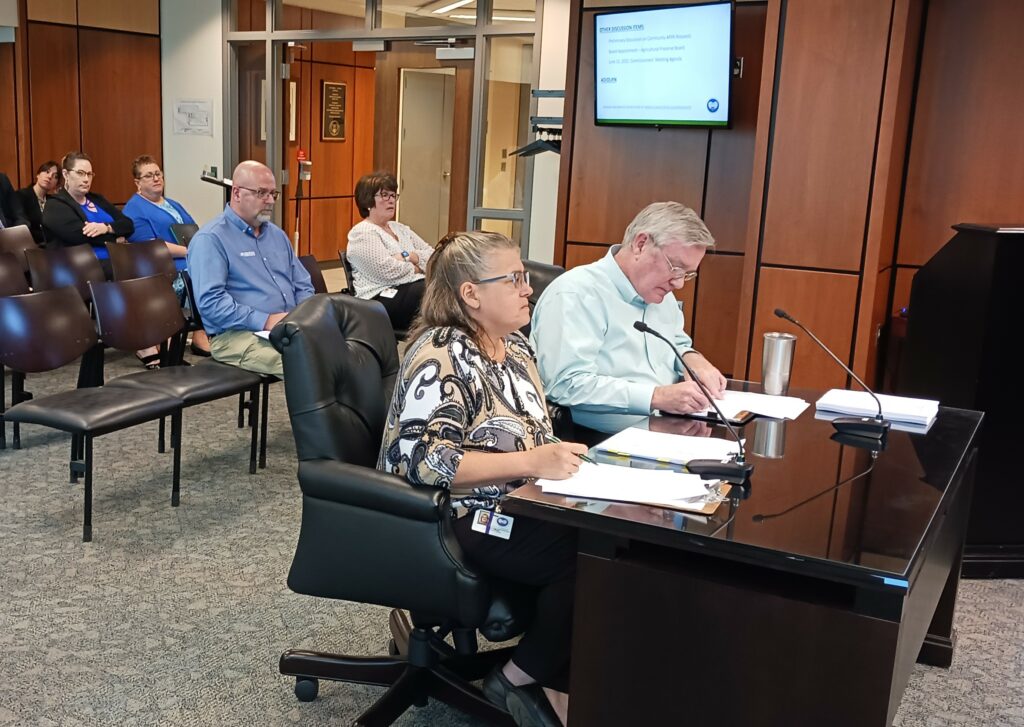 Following Moyer's and Mulligan's summaries, the commissioners offered their views. Commissioner Josh Parsons said there's broad concern over the economy and the potential for ongoing inflation to lead to municipal and school district tax increases; accordingly, his No. 1 objective is to deploy ARPA in ways that keep taxes low.
Next, he said, would be land and water conservation projects that preserve Lancaster County's quality of life and keep it the special place it is. After that, if there are small projects that would give a big boost to local communities, he "wouldn't object."
Lastly, if Congress enacts legislation allowing a portion of ARPA to be used for infrastructure projects such as the new prison, he would favor considering that use, he said.
Commissioner John Trescot concurred with Parsons on funding conservation projects but said he'd be "adamantly opposed" to using ARPA for the prison. He questioned if the county really needs to reserve more than $70 million in ARPA to itself, given its generally robust revenues and reserves.
D'Agostino said the county's "first responsibility" is strengthening its own capacity; after that, the goal should be transformational projects that benefit most or all taxpayers. Conservation projects fit that bill, he said, but East Cocalico's application to replace police cars is not, at least from a county perspective.
Several members of the public asked the commissioners to keep affordable housing in mind for ARPA, given the ongoing housing crisis.
The county's first round of applications ends Aug. 31. The commissioners reiterated on Tuesday that they plan to have a second round, but said it remains to be seen how much money will remain at that point.