The Lancaster Home Rule Study Commission agreed Thursday to continue seeking information on government operations from city leaders in written form — this time, from the department heads in Mayor Danene Sorace's administration.
In the next few days, questions will be sent to the police chief and fire chief and the heads of the departments of administrative services, public works, community planning & economic development and neighborhood engagement. At commission member Tony Dastra's recommendation, questions will also go to Douglas Smith, chief planner.
Thursday's meeting was held at Bright Side Opportunities Center. It was the commission's first session outside City Council chambers at City Hall and drew about a dozen members of the public. Neighborhood venues are planned for the next three meetings, too, to encourage public engagement. For November's meeting, Thaddeus Stevens College of Technology is being eyed.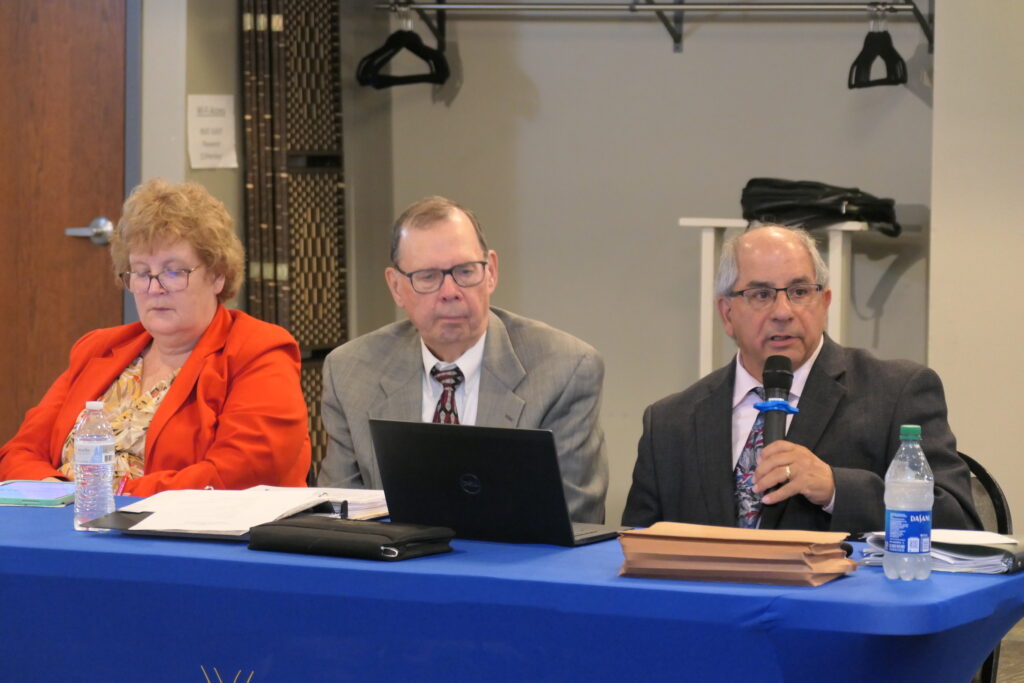 The Pennsylvania Economy League, the think tank providing administrative and consulting services to the commission, is providing a presentation at each of the neighborhood meetings, outlining the commission's goals and procedures.
After PEL's presentation at Bright Side, city resident David Reynolds asked if any municipality has exited home rule after adopting it, and how long it would take.
Once a home rule charter is adopted, there is a five-year waiting period before a municipality can change its governmental structure again, PEL's Gerald Cross said. Doing so would require the same set of steps — the empaneling of a study commission, voter referendums and so on. To the best of his knowledge, Cross said, no move to home rule has been reversed.
So, "if this does go through, we're stuck with it for five years," Reynolds said.
The "form of government" can't be changed for that period, Cross said, but minor tweaks are allowed.
In person or in writing?
During the discussion of which department heads to question, commission members Elizabeth Elias and Darlene Byrd advocated interviewing them in person. Byrd noted that it has taken weeks to get written responses, and that the commission needs to gather information expeditiously.
Member Peter Barber, however, said in-person interviews would take too much time and that the written format would allow respondents to give more thorough and considered answers. The commission can always follow up with in-person interviews if needed, Chairman Brian Adams said.
The commission spent about 40 minutes of its two-hour meeting discussing the written answers received from Mayor Sorace, Council president Amanda Bakay and Controller James Reichenbach. It has not heard from Treasurer Vincent Derek Smith; Byrd said Smith told her he hasn't been getting messages from his city email account.
None of the city officials identified any major weaknesses in city operations. Adams summarized their consensus in a sentence: "Everything is working great, but we don't have enough money."
Bakay and Sorace both wrote that city staff handle all financial and accounting operations and controls, arguably making the elected treasurer and controller redundant. Commission member Carl Feldman noted their statements, and said he worries about what would happen if the controller refused to sign off on a city transaction.
In point of fact, that's happened at least twice, city Solicitor Barry Handwerger said: Once with the controller and once with the treasurer. Both times, the city administration sued and prevailed.
According to LNP's online archives, in 1992 Mayor Janice Stork sued to force Treasurer Harold Sommers to sign checks for the city's capital budget. There had been allegations that the administration deliberately overborrowed money, and Sommers had refused to authorize payments until an investigation was conducted.
More than a decade later, in 2005, Controller R.B. Cambell refused to sign a state grant application for the Lancaster County Convention Center project. He did so because he questioned the legality of the city's arrangement with the developer to make the property tax exempt. A court ruling allowed then Mayor Charlie Smithgall to sign it instead.
The question of legal oversight led the commission into an exploration of Handwerger's role, and whether having an in-house city solicitor is the most cost-effective approach.
"We actually are fairly lean," Handwerger said. Lancaster was the last city of its size in Pennsylvania to make its legal representation part of city staff, and its peer cities typically have at least one assistant solicitor as well, he said.
Next steps
Besides interviewing city leaders, the commission plans to research other Pennsylvania municipalities that have adopted home rule. PEL has provided a list to pick from; Adams asked his colleagues to forward their recommendations to him in the next few days.
As for the three state officials to whom questions were sent last month, the commission has just received state Rep. Mike Sturla's response and is expecting answers shortly from state Rep. Ismail Smith Wade El and state Sen. Scott Martin, Adams said.
Ted Darcus, a civic leader and former City Council president who ran unsuccessfully for the commission, suggested the commission seek input from Lancaster's three living former mayors: Janice Stork, Art Morris and Rick Gray.
They all had to deal with the city's fiscal constraints and would have valuable perspective, he said.
The commission has nine months to decide whether it makes sense to move forward with drafting a home rule charter. If so, it has another nine months to draft one, which would go before city voters in a referendum.
Among other things, a home rule charter would allow the city to raise the current 1.1% cap on the earned income tax rate, which city officials say would ease the pressure on property taxes and provide a more equitable tax structure.