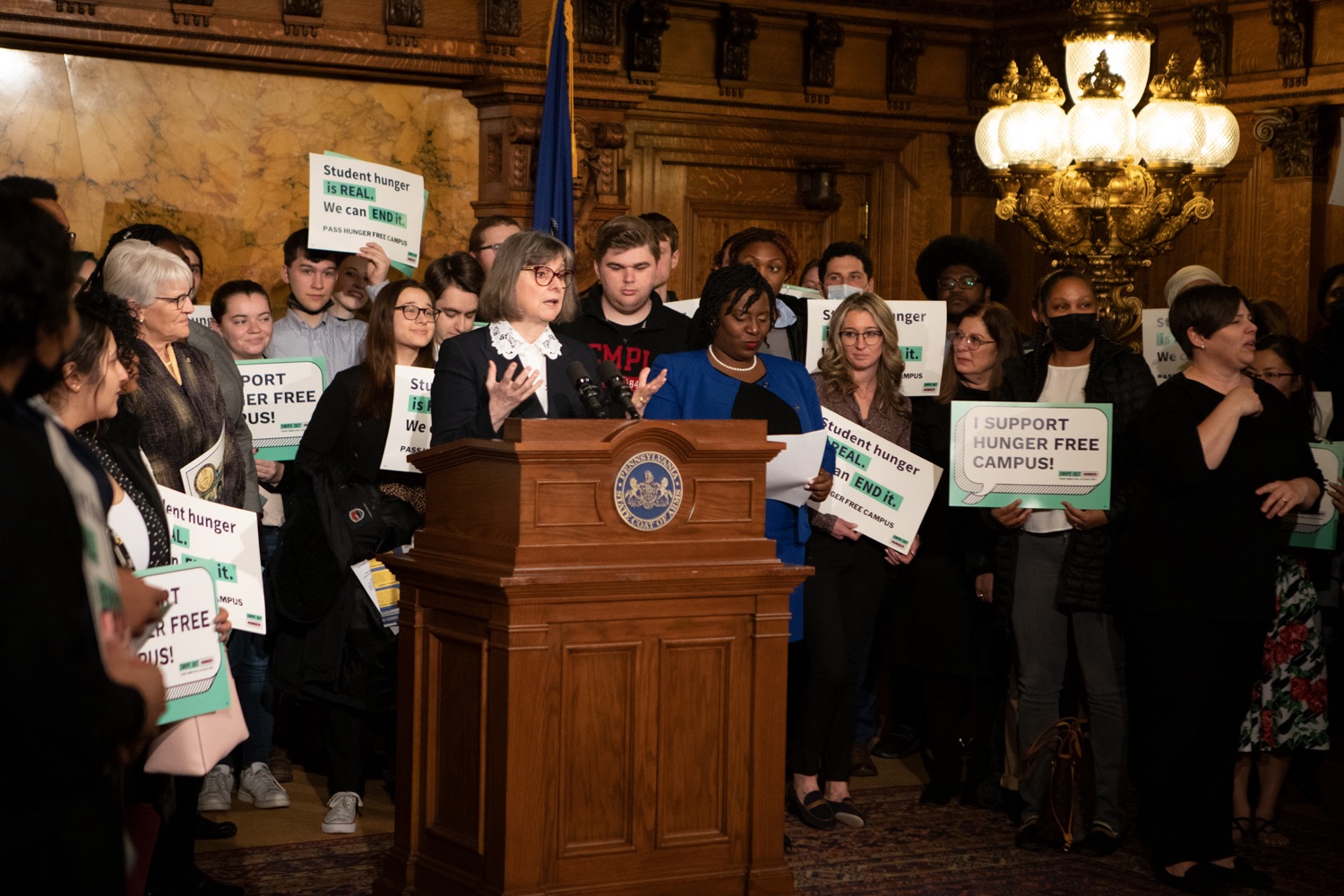 First Lady Frances Wolf, state Democratic lawmakers and college students joined forces Monday at the state Capitol to raise awareness about hunger among college students.
"College should not be a privilege reserved for individuals with disposable incomes, and hunger should never be what holds someone back from succeeding in higher education," Wolf said.
"And yet, national studies estimate that over 30% of college students are food insecure. We must do all we can to support our students as they pursue futures that can benefit all of Pennsylvania."
Gov. Tom Wolf has proposed creating a grant program to help colleges and universities create or expand on-campus food pantries or hire case managers for students at risk of hunger.
Damon Sims, vice president of student affairs at Penn State, said the program "would make an enormous difference in our collective effort to overcome a challenge faced by too many students."
The program is based on the Hunger Free Campus Bill authored by the national nonprofit Swipe Out Hunger. Passed in California, Minnesota, Maryland and New Jersey, the legislation gives students at public colleges and universities the option of donating unused meal plan meals to their peers; facilitates the establishment of food pantries and provides for the enrollment of students in the federal Supplemental Nutrition Assistance Program, or SNAP and the use of SNAP benefits on campus.
A version of the Hunger Free Campus Bill was introduced in Pennsylvania in 2020 by state Rep. Malcolm Kenyatta, D-Philadelphia, and in 2021 by state Sen. Carolyn Comitta, D-Chester.
Swipe Out Hunger brought about 100 students and school administrators to Monday's event. They came from more than a dozen institutions, including Millersville University in Lancaster County.
"We're thrilled to galvanize and organize together to ensure no student has to choose between food and their education," said Rachel Sumekh, Swipe Out Hunger's founder and CEO.
A 2018 report by the federal Government Accountability Office found that the average college student was 25 years old. More than one fifth had dependent children and 14% were single parents.