"We love what we do," Jacob Marino told Pennsylvania First Lady Frances Wolf and Acting Education Secretary Eric Hagarty during their visit Thursday to The Hub in Millersville.
Nestled next to the Millersville University campus, the nonprofit community center provides a range of services to university students and the broader community.
In particular, its Campus Cupboard and free meals help hundreds of Millersville students who might otherwise go hungry.
In the spring semester, the Hub distributed 5,000 pounds of groceries and served 5,600 hot meals, Millersville University President Daniel Wubah said. Much of the food comes from the Central Pennsylvania Food Bank.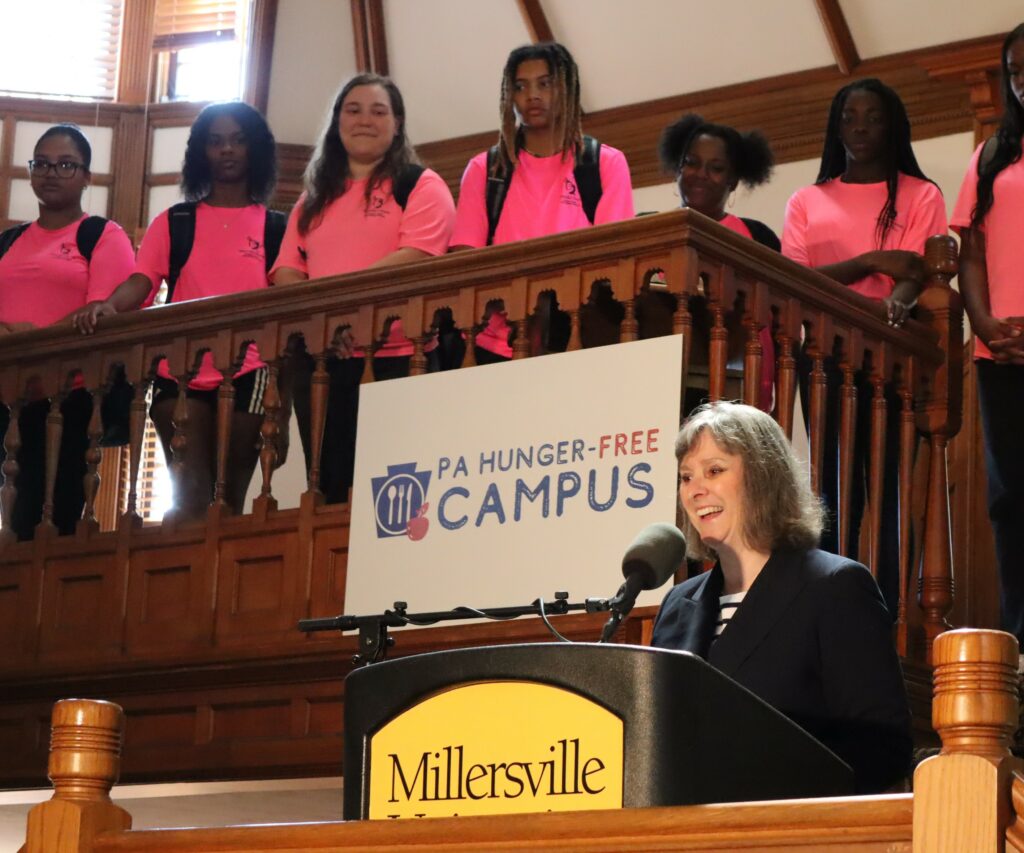 Millersville's and The Hub's joint efforts to combat student hunger made Millersville an appropriate place for Wolf and Hagarty to announce the launch of Pennsylvania's Hunger-Free Campus initiative, with the goal of encouraging colleges and universities across the state to help ensure their students have enough to eat.
Studies suggest as many as one-third of all U.S. postsecondary students experience food insecurity, something Wolf called "absolutely unacceptable." Students need to have their basic human needs taken care of so they can concentrate on completing their studies, earning their degrees and entering the work force without getting delayed or sidetracked, she said.
Hunger-Free grants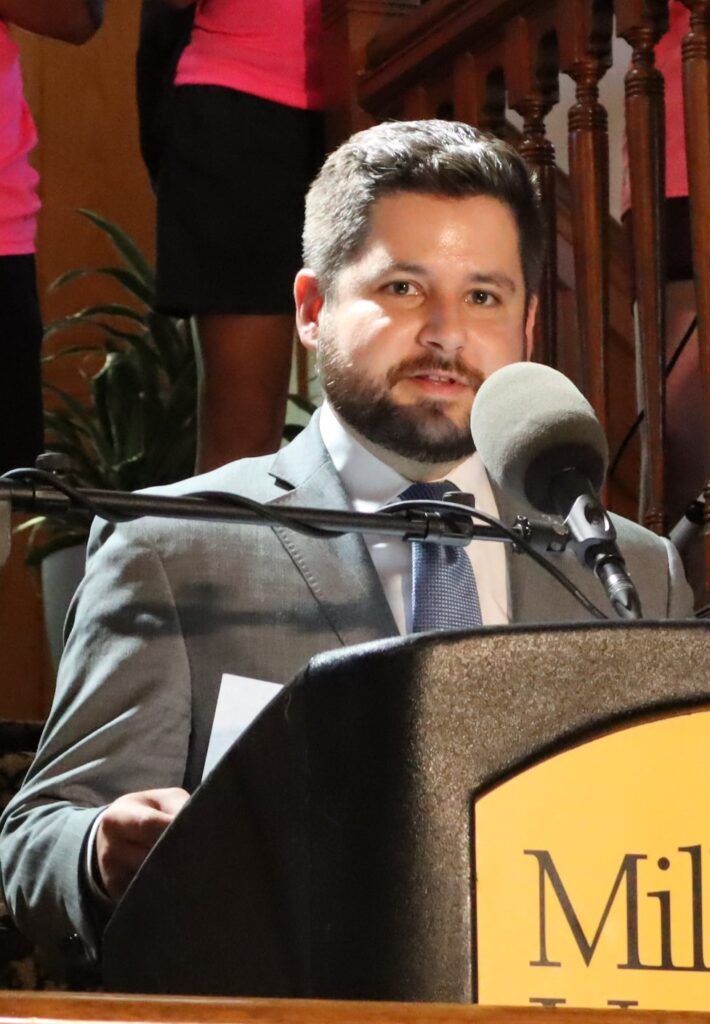 Later this year, the Department of Education plans to launch the Hunger-Free Campus grant program, using $1 million made available in the recently passed 2022-23 state budget, Hagarty said.
Schools would be able to use the money to expand food pantries and food recovery programs, promote Supplemental Nutrition Assistance Program or SNAP outreach, gather data on student hunger and so on.
To be eligible, colleges and universities must obtain a Hunger-Free Campus designation. Millersville is among the first nine institutions to do so, Hagarty said.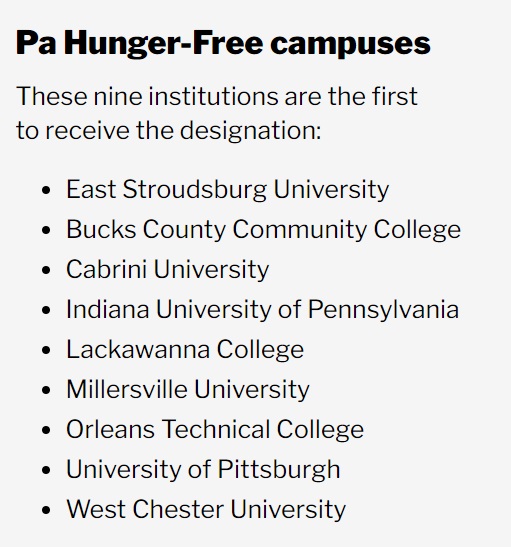 Millersville's financial aid office collaborated with The Hub to launch the Campus Cupboard in 2012, Wubah said. In 2016, students launched the Food Recovery Network, which sources unused food supplies from campus dining halls for donation to The Hub and other food banks. Recently, a Shared Meals Club launched, with an app showing the location of free food on and around the campus.
In conjunction with its Hunger-Free Campus designation, Millersville is establishing a Hunger-Free Task Force, Wubah said.
"We won't stop till our students' most basic needs are met," he said.
The Hub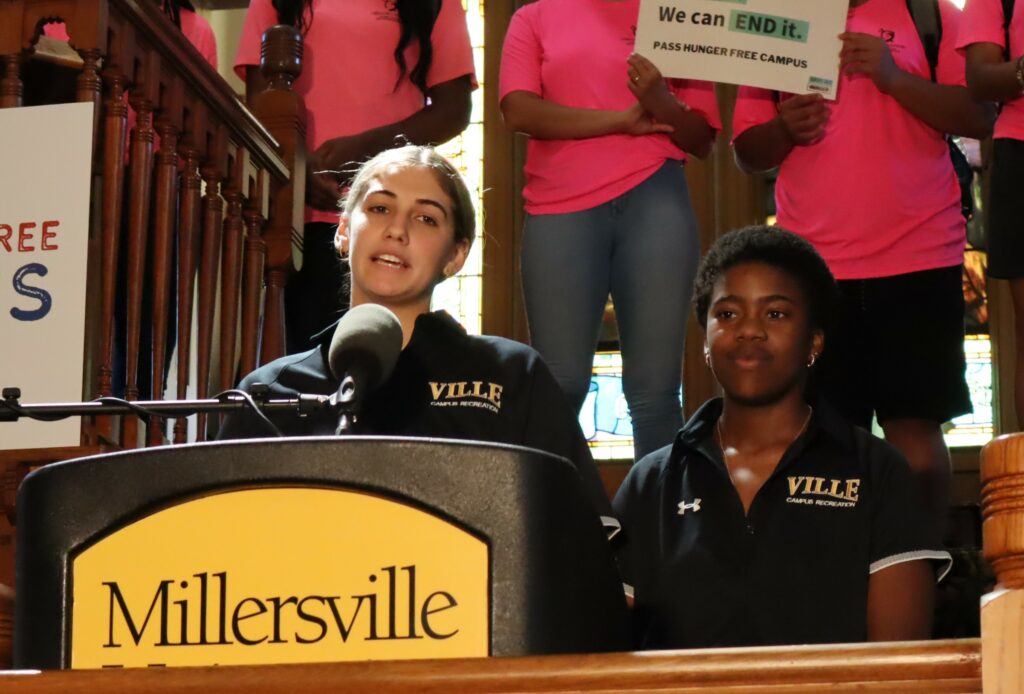 The Hub is the successor to United Campus Ministries, an organization that dates to the 1960s. In its current form, it is the brainchild of founders Ed and Vicki Weber. Ed passed away unexpectedly in 2021; Vicki remains heavily involved.
The Hub is just what its name implies, Marino told Wolf, Hagerty and their entourage. It provides tangible resources — besides the Campus Cupboard, there's a clothing bank, the Campus Closet — but fundamentally it provides community, he said.
Many students felt isolated during the pandemic, and that affected their mental health, he told his guests. At the Hub, they can build relationships, he said.
Its work extends beyond the campus. When Penn Manor School District shifted to remote learning during the pandemic, The Hub created a study center where students could log in to remote classes, as well as receive mentoring and tutoring and eat a free hot breakfast and lunch.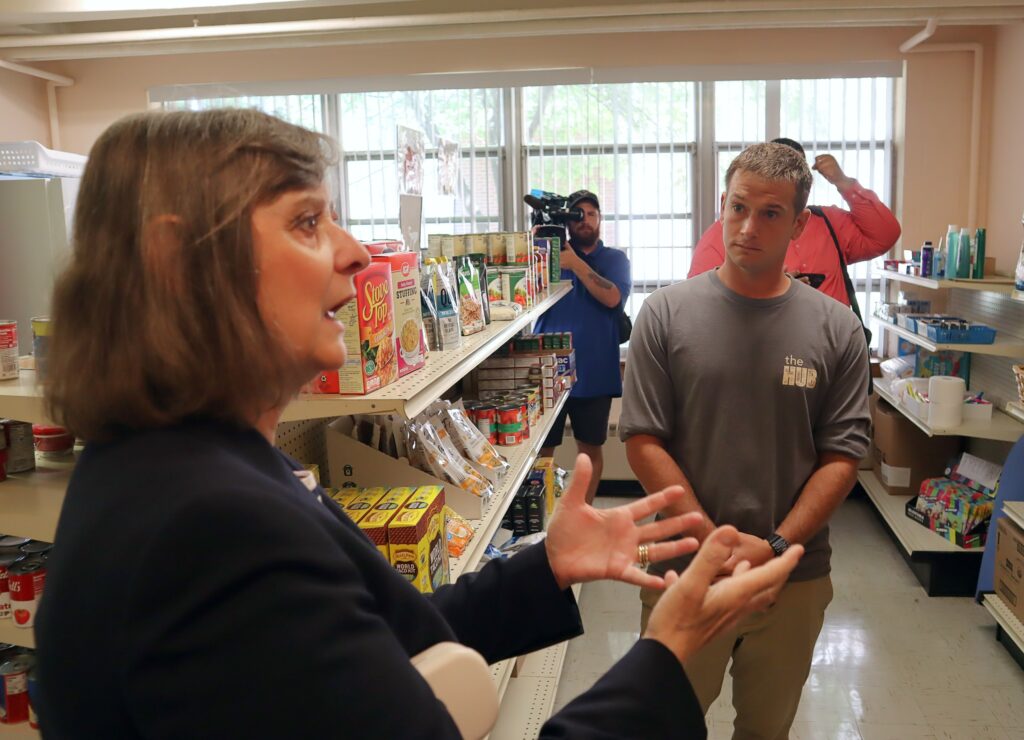 Today The Hub is in the process of raising funds to partner with Millersville Bible Church to buy and renovate the church building it uses at 121 N. George St., known as "First Campus," from the current owner, Millersville Community Church.
The Hub is getting to the point where it can provide three meals every weekday, plus groceries for the weekend. In other words, it's on the verge of eliminating campus food insecurity, Marino said.
"It's not this lofty dream," he said. "We're very, very close."
Partnerships are key, Marino said, whether with fellow nonprofits, local businesses, or the university. The Hub, he said
"We hope that other universities … can look at what we're doing with Millersville University and say, 'This is a great partnership. This is a great model,'" he said.