With Election Day less than a month away, on Tuesday, Nov. 7, voters should be making sure their registration is up to date and that they're familiar with the issues and candidates.
Although 2023 is an "off-year" election, there are still several high-stakes races. Voters will elect a new justice to the state Supreme Court, putting him or her in position to decide crucial cases on reproductive rights, voting rights and more. Also on the ballot are Commonwealth and Superior Court races.
Locally, Democrats Bob Hollister and Alice Yoder are vying with incumbent Republicans Ray D'Agostino and Josh Parsons for the three seats on the Lancaster County Board of Commissioners. Incumbent Democrat John Trescot was appointed to fill out the unexpired term of Craig Lehman and pledged not to seek re-election.
The commissioners lead county government and will be shepherding the process of designing and building the new Lancaster County Correctional Facility, which they hope to open in late 2026.
County row offices are at stake as well, as are school board directorships, municipal council seats and a handful of magisterial district judgeships.
Here is an FAQ for Lancaster County voters. You may also want to read the county board of elections' "Tips on How to Be a Prepared Voter." Additional information is available on the board of elections' website and at Vote.pa.gov.
How do I register to vote?
Visit the Lancaster County Elections Office at 150 N. Queen St. or click here. More information is available here.
To vote in the Nov. 7 election, you must register no later than Monday, Oct. 23.
How do I find my polling place?
Lancaster County's list of polling locations is here. You can also visit this link and input your address.
Four polling places have been changed for the upcoming election, as follows:
Caernarvon Township (#3100)

From: Caernarvon Fire Company, 2145 Main St., Narvon
To: Twin Valley Bible Chapel, 105 Shirktown Road, Narvon

Lancaster Township 2nd District (#5302)

From: Maple Grove Community Building, 1420 Columbia Ave., Lancaster
To: First Assembly of God, 1025 Columbia Ave., Lancaster
Rapho Township Sporting Hill District (#6501)

From: Rapho Township Municipal Building, 971 N. Colebrook Road, Manheim
To: East Fairview Church of the Brethren, 1187 Fairview Road, Manheim

Strasburg Township (#6800)

From: Strasburg Township Municipal Office, 400 Bunker Hill Rd., Strasburg
To: Refton Fire Co., 99 Church St., Refton
How do I request an absentee or mail-in ballot?
If you have a valid Pennsylvania driver's license or PennDOT ID number, you can apply online here.
Otherwise, you must submit a paper application form to the Lancaster County Elections Office, 150 N. Queen St. The deadline for your application to be received is 5 p.m. Tuesday, Oct. 31.
How do I fill out and return my mail-in ballot?
A step-by-step guide is here. Fill out your ballot in blue or black ink, seal it in the YELLOW secrecy envelope, then put that envelope in the WHITE return envelope.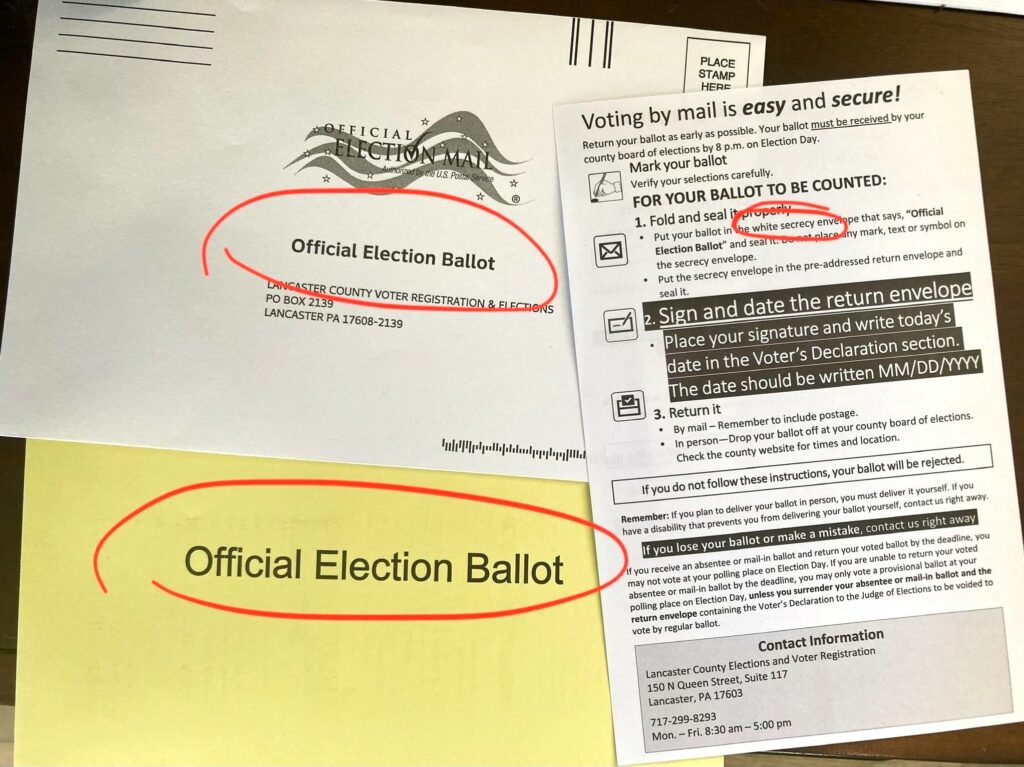 Starting with this election, Lancaster County is sending out yellow secrecy envelopes rather than white ones. Unfortunately, due to an oversight, the county's instructions still describe the secrecy envelope as "white." As the elections office emphasizes on its home page, the YELLOW envelope is the secrecy envelope.
(Update: On Oct. 18, the Board of Elections agreed to allow any voters who mailed a ballot without the secrecy envelope because of the mistake to cancel that ballot and receive a new one at the county Elections Office.)
Sign and date the voter declaration on the outside envelope. The date should be the actual date you filled out the ballot and should fall between Sept. 22 and Nov. 7.
"If you do not complete the declaration on the return envelope your ballot will not be counted," the Department of State says. To ensure your ballot is counted, follow the law to the letter and sign and date the envelope as directed.
How late can I return a mail-in ballot?
Whether you mail it or return it by hand, your ballot must arrive at the county elections office by 8 p.m. on Election Day. Postmarks do not count. If you don't think there's enough time left for the postal service to deliver your ballot, you should return it by hand to the county Elections Office, 150 N. Queen St., Lancaster.
The office is normally open from 8:30 a.m. to 5 p.m. Monday through Friday. It will offer extended drop-off hours in the days before the election, as follows:
Friday Nov. 3: 8:30 a.m. to 8 p.m.
Saturday Nov. 4: 8 to 11 a.m.
Sunday, Nov. 5: CLOSED
Monday Nov. 6: 8:30 a.m. to 8 p.m.
Tuesday, Nov. 7 (Election Day): 7 a.m. to 8 p.m.
When will the polls be open?
From 7 a.m. to 8 p.m. on Tuesday, May 17.
How do I find out who is on the ballot?
Use the Lancaster County Specimen Ballot Viewer. A complete list of candidates in all Pennsylvania jurisdictions is available here. The county's official candidate listing for the election is here.
What voting system does Lancaster County use?
Lancaster County uses paper ballots that voters fill in by hand. They are then scanned. Click here for a step-by-step guide to the process.
Do I need ID to vote?
First-time voters in a precinct will be asked for identification. Thereafter, it is not required.
Where can I learn more about the candidates?
The links below go to candidate profiles and voter guides from various news sources.
Pa. Supreme Court
• Daniel McCaffery (D) vs. Carolyn Carluccio (R)
PA Supreme Court election guide (Spotlight PA)
Pa. appellate courts
Superior Court (two seats): Maria Battista (R), Harry Smail (R), Jill Beck (D) and Timika Lane (D)
Commonwealth Court: Megan Martin (R) vs. Matt Wolf (D)
PA Superior and Commonwealth Court election guide (Spotlight PA)
Lancaster County Commissioner (three seats)
• Bob Hollister (D), Alice Yoder (D), Ray D'Agostino (R) and Ray D'Agostino (R)
Lancaster County Democrats aim for surprise showing in commissioners race (LNP)
Parsons and D'Agostino defend record in bid for new term as commissioners (LNP)
Clerk of Courts
• Tara Ruby (D) vs. Nicky Woods (R)
Political novices square off in Lancaster County clerk of courts race (LNP)
Municipal races
Lancaster City Council candidates hope to grow affordable housing, countywide partnerships (LNP)
School board races
GOP-backed school board candidates across Lancaster County emerge from heated primary challenges (LNP)
'More issues than just COVID' Hotly debated policies passed in Hempfield energize candidates, voters (LNP)
Trans student rights, attempts to ban books drive school board race in Manheim Township (LNP)
Other races
For information on other Lancaster County races, see LNP's voter guide.