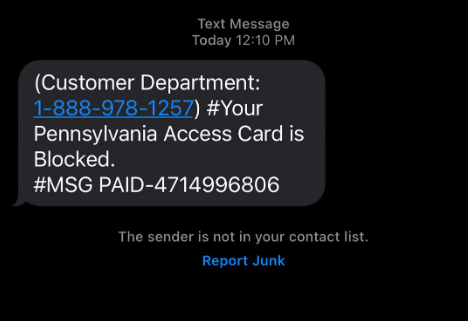 Pennsylvania's Department of Human Services warned Thursday of a text message scam targeting EBT cardholders.
The fake messages ask for EBT card information and claim the recipient's card is blocked.
"Do not fall victim to identity theft. If you receive unsolicited text messages asking you for your personal information, it is a scam," acting DHS Secretary Val Arkoosh said in a statement.
DHS does send texts to individuals enrolled in benefit programs, but never asks for personal information via text. DHS may direct individuals to official government websites or the state's COMPASS portal.
DHS has stepped up its text messaging recently as part of a broader outreach plan to inform beneficiaries of recent changes to SNAP and Medicaid.
To report a scam text, call the DHS fraud hotline at 1-844-DHS-TIPS (1 (844) 347-8477).