Every year, the Lancaster County District Attorney's Office and Lancaster General Hospital provide Narcan kits to numerous local partners for use in reversing opioid overdoses.
The distributions have run in parallel: The DA, using funding from the Pennsylvania Commission on Crime & Delinquency (PCCD), supplies police and fire departments and ambulance services, while LGH, using federal grant money, supplies treatment centers, social service providers and a wide range of community organizations.
Now, the DA's office has secured funding from the PCCD to help underwrite LGH's efforts — a two year, $74,991 Narcan Extension grant. (The money is part of PCCD's federal State Opioid Response grant.) On Wednesday, the county commissioners will vote on accepting the grant on the DA's behalf. (Update: On Wednesday, the commissioners unanimously voted to do so.)
The money will be transferred through a formal agreement to LGH, which will use it to build and distribute Narcan kits and develop a public awareness campaign on overdoses and risk reduction.
LGH and the DA's office are both stakeholders in Joining Forces, the county coalition created to fight the opioid epidemic. Narcan distribution has been part of Joining Forces strategy for some time, and the state grant will help it continue, Commissioner Josh Parsons, the coalition's co-chair, said in an initial discussion of the grant application in June.
The grant application to PCCD said: "By continuing to make overdose prevention and response a priority, we can continue to decrease overdose deaths in our community."
The grant will supplement LGH's existing funding for Narcan kits, which comes from the Substance Abuse & Mental Health Services Administration, an agency of the U.S. Department of Health & Human Services.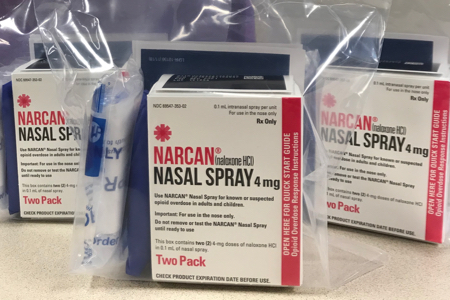 The kits will consist of one Narcan box (two doses), directions for use, a CPR face shield, disposable gloves, and information on safe drug disposal and addiction treatment resources, according to the PCCD grant application.
Narcan is a trade name for a nasal spray that contains naloxone, a medication that can reverse opioid overdoses. It has become a crucial tool in the effort to mitigate the harms of opioid addiction here and nationwide.
In 2022, LGH distributed nearly 3,100 kits, while the DA's office distributed around 1,200. From 2017 through 2021, the county and Joining Forces documented 3,676 instances of naloxone being administered to overdose victims in Lancaster County — in the vast majority of reported cases, by emergency medical personnel.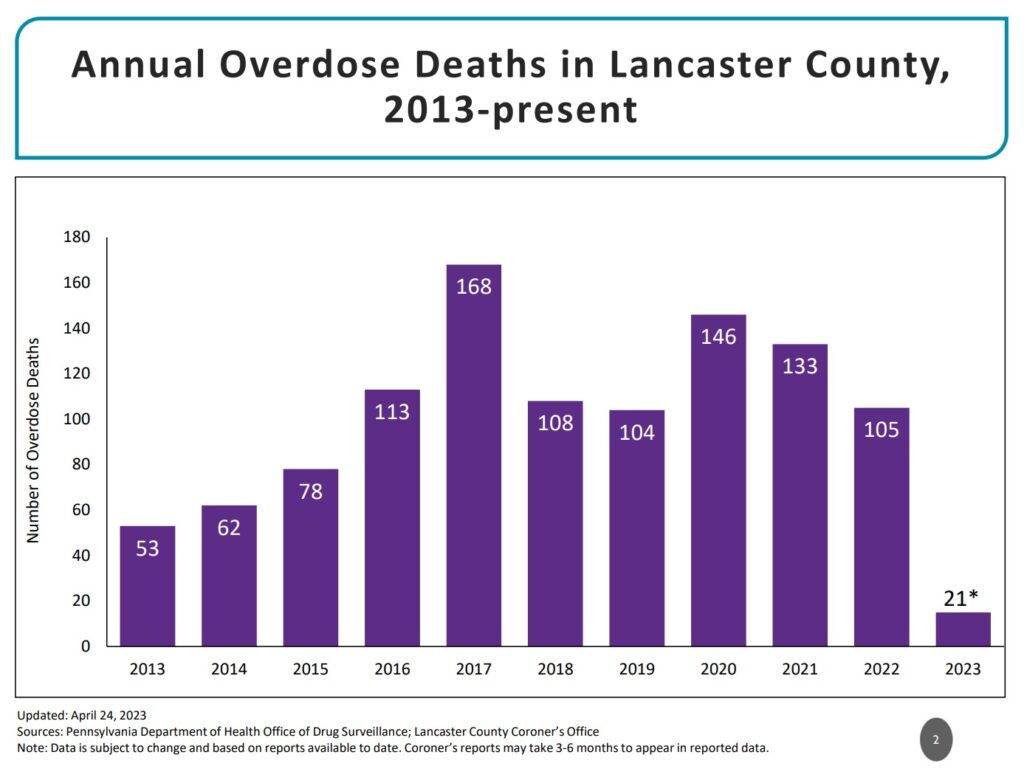 Annual overdose deaths in Lancaster rose from 104 in 2019 to 146 in 2020, but ebbed to 105 as of 2022. Nearly nine out of 10 overdose deaths here are due to fentanyl, an extremely potent and dangerous synthetic opioid.
Local statistics indicate that Black and Latino males aged 25-54 are at the highest risk of fatal overdose. Accordingly, LGH will target its education and outreach efforts to those demographics, partnering with organizations such as the Spanish American Civic Association, Brightside Opportunities Center and the Lancaster branch of the NAACP, the grant application says.
Until this year, naloxone required a prescription, although in Pennsylvania a standing order allows pharmacies to provide the drug to anyone upon request.
In March, the U.S. Food & Drug Administration approved over-the-counter naloxone sales. Narcan manufacturer Emergent BioSolutions says its product will be available soon in stores and online.