The Lancaster County commissioners took the final step Wednesday to implement a state grant for naloxone distribution, approving a pass-through agreement with Penn Medicine Lancaster General Health.
Under the arrangement, LG Health will use the $74,720 grant to prepare and distribute naloxone kits to schools, nonprofits and other community partners.
Naloxone, also known by its brand name, Narcan, is used to reverse opioid overdoses.
Commissioner Josh Parsons is the co-chair of Joining Forces, a county consortium dedicated to combating the opioid epidemic. The kits are part of its ongoing efforts to ensure the community has access to naloxone, he said.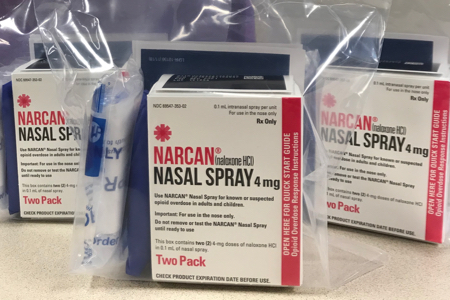 The county district attorney's office secured the grant from the Pennsylvania Commission on Crime & Delinquency. The grant period begins retroactively, in April, and runs through next September.
The kits will include a disposable CPR face shield for performing mouth to mouth resuscitation; a pair of gloves, two doses of naloxone, instructions and other educational material, LG Health spokeswoman Marcie Brody said.
The grant will also fund a public awareness campaign on overdose risk and how to respond to overdoses. LG Health is planning public service announcements, communication with "key community partners," information distribution at community events "and similar opportunities," Brody said.
Organizations interested in requesting Narcan/naloxone kits from Joining Forces can do so at this link.