Update: On Wednesday, the commissioners approved a framework for community ARPA grants that sets $6 million as an approximate goal for total allocations.
Previously reported:
The launch of Lancaster County's second round of ARPA grants is on the county commissioners' Wednesday morning agenda.
At Tuesday's work session, commissioners Josh Parsons and John Trescot spent a few minutes discussing the issue, essentially recapping and expanding on their comments made last week.
Commissioner Ray D'Agostino was out of town, but is expected at Wednesday's meeting.
Last week, D'Agostino proposed a framework that would provide $6 million of ARPA for third-party community grants. On Tuesday, Trescot said again that in his view, that's too low.
He said he'd rather see a level on the order of $8 to $10 million. Moreover, he said, the commissioners should treat any such figure as a general target, not a hard cap. What ultimately determines the level of funding should be the quality of the projects proposed for consideration, he said.
The county, he said, has helped itself generously to ARPA funds for "revenue replacement," even though its reserves are healthy and is revenues stayed steady during the pandemic. Bolstering those reserves further with ARPA funds won't change the county's bond rating and is superfluous, he said.
Parsons, too, reiterated his position: The county put $100 million into the community in CARES Act and ARPA funds, so it's appropriate that it now see to its own needs first.
Keeping the county's reserves flush protects taxpayers, helps to insulate the county from the effects of inflation and puts it in a position to afford large-scale capital projects like the upcoming correctional facility, he said.
While he'd prefer a lower number for the second round of community grants, "I can live with $6 million," he said.
A recap of ARPA Round 1
The application period for Lancaster County's first round of ARPA applications closed Aug. 31, 2022. There were 99 submissions totaling $78.5 million in funding sought.
Out of those, the commissioners approved 41 awards totaling $22.2 million: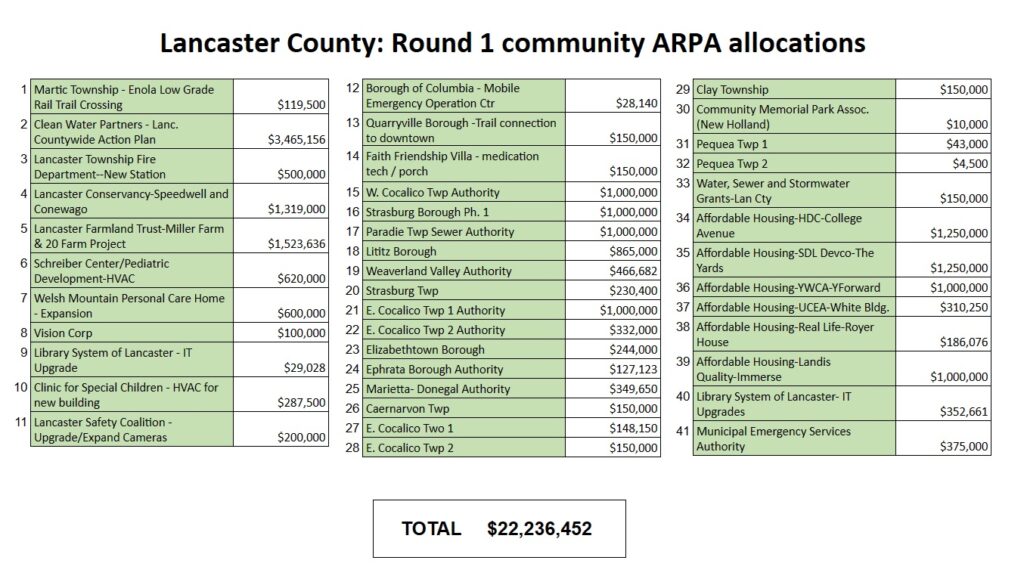 The commissioners have approved allocations totaling another $44.3 million for county government's internal use, including revenue replacement, infrastructure upgrades and other purposes. A spreadsheet showing all of the county's allocations to date is available on the ARPA page of the county's website.
What's next
According to a draft copy of the guidance that is up for approval Wednesday, the county will accept community applications for the second round of ARPA funding on a rolling basis through Aug. 31.
Proposals will be evaluated by the county's ARPA committee and must meet both federal guidelines and the county's criteria. Applicants should have other funding in place, with ARPA serving as a "last-in" component.
The following are listed as priority categories for ARPA funding:
Infrastructure (water, sewer, stormwater, broadband)
Clean water / natural area conservation initiatives
Technology modernization for effective service delivery
Workforce development
Planning and/or mitigation for disease prevention, control and medical care in congregate settings or emergency services
Affordable housing that serves senior citizens, persons with disabilities, veterans and/or homelessness