The recent problems at the Lancaster County Workforce Development Board show that it's time add new leaders who will chart a new course, county commissioners Ray D'Agostino and Josh Parsons said Tuesday morning.
The board, a publicly funded nonprofit that oversees job training and recruiting initiatives to strengthen the county economy, made headlines earlier this year when its former executive director, Cathy Rychalsky, resigned and filed a lawsuit alleging discrimination and a hostile work environment; and again when it sought to return a state grant that would have funded a van to provide countywide mobile job-application assistance.
At issue Tuesday morning were six new board appointments. The commissioners had 10 nominees to choose from: Four incumbents seeking a second term, and six newcomers.
As Parsons noted, the board functions autonomously, so the appointments are essentially the commissioners' only opportunity to directly influence its orientation.
D'Agostino praised the incumbent candidates as dedicated and capable, but said he senses "a little bit of lack of understanding" of board responsibilities among them, and would have more confidence in some of the new nominees.
Parsons agreed that it's time to bring in people "willing to take a fresh look."
Commissioner John Trescot agreed that the recent problems are concerning. But the board needs people with proven results in workforce development, he said. Specifically, he argued for retaining John McGrann, president of Penn Stone, rather than appointing Mike Berk, executive vice president of the Lancaster County Association of Realtors. Realtors don't do much hiring and have limited familiarity with personnel issues, Trescot said.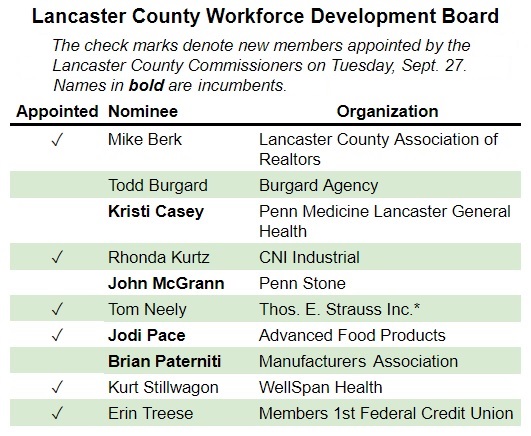 The commissioners all agreed on four appointments: Rhonda Kurtz, Tom Neely, Jodi Pace and Kurt Stillwagon. But the final two votes were 2-1, with D'Agostino and Parsons appointing Berk and Erin Treese.
Pace, the sole reappointed incumbent, is the current board chair. She will serve the final year of outgoing member Peter Caddick's unexpired term. The other five will serve full three-year terms.
McGrann, speaking on his own behalf, urged the commissioners to consider maintaining more board continuity. The Workforce Development Board is complicated, he said, and there's a significant learning curve for new members. He said the board has recognized the need to improve its procedure for nominating and vetting new members, and that he had hoped to lead that effort.
He said afterward that he was disappointed at the outcome of the vote, and that in his view the criticism of the incumbent board has been excessive. Its executive committee is in charge of personnel matters, and when it became clear that action was needed, the committee responded appropriately, he said.
Anna Ramos was appointed the organization's executive director in July. She said she would have been in favor of retaining more of the experienced incumbents.
Still, she said, she and her team "haven't skipped a beat": Among other things, the board has overhauled the board's personnel policies to prevent a situation like the recent one from recurring. Some of the changes have been implemented already; the rest, including a revised employee handbook, are in the process of being reviewed and approved.
The Workforce Development Board's bylaws require the majority of its governance board — currently more than 20 individuals — to come from private enterprise. Union labor, nonprofits, education and social service organizations must be represented as well.