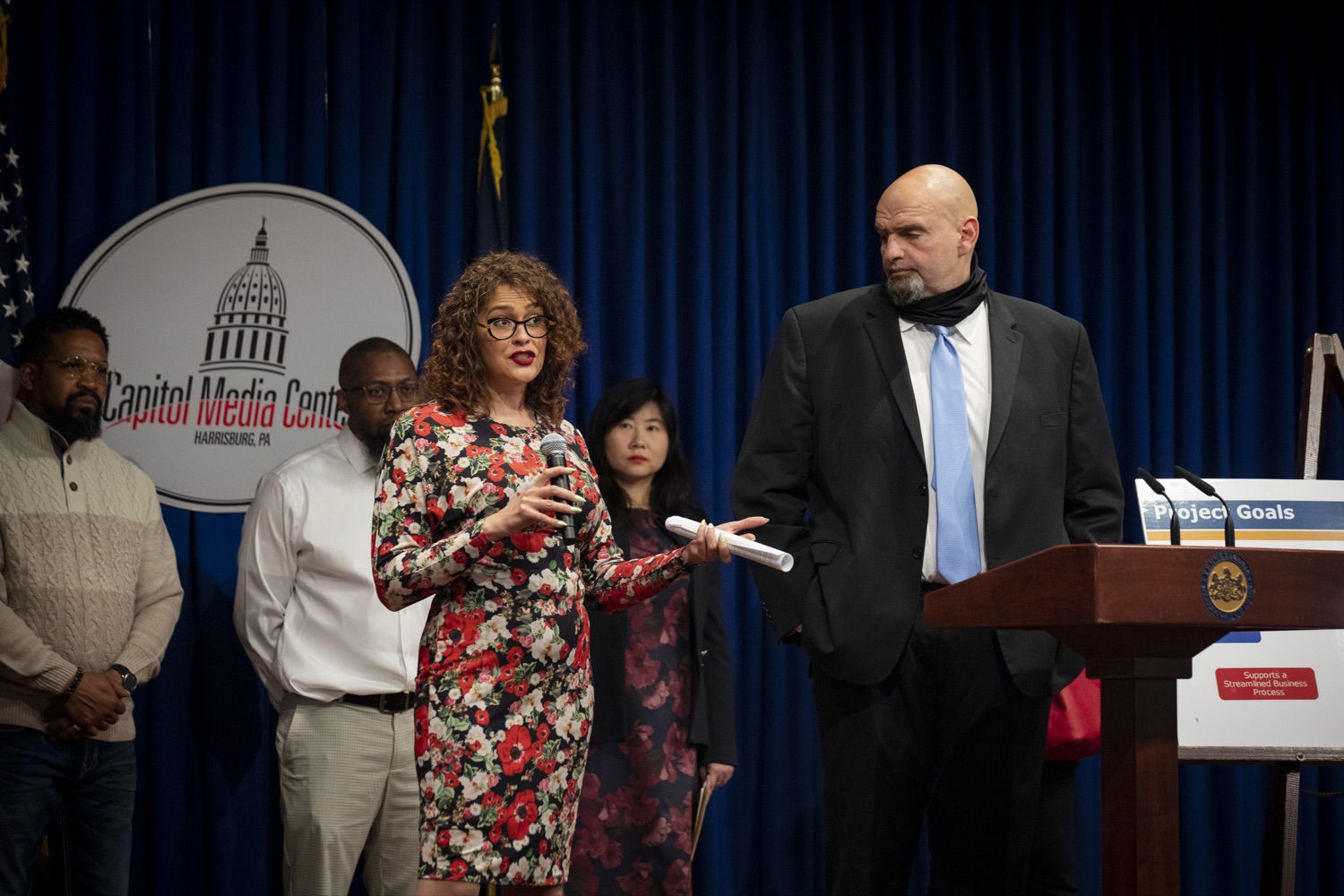 Lt. Gov. John Fetterman joined state Board of Pardons Secretary Celeste Trusty on Monday to celebrate the development of an online system for clemency applications.
The online portal brings the clemency system into the 21st century and will expedite the process of reviewing and acting on applications, they said.
At a news conference at the Capitol in Harrisburg, several recipients of pardons joined them in calling for further action to streamline Pennsylvania's clemency system and broaden eligibility for deserving individuals.
The event is part of April's Second Chance Month, recognizing efforts to help inmates successfully re-enter society and lead law-abiding, productive lives.
Fetterman chairs the board of pardons and has made modernizing it a priority. The new online application is part of that initiative.
Until now, applicants have had to submit paper documentation. The new system will allow them to create an account on a laptop or mobile device, scan and submit supporting material and track their progress. The system is expected to be fully operational by the end of the year.
The board also has streamlined the application, waived filing fees and created an expedited pardon process for non-violent marijuana convictions.
Pennsylvania has more than 5,300 individuals serving life in prison without parole, the second largest number among U.S. states. Since the late 1990s, the state has been extremely stingy about granting commutations, due to a case in which a man whose sentence was commuted committed multiple murders after his release.
That approach is "overly punitive," Fetterman said: "We can't stop believing in second chances for everyone, forever."
There are two forms of clemency: Pardon, which removes certain ongoing burdens of a conviction, such as loss of voting rights or eligibility to hold office; and commutation, or sentence reduction.
To date, Gov. Wolf has pardoned more than 1,900 people, including 256 people who filed expedited applications for minor marijuana-related offenses.
In 2019, Wolf signed a pardon for Corry Sanders, allowing the entrepreneur and community advocate to take the seat he had won on McKeesport City Council, which he otherwise would have been disallowed from occupying due to a 1993 felony drug conviction.
"There are so many people out there who deserve to work toward a second chance in life," Sanders said at Monday's event. Wolf's action, Sanders said, allowed him "to show and prove to others that my past mistakes were not my future destiny."
In a statement, the governor said, "Helping people with criminal records become productive members of society benefits both their families and their communities."
Trusty was appointed the board's secretary in January.