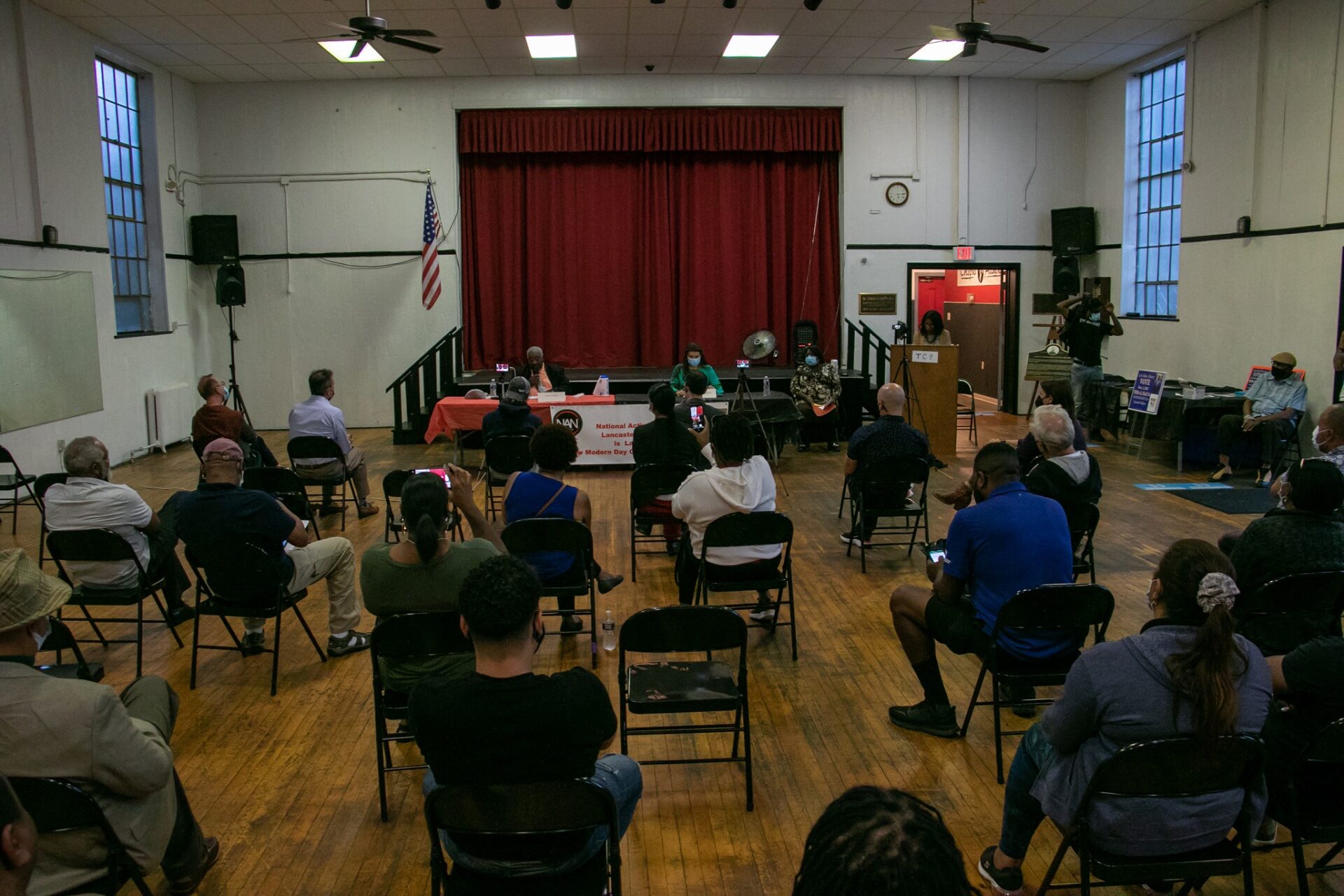 Mayor Danene Sorace and challenger Willie E. Shell Sr. faced off Thursday evening for a spirited and substantive forum that touched on many of Lancaster's ongoing social and economic challenges.
Sorace, a Democrat seeking her second term, said her administration has accomplished a lot, but has much more to do. She said she is committed to building a stronger and more equitable Lancaster, and stressed that she sees City Hall's role as one of partnership, working with residents to attain the objectives they want for their neighborhoods and communities.
Shell is running as an independent; there is no Republican candidate in the race.
The businessman said some parts of the city are not given the same opportunities as others. "It is time to bring all parts of the city together," he said, repeatedly pledging equal treatment for all of Lancaster's neighborhoods and all its constituencies.
The forum was sponsored by Lancaster's chapter of National Action Network. It was moderated by Whitney Lupton of TCP Network, which livestreamed it.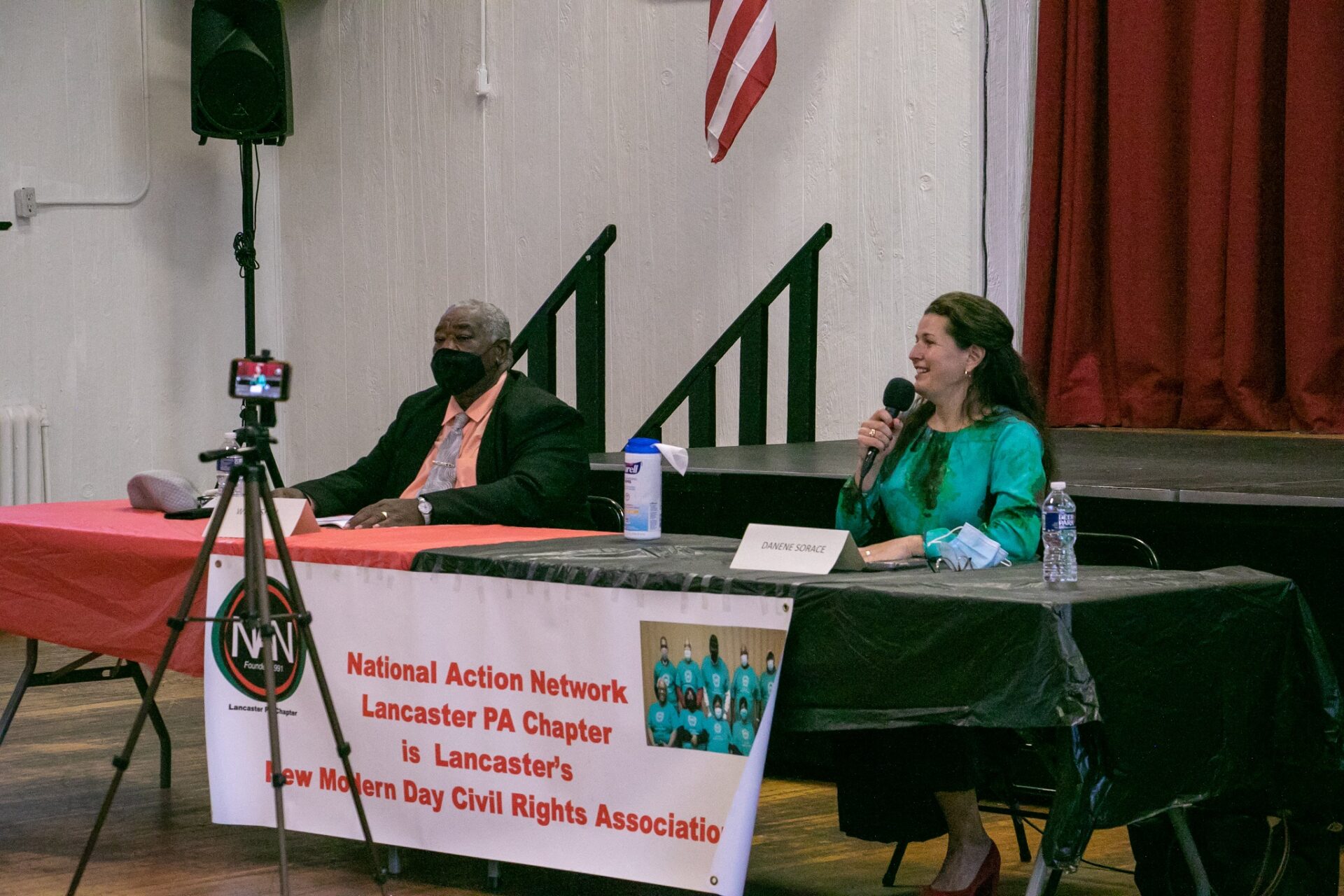 The candidates fielded questions from the in-person and online audiences on housing, police, economic development, race relations and campaign finance, among other topics.
Sorace said under her administration, the city has more affordable housing in the pipeline than any time in the past 50 years, and has just launched a housing strategy boosted by American Rescue Plan Act funding; yet it is pushing for still more state and federal support because "it is still not enough."
She asked the audience to join her in advocating on that and other issues, such as fair education funding and tax reform, that are crucial to Lancaster's long-term future.
On homelessness, City Hall is partnering with nonprofits to add outreach workers and open the city's first day shelter. Similarly, Sorace said, it's supporting job training efforts to help city workers move into careers paying family-sustaining wages, and training city residents as part of its lead testing and remediation program.
Shell said he would address affordable housing and economic development by working to bring vacant and unused properties back into service. He said he would set up a general repair fund for low-income homeowners and would collaborate with businesses, social services and faith-based organizations to help the homeless and other struggling individuals to turn their lives around.
"I've done this before," he said: During his many years as president of Shell's Disposal & Recycling, he said, he hired more than a few down-and-out individuals, giving them the helping hand and mentoring they needed to rebound and build successful careers and lives. He said he would require contractors on city projects to hire a certain percentage of city residents, even if that meant the hires had to be trained.
On police issues, Shell noted most officers live outside the city. They need intensive training, he said, to deal appropriately with people of color, while the department needs to deal forthrightly with citizen complaints, and be willing to fire officers when necessary.
Sorace said she has made major police reforms: The department has a new chief, John Bey, its first two social workers, a new use of force policy that emphasizes proportionality and department-wide de-escalation training. Bey is reviewing disciplinary policy, and problem officers are being dealt with, she said. She said it's possible she has signed more dismissals than any other Lancaster mayor, noting "that's not a point of pride," but an indication "we need to do better."
In the second half of the discussion, there were several back-and-forth exchanges between Sorace and questioners probing not only her record, but the city's troubled history with the southeast, which includes decades of racial and economic discrimination followed by federally funded urban renewal projects in the 1960s that deepened poverty and shredded the neighborhood fabric.
Sorace said she has listened to local historians and community advocates and worked hard to understand "the legacy I represent as mayor." Her administration is committed to being a partner, not imposing top-down solutions she said, and to hearing and heeding all segments of the community: "I welcome the feedback. ... We want to set a table, a long table, for all the voices."
Shell said he would have an "open door policy" as mayor, and that it's up to local government to ensure that all parts of the city are treated equally. While he would be a mayor for all Lancastrians, Black and other people of color need more help than they're getting. Everyone deserves an equal opportunity to grow and prosper, he said.
Sorace has pledged not to accept campaign donations from real estate developers with interests in Lancaster. Asked by Tony Dastra (who ran for mayor as an independent in 2017) to square that with her campaign's acceptance in 2017 of $5,000 from Michael Zamagias, the developer behind the 101NQ project, Sorace said her administration has been transparent and above-board in its dealings with Zamagias and all developers. It is hewing to the high standards the community demands, she said, pointing as evidence to its negotiations with UPMC, which have led to plans for a major affordable housing project at and around the former St. Joseph Hospital property, including UPMC's donation of real estate at 213 College Ave.
Darlene Byrd is leader of South Ann Street Concerned Citizens, which is seeking American Rescue Plan Act funding from the city for a neighborhood economic development and housing project: She asked the candidates if they would commit to funding it.
Shell said he would have no reason not to fund a plan that helps the community. Sorace emphasized that it will have to go through a review and approval process, but told Byrd: "I look forward to working with you to make it happen."
Audience member Derrick Burch, who had pressed the mayor during the forum on the city's allocation of Community Development Block Grant funds, praised both candidates' performances. He said he thought the event was well run and fair, with both having ample time to make their case.