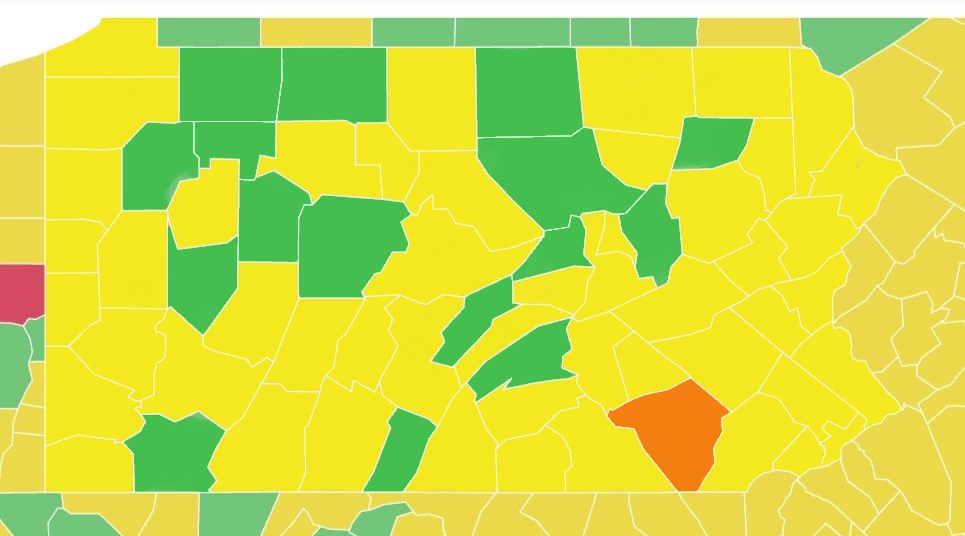 Based on its Covid-19 case load, Lancaster County should still be under a stay-at-home order, deploy a "rigorous test and trace" program, or both, according to an online data tool launched Wednesday by a nationwide coalition of scientists.
Led by the Harvard University's Global Health Institute and Edmond J. Safra Center for Ethics, the initiative aims to provide "clear, accessible guidance to policy makers and the public."
The starting point is a map that facilitates "apples to apples" comparisons of Covid-19 risk state by state and county by county.
There are four levels of risk — red, orange, yellow and green — based on daily case counts.
Lancaster County has a Covid-19 case rate of 10.1 cases per 100,000 people, according to the map.
That edges the county into the orange "accelerated spread" category, the sole Pennsylvania county with that designation, according to the researchers.
"When you get into that orange and red zone it means, in all likelihood, you're seeing a lot of velocity, a kind of fast upward trend," Danielle Allen, director of the Safra Center, told NPR.
The other 66 counties in Pennsylvania are designated green or yellow. Pennsylvania as a whole is designated "yellow," with a rate of 4.2 cases per 100,000 people.
The team's guidance says counties with an orange risk level should have stay-at-home orders "and/or" rigorous test-and-trace systems.
Lancaster County exited its stay-at-home order when it entered Pennsylvania's yellow phase June 5. It has a contact tracing program, but about half of the individuals who are notified don't respond.
Local Republicans, including Lancaster County Commissioner Josh Parsons, have disputed the relevance of case counts to the debate over reopening. Contending the proper metric is hospital bed capacity, Parsons says Lancaster County has more cases because it is testing more widely at long-term care facilities than other counties are.