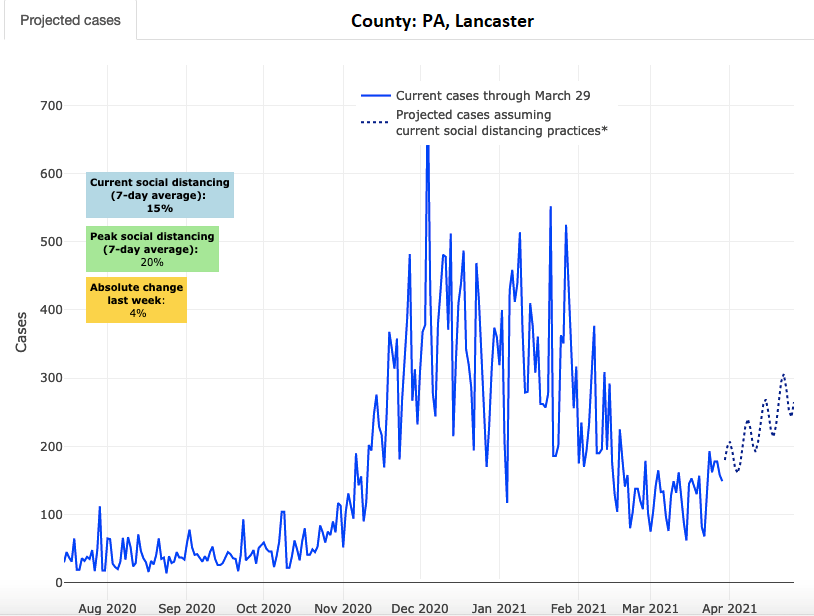 Despite the increased pace of vaccination, Pennsylvania and Lancaster County are not yet out of danger from the coronavirus pandemic.
In Lancaster County, Covid-19 case counts and hospitalizations over the past seven days are up by 50% over the week before. Test positivity is up from 7.0% to 9.6%.
Statewide, case counts are up 18% and hospitalizations are up 22%. Test positivity increased from 7.7% to 9.4%.
Pennsylvania is one of nine U.S. states with an increase in test positivity rates of 1 percentage point or more, according to PolicyLab, the research center at Children's Hospital of Philadelphia.
While the pandemic is nowhere near the levels to which it surged over the winter, case counts and hospitalization across the Keystone State is likely to continue in coming weeks, PolicyLab said.
Easter holiday travel is likely to exacerbate the situation, the organization said. Fortunately, Covid-19 infections are leading to fewer hospitalizations than before. One reason for that: More older individuals are being vaccinated, so the disease is spreading more among younger cohorts, for whom hospitalization is less likely.
The hope is that the U.S. will soon reach a "tipping point" in its effort to beat back the virus, PolicyLab said. Until then, mitigation measures — masking, social distancing and hand-washing — remain vital.
"Sadly," the organization wrote in its weekly blog post, "some unvaccinated working-age adults who get Covid-19 during this period will likely experience severe or even fatal disease. ... This is why the individual commitments each person makes to continue protecting one another, through masking in public locations and keeping gatherings small, is so important right now — even more so than any public restrictions."